Welcome to the Star Trek: Deep Space Nine Avatar Website
November 1, 2005
Michael Piller, STAR TREK: TNG, DS9, VOY, INSURRECTION Writer/Producer Dies at 57
http://trekweb.com/articles/2005/11/01/436796b6736bd.shtml
TrekWeb has learned that Michael Piller succumbed to a fight with cancer this morning. He lost his long battle with an aggressive form of head and neck cancer at 4:51 AM at his home in Los Angeles. He was 57. He is survived by his wife Sandra, daughter Brent and son Shawn.
...
Michael served as creative consultant for Star Trek: Voyager, which he co-created, until the series concluded in May 2001. He also co-created Star Trek: Deep Space Nine and served as executive producer on Star Trek: The Next Generation (1989-1994), Star Trek: Deep Space Nine (1992-1995) and Star Trek: Voyager (1994-1996). During the 1994-95 television season, Michael also co-created and executive produced the UPN network series Legend.
In 1998, he wrote and co-produced Star Trek: Insurrection, the ninth installment in the enormously successful Star Trek feature film franchise for Paramount Pictures.
In 1999, Michael partnered with his son Shawn Piller to form Piller2, Inc., a Hollywood-based production company where they developed and produced new television and motion picture properties. The father/son duo are also the co-creators of USA Network's top-rated cable drama series 'The Dead Zone", and the ABC Family Channel's 'Wildfire."
Michael, in addition to serving on the Advisory Board for the Department of Communications Studies at the University of North Carolina at Chapel Hill, gave a major grant to his alma mater to help launch a nationally distinctive screenwriting program.
...
Rest in peace, Mr. Piller.
October 5, 2005
Hamilton Camp, DS9's Leck, Passes Away At 71 http://www.trektoday.com/news/041005_01.shtml
Actor, singer and songwriter Hamilton Camp, who appeared in both Star Trek: Deep Space Nine and Star Trek: Voyager, died last Sunday from a heart attack. Camp was 71.
On DS9, Camp played the atypical Ferengi Leck, who liked knives more than money. Leck was first seen in the fifth-season episode "Ferengi Love Songs," then appeared again in the sixth season's "The Magnificent Ferengi," in which Quark recruited him to rescue Moogie. In the same year he made his final DS9 appearance, Hamilton guest-starred on Voyager's "Extreme Risk" as Vrelk, the Malon controller who unsuccessfully tried to steal Voyager's multispacial probe.
Beyond Trek, Camp made guest appearances in recent years on shows such as Titus, Grounded for Life and Desperate Housewives. However, he might be best known for his role as handyman Andrew Hummel on the 1967 sitcom He and She, while a younger generation might recogise him as the voice of several dozen cartoon and video game characters, ranging from Gizmoduck on Ducktales to most recently the Prophet of Mercy in the Microsoft video game Halo 2.
Camp was almost fond to recall that he was a regular cast member on two of television's biggest flops: the 1969 show Turn-On, cancelled ten minutes into the airing of its first episode, and the 1979 frat house comedy Co-ed Fever, yanked from the CBS schedule after only one episode. Camp apparently didn't really mind, as he always had enough work in film and television, but also had a successful career as a folk singer. He recently completed recording a new original album, which is still scheduled to be released at the end of this year.
More on Camp's passing can be found on the blog of Mark Evanier, as well as on Camp's own homepage.
October 1, 2005
A couple of weeks ago, in an online chat at the Star Trek Books eGroup, author David R. George III (DS9 Mission: Gamma - Twilight, The Lost Era - Serpents Among the Ruins) asked if anyone was interested in sponsoring him for the upcoming AIDS Walk in Los Angeles, California.
I expressed some interest, and got the information I needed to sponsor David in his walk.
So, this morning, I put the money in the mail, and it should get out there in a couple of days.
I only donated $25, but every little bit counts, and David is only four hundred dollars shy of his two thousand dollar goal.
For more information, click the link -
https://www.kintera.org/faf/donorReg/donorPledge.asp?ievent=111061&supid=58802918

August 24, 2005
- Actor / Director Jonathan Frakes (TNG's Will Riker, DS9's Tom Riker) has been added to the guest list for Dallas Comic Con 6 in October.
For more information, visit C2 Ventures.
August 23, 2005
Admiral Cartwright & Joseph Sisko Actor Brock Peters Dies http://www.trektoday.com/news/230805_03.shtml
Actor Brock Peters, who played two major roles in the Star Trek universe - the controversial Admiral Cartwright in Star Trek IV: The Voyage Home and Star Trek VI: The Undiscovered Country and Joseph Sisko, father of Captain Benjamin Sisko, in Star Trek: Deep Space Nine - has died of pancreatic cancer at age 78.
The Associated Press (via MSNBC) reported that Peters had died earlier today in his home in Los Angeles. His longtime companion Marilyn Darby said that he had died "peacefully in bed, surrounded by family." A widower, Peters is survived by a daughter, Lise Jo Peters.
Peters was well known for his performance as Tom Robinson, a black man falsely accused of rape in the Oscar-winning To Kill a Mockingbird which starred Gregory Peck. He was also noted for his appearance in the production of Porgy and Bess in 1959 which starred Sidney Poitier, Dorothy Dandridge and Sammy Davis Jr.. Peters also had a role in the classic science fiction film Soylent Green.
In his two Star Trek movies, Peters played a Starfleet admiral whose disapproval of a Klingon peace treaty led him to take controversial action. In his episodes of Deep Space Nine, he played the father and confidant of Benjamin Sisko and appeared as a 20th century preacher during the episode "Far Beyond the Stars." He had also appeared in an installment of the original Battlestar Galactica.
Among Peters' accolades were a Lifetime Achievement Award from the Screen Actors Guild and a Tony Award nomination for a Broadway production of Lost in the Stars. Last May, Peters was a guest when To Kill a Mockingbird author Harper Lee was honoured by the Los Angeles Public Library. One of his last roles was performing the voice of the character General Mi'Qogh in the game Star Trek: Starfleet Command III.
...
Rest in Peace, Mr. Peters.
August 7, 2005
- The DS9 Avatar Website would like to wish Cirroc Lofton (DS9's Jake Sisko) a happy birthday!

Happy 27th Birthday, Cirroc Lofton!
August 3, 2005
- Check out the cover art for the next DS9 Relaunch novel!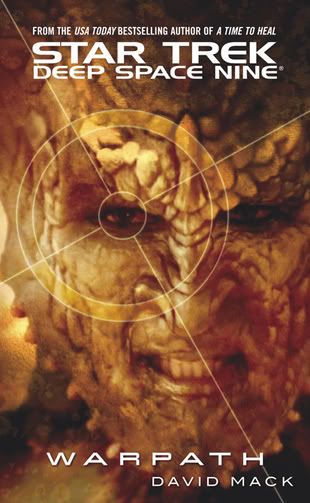 July 20, 2005
Star Trek Actor James Doohan Dies, Age 85 http://www.trektoday.com/news/200705_01.shtml
My oldest sister met Mr. Doohan once, in the late nineties, when he was making appearances to promote a new Philips product. I still have the two autographs she got for me - an 8 1/2x11 photo taken on the set of Star Trek: The Next Generation and the novelization of the episode 'Relics' by Michael Jan Friedman.
Rest in peace, Mr. Doohan.
June 29, 2005
- A few years ago, when Mission: Gamma - Twilight by David R George III was released, one of few nits I picked with it was a scene in which Quark is described to jump up and click his heels. I thought it was the one true out of character moment in the book, and said so in my review of the novel.
A few days ago, Pocket Editor Marco Palmieri reminded me about my nitpick, and said that he recently watched the episode in which Quark jumps up and clicks his heels - the sixth season episode 'Who Mourns for Morn?'
Now, thanks to Evil Twin of the TrekBBS, the DS9 Avatar eGroup has a new group photo for awhile.
June 28, 2005
- I've added a text link for the Star Trek: Titan eGroup @ Yahoo to the Fan Fiction & Message Board Links' Page.
June 21, 2005
- Worlds of Star Trek: Deep Space Nine, Volume Two Trill / Bajor with novellas by Andy Mangels & Michael A. Martin and J. Noah Kym has won the fan-voted SyFy Award for Best Novel 2005.
For more information about the SyFy Portal Awards -
http://www.syfyportal.com/article.php?id=1889
June 20, 2005
- The DS9 Relaunch MiniPedia will no longer be updated.
June 1, 2005
- The DS9 Avatar Website would like to wish a happy birthday to Rene Auberjonois (Constable Odo)!
In addition to starring in the series Star Trek: Deep Space Nine, Mr. Auberjonois' other Star Trek credits include Star Trek VI: The Undiscovered Country (Colonel West) and guest starring as Ezral in 'Oasis', a first season episode of Enterprise.

Happy 65th Birthday, Rene Auberjonois!
May 30, 2005
- The DS9 Avatar Website would like to wish a happy birthday to two veterans of Star Trek: Deep Space Nine, series co-creater Michael Piller and series actor Colm Meaney (Chief Miles Edward O'Brien).

Happy 57th Birthday, Michael Piller!

Happy 52nd Birthday, Colm Meaney!
April 10, 2005
- ABC announced last week that Boston Legal has been renewed for a second season, and a couple of days later, they also announced that the five remaining episodes of this season will be shelved until next season. So, that means there will be twenty-seven weeks of all new episodes of Boston Legal featuring William Shatner and Rene Auberjonois.
- The 2005 baseball season began last week. The DS9 Avatar Website would like to wish good luck to whichever team you're currently supporting. In the spirit of the season, I've put together a page of seventy-two avatars from DS9 'Take Me Out to the Holosuite'. To view the page -
https://www.angelfire.com/trek/avatar/avatars/takemeout/totheholosuite.html

March 28, 2005
Nana Visitor To Star In New Michael Piller Series http://www.trektoday.com/news/280305_02.shtml
Cable channel ABC Family has greenlit production on Wildfire, a new one-hour drama series starring Nana Visitor (Kira Nerys), and written by former DS9 and Voyager co-creator Michael Piller.
Wildfire revolves around Kris, an 18 year-old girl, played by Genevieve Cortese, who after spending time in a teenage detention center is sent to live with a foster family on a ranch. While there, she discovers a special talent for working with horses, in particular the racehorse after whom the show is named, Wildfire. Nana Visitor will be playing Jean Ritter, Kris' foster mother, who besides taking care of Kris is also fighting to save her ranch from financial ruin.
According to the Daily Variety (via NanaVision), the series was first developed by Michael Piller as a possible series for the WB, but after the network turned that down he reworked it into a two-hour telemovie for ABC family. Upon seeing the final film, ABC Family executives were apparently so enthusiastic that they decided to turn Wildfire back into a full drama series, so they ordered an additional 11 episodes for a full cable season order of 13 episodes.
Wildfire will be the first regular role on a television series for Nana Visitor after the end of Deep Space Nine. She had a recurring role on the first season of Dark Angel, and has made guest appearances on shows such as According To Jim and CSI: Crime Scene Investigation. Michael Piller, meanwhile, has been keeping busy as the executive producer of cable series The Dead Zone.
Wildfire is scheduled to premiere on the 20th of June on ABC Family. More information on the series can be found in the full ABC Family press release over at the Futon Critic, while a photo of the cast and main creative crew can be found here at NanaVision.
March 18, 2005
- The DS9 Avatar Website would like to wish J.G. Hertzler (DS9's General Martok and co-author of DS9 The Left Hand of Destiny, Books One & Two) a happy birthday!
In addition to the playing both versions of Martok on Star Trek: Deep Space Nine (the Founder first seen in 'The Way of the Warrior' and the Klingon first seen in 'In Purgatory's Shadow'), J.G. Hertzler portrayed the Vulcan captain of the U.S.S. Saratoga in 'Emissary', Roy the artist in 'Far Beyond the Stars' and Laas in 'Chimera'. Since the end of DS9, he has guest starred as a Hirogen fighter in VOY 'Tsunkatse' and as Kolos in ENT 'Judgment'. J.G. Hertzler also appeared as the Klingon captain seen in ENT 'Borderland'.
To read Ask Martok - The J.G. Hertzler Q & A, click here -
https://www.angelfire.com/trek/avatar/promo/hertzler_qa.html
To view the Niner Tribute to Enterprise - J.G. Hertzler, click here -
http://img.photobucket.com/albums/v28/od0_ital/enterprise/hertzler_tribute.jpg
March 9, 2005
- David Henderson's Psi Phi site has the final cover art for Star Trek - Tales from the Captain's Table, edited by Keith R.A. DeCandido. The anthology will include the DS9 / Captain Kira Nerys story 'The Officer's Club' by Heather Jarman, who has previously written DS9 Mission: Gamma - This Gray Spirit and the Andor story in Worlds of Star Trek: Deep Space Nine, Volume One.
To view the cover art for the anthology -
http://www.psiphi.org/cgi/upc-db/1416505202.html
February 26, 2005
- The DS9 Avatar Website would like to wish a Happy 42nd Birthday to Chase Masterson (DS9's Leeta)!
- The site update announcements from 2004 have been moved to DS9 Avatar Websites 2004 Updates.
February 24, 2005
Star Trek Paperbacks To Be Scaled Back
http://www.trektoday.com/news/220205_01.shtml

Beginning in June, Pocket Books will publish one mass-market Star Trek title rather than two each month.
Editor Marco Palmieri posted this news yesterday at the Psi Phi Star Trek bulletin board, saying, "We've been discussing such a change internally for over a year. Our feeling is that we can do a better job, both editorially and sales-wise, by putting greater energy and effort into fewer and more carefully chosen projects, making the line leaner, meaner, and stronger." He stated that the "respite" from Star Trek films and television shows reinforces the strategy.
In comments at the Trek BBS, several writers for Pocket Books stressed that they expected no reduction in trade paperbacks, including the Strange New Worlds contest for fan writers. "I see it more as a streamlining," wrote Christopher Bennett. "There's no end in sight for Trek publishing." He noted that many fans had said they don't have time to read all the current series. In comments at Psi Phi, Palmieri noted that some of the books series in the pipeline might take longer to be released than originally planned. He said that readers would have to be patient.
In his LiveJournal, Star Trek: S.C.E. editor Keith R.A. DeCandido said he felt that cutting back the mass market paperbacks was a good move, "as it allows the editorial staff to focus more and make each individual book stronger." However, he lamented that there would be fewer spots in the line for individual writers to publish.
The original item may be found at the Psi Phi Star Trek BBS.
February 14, 2005
- The DS9 Avatar Website wishes a Happy 63rd Birthday to Andrew J. Robinson (DS9's Elim Garak, author of DS9 #27 A Stitch in Time and DS9 Prophecy and Change 'The Calling')!
January 8, 2005
- The Deep Space Nine Avatar Website supports -
January 7, 2005
- The DS9 Avatar Website would like to wish happy birthday to Mark Allen Shepherd (DS9 / VOY's Morn)!
January 6, 2005
- Chasing Leeta - The Chase Masterson Q & A has made the News Bullets at Trek Today!
http://www.trektoday.com/news/060105_02.shtml
- The DS9 Avatar Website would like to wish a happy birthday to Aron Eisenberg (Deep Space Nine's Nog / Voyager's Kar)!
January 5, 2005
- I am pleased to announce that in cooperation with ChaseClub.com, the official fan club of Chase Masterson, the DS9 Avatar Website is proud to present Chasing Leeta - The Chase Masterson Q & A!
For more information, click here -
https://www.angelfire.com/trek/avatar/promo/masterson_qa.html

Avatar Links

Avatar S.C.E. - Cold Fusion Section 31 - Abyss Gateways - Demons of Air and Darkness
Gateways - What Lay Beyond Divided We Fall
Mission: Gamma - Twilight Mission: Gamma - This Gray Spirit Mission: Gamma - Cathedral Mission: Gamma - Lesser Evil

The Crew of Deep Space Nine
The Defiant Deep Space Nine USS Enterprise-E IKS Gorkon The Pathfinder Project
Klingon Empire Romulan Star Empire The Dominion Cardassian Union Ferengi Alliance
Section 31
Ferengi Rules of Acquisition Prophecies of Bajor
Authors of the DS9 Relaunch Ask Martok - The J.G. Hertzler Q & A Ask TerriO - The Terri Osborne Q & A
DS9 Avatar Awards Page The DS9 Avatar Archive The Avatar Links Page
The DS9 Relaunch MiniPedia The DS9 Avatar eGroup @ Yahoo
Deep Space Nine Avatars
The Brave and the Bold - An IKS GORKON Website