WELCOME TO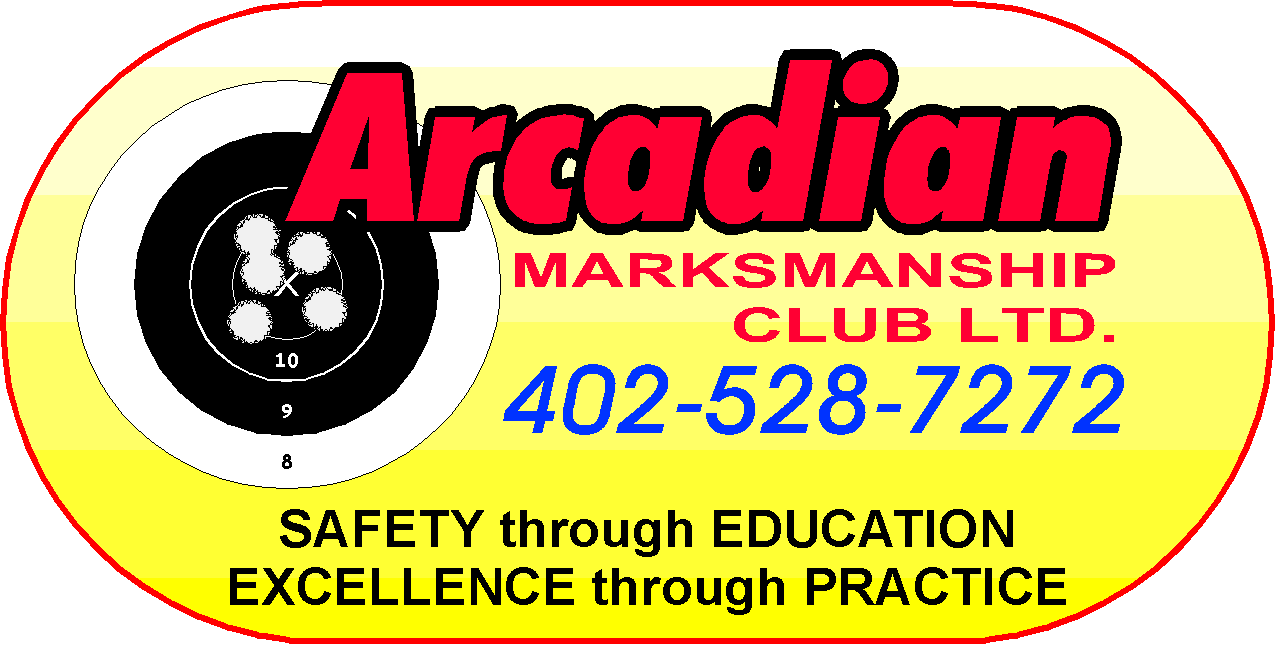 ---
One of the definitions of Arcadian is . We feel that marksmanship is exactly that.
---
MEMBERS and GUESTS. Please e-mail me to be added to our notification list for matches and other events. We had a guest book but it filled with page after page of "Guests" who were actually junk mail sites using our book to advertise. It would not have been so bad if they were shooting related businesses, but they were not.
Mark Delmont, PO BOX 302, Beemer, NE 68716-0302
Ph. & fax @ the shop 402-528-3384, *** Ph. @ home 402-528-7272
---
CLICK HERE FOR CALENDAR OF EVENTS. WE WILL ADD MORE AS WE GO. IF YOU ARE A MEMBER THAT WOULD LIKE TO HOST A SPECIAL TYPE OF SHOOT, CALL ME AND WE'LL TRY TO SET ONE UP.
---
BRING ANY RIFLE OR PISTOL FROM A .22 SHORT TO THE BIG CENTER FIRE MAGS. WE HAVE A SAFE PLACE TO SHOOT FOR JUST ABOUT EVERYTHING.
---

GENERAL INFORMATION Click on the link and use your back button to get back here.
SOME OF THE TYPES OF FUN SHOOTS WE DO and links to our friends.
THIS PAGE IS PRETTY SIMPLE. JUST START AT THE TOP AND SCROLL TO THE BOTTOM UNTIL YOU FIND WHAT EVER YOU WANT.
WE WILL ADD MORE LINKS AND NEAT STUFF WHEN TIME PERMITTS.
---
My name is Mark Delmont and I am a Deputy Sheriff in Cuming County Nebraska. I am a competitive shooter, NRA member and strongly support second amendment issues.
I realized that in northeast Nebraska there is a shortage of safe places for serious shooters to shoot. In June of 2000 I borrowed a ton of money to buy land for a shooting club. I cannot afford to do this on my own so I formed ARCADIAN MARKSMANSHIP CLUB, LTD. By selling memberships to this club I hope to defray the cost enough so that I can provide a safe shooting environment for my self, my fellow officers and other serious shooting sports minded people.
This club is brand new so we don't have a calendar of events yet. When we get enough members who express interest in certain shooting events, then we can start to develop activities for them. So... if you join now you can be part of the planning process.
ALSO.... I am not a computer wizz so bear with me until we get one as a member of the club who can do this sort of thing.
---
THREE 25 YARD PISTOL RANGES
Each of these has a 15 foot impact berm and 10 foot side berms. You can be shooting in any one of them and someone else can be using the next one with out bothering or endangering each other.
Pistol range 1. This is the range to the far left. It has not been designated for any events yet.
Pistol range 2. This is the center range. Tom Adams is a member from Omaha, NE and he is interested in COWBOY ACTION shooting. He has placed six steel disc on this range at various locations so that he can practice with his single action revolver and lever action rifle etc. We have not built any props for that game, but if several members get together they could customize the area to suit their needs. To shoot the steel disk on this range you must use pistols or rifles in pistol calibers. There is also a 20 foot long plank set up to shoot falling plates. You can have side by side fun matches or use the lower part for 25 yard zeroing shooting at paper targets.
Pistol range 3. This is primarily a police type quailfication range. The eight turning tartgets are controled from the back of the range by pulling a large lever that moves the targets from edge to face. A counter wieght pulls them back to edge. This works well for some of the rapid fire and bullseye pistol games as well as police qualifications.

---
100 YARD/METER RANGE
This range also has a 15 ft impact berm and 10 foot side berms. It is 115 yds long and 96 ft wide. It is probably the most versitile range as it is good for all rifle and pistol calibers.
It currently has...
A permanent T shaped shooting bench made from railroad ties planted 4 ft into the ground.
Six target frames at 100 yards. (see details of these frames)
Rails at 100m, 77m, 60m and 40 m for small bore silhouette and similar matches like the Chevy Cup challenge, etc.
---
300 YARD/METER RANGE This range also has a 15 ft impact berm. It does not have side berms however the other range's side berms prevent any possible cross fire accidents.
It currently has...
A permanent T shaped shooting bench made from railroad ties planted 4 ft into the ground.
Six target frames at 300 yards. (see details of these frames)
At 345 yards, there are two round steel gongs. One is 16 inches wide and the other is 7 inches. They make excellent practice for deer or varmint hunting.
300 meter rails for pigs or other steel knock down targets are planned.
To shoot 200 yards, you can move forward and shoot from another firing line. Obviously only the 300 OR 200 can be in use at any one time.

---

RANGE RULES
No alcoholic beverage may be consumed on the property at any time.

No one may shoot on the range who has recently consumed any alcohol or is currently under the influence.

ANYONE can call a cease fire at any time they become aware of any unsafe condition.

No glass targets.

No targets that lay on the ground. All targets must have enough height so that misses strike the impact berms.

No inciderary or tracer ammunition. They are a grass fire hazard.

No one goes down range unless the firing line is clear.

No firearms will be loaded unless they are in use.

All firearms will be kept on safe, magazines out and the actions open when not in use.

All firearms will be carried with muzzles pointed up, down or towards the target area.

Do not handle someone else's firearms or equipment without permission.

All aerial targets must be shot with no. 6 or smaller sized shot.

Pets must be leashed or under direct control of their owners.

Special rules may apply to certain shooting pits.

Members may not loan their keys to non members.
---
DRIVING DIRECTIONS.
The range is located in Cuming County Nebraska and is roughly...
Northwest one hour and 20 min. from Omaha,
Northwest 45 min. from Fremont
East 25 min. from Norfolk
South one hour from Sioux City, IA
Use a map to locate Wisner, NE or Beemer, NE or Dodge, NE, which ever is closet to you. From there follow one of the three sets of directions below.
From Beemer, NE.
From the intersection of Main street and HWY 275 go south 1 and 1/4 miles on county road 12 to just accross the Elkhorn river bridge and take the gravel road going west (right) that borders the golf course.
Go west 3 and 7/10's miles to the intersection of County road M and 8.
Turn north (right) on County road 8
Go north 1 mile and you will get to a sharp left turn. This will be County road N. Do not speed because the turn is a right angle even local people have had accidents there.
Go west 1/4th of a mile to the junction of N road and River Road. Then turn north again (right)
Go north 7/10's of a mile and the range will be on your left. (West)
From Dodge, NE
Go straight north out of Dodge and stay on the paved road into Cuming County.
When you get to Hwy 32 cross it and keep going north on the gravel for 7 miles and you will get to a sharp left turn. This will be County road N. Do not speed because the turn is a right angle and even local people have had accidents there.
Go west 1/4th of a mile to the junction of N road and River Road. Then turn north again (right)
Go north 7/10's of a mile and the range will be on your left. (West)

From Wisner, NE
In about the center of town there is a self serve CENEX gas station next to a silver quanset hut type building. From there go south 1 1/10's miles on County Road 6 (pavement) accross the Elkhorn River bridge until you get to the intersection of River Road and 6 road.
Turn east (left) follow River road 3 1/4 miles and the range will be on your right. (west)

---
Member Ed Jonhson is a teacher at Wayne State College. One of his hobbies is aerial photography using a KITE !!! I can't imagine him dangling from a huge kite snapping pictures so I presume that he has a way to run a camera up and down the string. I have no idea how he aims it.
Anyway, this is a photo showing our 100 meter range. On the left you can see one of the three 25 meter pistol ranges and to the upper right you can see the impact berm of the 300. Please note the side berms that prevent anyone from shooting into the other ranges.
---
NEW MEMBERSHIPS OR RENEWAL CAN BE PURCHASED ON LINE. EMAIL ME THE INFORMATION BELOW. YOU CAN USE A CREDIT CARD THROUGH PAYPAL OR SEND A CHECK TO ME. I WILL SEND YOU A GATE KEY ASAP.
ARCADIAN MARKSMANSHIP CLUB MEMBERSHIP APPLICATION
last name _______________________ first __________________m.i.__
street add.________________ city _______________ state __ zip______
date of birth ______/_______/________ e-mail add.________________________________
phone ____-____-_______
Date on you FIREARMS PURCHASE CARD , or FFL NUMBER, or LAW ENFORCEMENT OFFICER Badge Number _____________
---

Membership fees and expectations are as follows
1. The first year of membership is priced at $300.00. Following years will be $100.00 each. These prices may change in the future but there will hopefully be a large enough membership base to maintain this low level. There is currently a 200 member limit.
2. The membership year begins July 1st and ends June 30th. A person buying their first membership will pay $300 for any part of the year. They can however prorate the second year months at $10.00 per month through the end of June. (i.e..) If you join in December, Your membership will expire at the end of June and cost. $300.00 Or you can buy those seven months ($70.00) plus a 1st full year ($300.) for $370.00. Your next full year after taht will cost $100.00.
3. Provide eight ( 8 ) hours of service to the club each year. These hours can be accomplished in the following ways.
Manual labor.
Provide a special skill like carpenter, painter, welder, computer, etc.
Provide limited use of special equipment like tractor, payloader, etc.
Teach a hunter safety course, (state of Nebraska certified instructor)
Teach a child under the age 16, (other than your own), fire arms safety and provide them with hands on one to one positive shooting experience. (certified instructor)
Work at a match (help run a part of it, keep score, etc.).
Be a chairman of a committee like pistol, rifle, etc.
Be group leader of a specialized event like bench rest, falling plate, etc.
Those who do not want to do any of the above may buy out the 8 hours at a rate of $5.00 per hour so that other help can be hired to take their place.
4. Members also get $5.00 off entry fees for club sponsored matches open to the public.
5. A membership will be good for one person only. That person may have as his or her guest a spouse or children under 18 years of age. That guest may only use the range when the member is present.
6. Follow all the range rules and safety procedures. Help correct others who may be violating them. Report those who are flagrantly violate the rules. This will help promote a safe sport shooting environment.
RIGHTS and RESPONSIBILITIES
As a member of this club you have certain RIGHTS
You have the use of the range any day unless the range is closed for maintenance or there is a organized event in progress. Then, any shooting pit that is not closed or occupied by the event can be used. On a daily basis the shooting pits and firing points can be used "first come first serve". Several firing points on the same shooting pit can be used at the same time. Common sense dictates that all the shooters will wait to go change or check targets at the same or when it is safe to do so. Courtesy is guild line
Your membership covers one person. Our insurance plan is based on a "price per person". If you have additional family members who wish to use the range, they can be added to your membership for $15.00 each. You may add your spouse or any of your children age 17 and under. They will be added by name to our insurance policy.
You may bring a non-shooting guest any time. You can bring a shooting guest too but that guest may only shoot one day in a year and he or she is totally your responsibility. If they enjoy the facility, they may apply for membership.
Our insurance coverage is primarily for activities on the range. If you participate in matches at other locations, it may extend to that event as well if you or your team are representing our club. Please notify us in advance and we can possibly include your other matches on our insurance at no additional cost to you.
As a member of this club you have certain RESONIBILITIES
SAFETY. If you see a unsafe act or condition, do what you can to correct it. On the spot corrections are common and experienced shooters accept them gratefully and give them without ridicule. If a more serious condition occurs, remember that ANYONE CAN CALL A CEASE FIRE AT ANY TIME. If you hear a cease fire from your shooting pit or any other shooting pit, repeat the warning to all shooters until everyone has stopped. You may resume after the unsafe condition is corrected.
RUBBISH. Please take your waist paper, used targets and trash with you. Spent boxer primed brass cartridges may be left on the range but please pick up shotgun, Berdan primed and other large non reloadable casings. If you want your brass or any other brass left by others, you are encouraged to take it.
FIRES. Please make sure any camp fires or barbeque grills are extigwuished before you leave.
TRESPASSERS. This is your range because you paid for the privilege to use it. If you see other non-members using it, report them to the owner of the property or board of directors. You may ask them to leave but do not attempt to force them to do so.