Who Framed Roger Rabbit
(1987)
I'm not bad, I'm just drawn that way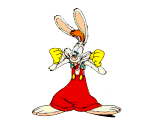 See if your favorite person,
TV series or motion picture
is available: video/DVD/books




Once created, cartoon characters can't be destroyed. So they live in a segragated section of 1940s Los Angeles when not at work (spoofing the movie Chinatown). To make the premis work, Steven Spielberg wanted characters from every famous movie studio including Warner Brothers and Disney. Walt Disney had always refused to let his characters appear in any other studio's movies (Gene Kelly was originally supposed to dance with Mickey Mouse in a MGM movie), but Disney Studios had originally purchased the rights to the 1981 book and came on board as co-Producer with Spielberg for this one. Robert Zemeckis (Back To The Future, Death Becomes Her, Polar Express) directed, with uncredited help from Spielberg.

Bob Hoskins plays a down-and-out private eye who's been drinking his life away ever since his brother was killed on a case in Toon Town (again spoofing Chinatown). Beautiful vamp Jessica Rabbit (voice of uncredited Kathleen Turner, and Amy Irving when singing) asks the human detective Eddie Valiant (Hoskins) to clear her toon husband of murder. Valiant had previously been hired to follow her around by the head of the studio because Roger was so in love with her that he couldn't remember his lines.

It seems that Toon Town's human founder Marvin Acme (Stubby Kaye) was killed by a falling safe, clearly the M.O. of a Toon. And villainous Judge Doom (Christopher Lloyd) is determined to prove it. He has had himself elected judge, jury & executioner (using a vat of acid) in Toontown. Spielberg and Zemeckis deliberately wrote the story without considering the restrictions of hand-drawn animation (computer-generated cartoons looked too flat in 1980s technology), leaving it to animation director Richard Williams (who received a special Academy Award for the effects) to figure out how to put the real-life Hoskins in a cartoon car speeding down a real roadway or be flung out of a sleazy dive by a cartoon guerilla, and have various other humans interact with cartoon characters thoughout the movie. Ironically, for the 2007 film "Beowulf" (see notes below), Zemeckis opted for computer-generated sets and characters instead of traditional animation, leading to dismal box-office returns for Beowulf.

Spielberg's friend Chuck Jones was unavailable and recommended the British animator based on his beautiful 1971 animated version of Dickens "A Christmas Carol." Williams told Animation Magazine: "Bob Zemeckis loves [cartoon directors Tex] Avery and [Bob] Clampett. He told me he wanted three things: Disney articulation, i.e., believability, weight, skill of movement and sincerity when we needed it; Warner Bros. characters, because they're zanier, they do more interesting things; and Avery humor, but not so brutal." Williams also spoke of the reasoning behind the design of the lead character: "Roger has that Tex Avery cashew nut shaped head, the swatch of red hair is like Droopy's, Oswald the Rabbit's overalls, Porky Pig's bow tie, Freddy Moore's Mickey Mouse gloves, and he's the color of an American flag." The live-actors were filmed first, than the animated characters by Williams in England, then Lucasfilm's ILM (Industrial Light & Magic) gave the characters their 3-d look.

A subplot involves the conspiracy that destroyed southern California's streetcar mass-transit system, requiring Spielberg to recreate a 1930s red streetcar that could go on Los Angeles' trackless streets. If you are an animation fan, look for cameos of everyone from Betty Boop (voice of Mae Questel, who did her in the original cartoons), Droopy, Donald Duck and various un-named 1930s cartoon characters to Mad Magazine's horrible freak woman who looks beautiful when seen from behind (based in turn on a character in Lil' Abner comic strips). Even Mickey Mouse and Bug Bunny (Mel Blanc) have a brief scene together. Mel Blanc (Warner Brothers) and June Foray (Jay Ward Productions) supply many of the cartoon voices. Since Charles Fleischer's rabbit character would be added later, Hoskins had to do his scenes in front of a bluescreen. To help him out, Fleischer showed up to do his lines off-camera dressed in a giant rabbit suit. Hoskins thought he was crazy, but admitted that it helped. Zemeckis, Fleischer, and Christopher Lloyd previously worked together on the three "Back To The Future" movies
The movie won three Oscars for special effects.
MonsterVision review & host segments for Back To The Future

Additional cast:
Joanna Cassidy as Dolores, Eddie's assistant
Charles Fleischer as Roger Rabbit/Benny The Cab/Greasy/the Psycho
Alan Tilvern as R.K. Maroon
Lou Hirsch as Baby Herman
Joel Silver as Raoul (the short-tempered Director in the opening scenes)
Ed Herlihy as Newscaster
Tony Anselmo as Donald Duck
Joe Alaskey as Yosemite Sam
Fred Newman as Stupid
Russi Taylor as Birds/Minnie Mouse
Richard Williams as Droopy
Pat Buttram as Bullet #1 (he also was one of the characters in Back To The Future 3)
Jim Cummings as Bullet #2
Jim Gallant as Bullet #3
Tony Pope as Goofy/Wolf
Cherry Davis as Woody Woodpecker
Frank Welker as Dumbo/others
April Winchell as Baby Herman's mother
Mel Blanc as Daffy Duck/Tweety Bird/Bugs Bunny/Sylvester/Porky Pig
Mary T. Radford as Hippo
June Foray as Wheezy/Toon Hag
Wayne Allwine as Mickey Mouse
Frank Sinatra as Singing Sword
Peter Westy as Pinocchio
Nancy Cartwright as Dipped Shoe (later known for The Simpsons)

Somethin's Cooking (the 5-minute cartoon at the beginning of the movie, with Jessica cameo as nurse in hospital) was the short they were supposedly making in the movie when things went haywire in Roger's personal life.

Based on the book "Who Censored Roger Rabbit" by Gary Wolf, the novelist's 1991 sequel was "Who P-P-P-Plugged Roger Rabbit? A Hare-Raising Mystery," which so far has not been made into a movie. The major difference between the movie and the 2 novels is that the movie is about cartoon characters in Hollywood, while Roger and the others in the books are newspaper comic strip characters who "talk" in thought balloons that Eddie has to read. Also, Roger doesn't quite survive the first novel, so that original ending is ignored by the 2nd novel. Both books spoof mystery-noir stories of the 1940s like Chandler. More recently, he wrote the horror-novel spoof "Amityville House of Pancakes 3" (as if Amityville 3 wasn't funny enough already).

Tummy Trouble
(short) Seen in theaters with "Honey, I Shrunk The Kids!" (the Rick Moranis movie) on June 23, 1989, this one involves Baby Herman swallowing his rattle. Roger Rabbit once again is chosen for the dangerous task of babysitting Baby Herman and everything is going to be just fine: "Not like last time!" He takes Baby Herman to the hospital and while waiting, the rattle comes out with a huge burp. But then Roger accidentally swallows the rattle and is taken to the surgery. Just as the doctors are about to cut him open with a chainsaw, the lunch whistle goes off. Roger and Herman blast off around the hospital on a jet powered "Hare Splitter" machine (made in Germany). They get blown into the air, the rattle is rescued and everything is fine - until Roger sees the hospital bill! Jessica cameo: as a pretty nurse.
Roller Coaster Rabbit
(short)

Seen in theaters with the Sunday-comix strip fantasy Dick Tracy on June 15, 1990. Roger has to watch over Baby at a fair while Mother Herman goes off to have her palm read. Baby Herman wanders off in pursuit of his prized red balloon, and Roger dutifully tries to follow while being hit by darts, shot full of holes, and chased by an angry bull who throws Roger and the baby on a dangerous roller coaster ride. The roller coaster is so high, one can see the planet Earth far below. Jessica cameo: tied to roller coaster tracks by villain (Droopy)
Trail Mix-up
(short)

This one was apparently never released in theaters as Disney deemed it too violent, though it has a release date of March 12, 1993. It appears only with the first two on a videotape that came out in 1996 and is rather hard to find now. Roger and Baby Herman are on a picnic in the great outdoors, but the baby runs off once again (this time following a wild beaver) and Roger must rescue him from dangerous bees, falling trees and a sawmill. As with the Spielberg-produced Back To The Future movies, there is a swipe at the Jaws movies that just seemed to have too many sequels. And there are hidden things if you look for them frame-by-frame. For example in this one, when they go down the sawmill's log-plume, there's a bumpersticker on the back that reads, "We visited splash mountain." Also the individual bees have the faces of other Disney characters but you don't notice it when running at full speed. The caterpiller Baby Herman flicks at Roger, for example. Jessica cameo: as a forest ranger, "Only you can prevent forest fires!" Director: Barry Cook. All three shorts star the voices of Charles Fleischer, April Winchell, Kathleen Turner. Director of the first two: Rob Minkoff. Rated G. All 3 shorts were included in Disney's more recent double-DVD version of the feature movie.

"Who Framed Roger Rabbit?" is available on video and on DVD, based on the 1981 novel Who Censored Roger Rabbit? from Amazon.com

A guy walks into a fashionable cocktail lounge carrying a duck under his arm. He takes a stool next to one occupied by an attractive blonde and gives her a big smile.
Without even looking his way, she says, "Don't you know you can't come into a place like this with a pig?"
"This isn't a pig," he says, "it's a duck!"
Still without looking his way, she replies, "I was talking to the duck."

Fun Facts:
* They studied that original MGM movie of Gene Kelly dancing with the mouse from Tom & Jerry cartoons and thought something was wrong. Then they realized that Gene had a shadow while the 'toon did not. So an assistant director was put in charge of making sure that all the cartoon characters in Roger Rabbit had shadows matching any human actors in the same scene.

* The tunnel Eddie drives through to get to Toon Town is the same one Biff drives through in Back To The Future with Michael J. Fox hiding in his back seat. Pat Buttram has a voice cameo as one of Eddie's talking bullets just before he decides to drive through to Toon Town. Buttram later played one of the saloon patrons in Back To The Future 3

* Mel Blanc was once almost killed when he crashed his car. Doctors were unable to determine if he was braindead until a visitor asked questions of his cartoon characters and the character's voice answered. Much later, when Mel came out of the coma, he had no memory of talking to anyone. Two years later, singers Jan & Dean did the song Dead Man's Curve based on Mel's near-fatal crash.
Fun Facts from IMDb.com
* The song Smile, Darn Ya, Smile, which the Toons sing when Eddie Valiant first arrives in Toon Town and also at the end of the picture, is featured in an eponymous 1931 Warner Brothers Merrie Melodie "Smile, Darn Ya, Smile!"
* Some versions include an extra sequence (called the Pig Head Sequence): Eddie Valiant had gone into Toontown, ambushed by the weasels and had a pig's head "tooned" onto his. This seems to have been inspired by a similar scene in Mad Max 3: Beyond Thunderdome. Eddie went home and took a shower during which Jessica walks into his apartment. This scene was cut from the original release, but did appear in theatrical trailers and a television broadcast. A scene cut from the theatrical version where Jessica rolls up her dress to reveal her stockings as she sits cross-legged is included in this sequence (Fatal Attraction starring Glenn Close came out the same year). When the film came out on laserdisc a single frame of Jessica getting out of a cab revealed that she wasn't wearing underwear (there are 24 frames of film per second. This single frame was removed before the film came out on video and DVD)
* Eddie enters a Toontown men's room which has the graffiti "For a Good Time, call Allyson Wonderland" in the background
* A "prequel" with the working title "Toon Platoon" never got out of the developmental stage.
* Although the film's title is a question, no question mark appears in the title, as this is considered bad luck in the industry.
* List of the classic cartoon cameos in the film (which is supposed to be set in 1947, though quite a few post-1947 characters appear), grouped by studio:
-Disney:-Mickey Mouse-Minnie Mouse-Pluto-Donald Duck-Goofy-Pegleg Pete-Horace Horsecollar-Clarabell Cow-the merry dwarfs from The Merry Dwarfs-the flowers and trees from Flowers and Trees-the Three Little Pigs and the Big Bad Wolf from Three Little Pigs-Peter Pig from The Wise Little Hen-Toby Tortoise, Max Hare, and the girl bunnies from The Tortoise and the Hare (1934)-Mickey's orphans from Orphan's Benefit-Little Red Riding Hood from The Big Bad Wolf-Jenny Wren from Who Killed Cock Robin?-Elmer Elephant from Elmer Elephant-Snow White, all seven dwarfs, and the Old Hag/Witch from Snow White and the Seven Dwarfs-Wynken, Blynken and Nod from Wynken, Blynken & Nod-Ferdinand the bull from Ferdinand the Bull-Pinocchio and Jiminy Cricket from Pinocchio-the broomsticks, the cupids, the baby Pegasuses, an ostrich, and a hippo from Fantasia-the Reluctant Dragon and Sir Giles from The Reluctant Dragon Dumbo, Mrs. Jumbo, Casey Jr., and the crows (as Jessica's backing band in the Ink and Paint Club) from Dumbo-Bambi from Bambi-Chicken Little from Chicken Little-Jose Carioca from _Saludos Amigos (1943)_-Monte the pelican from The Pelican and the Snipe-Peter from the "Peter and the Wolf" segment of Make Mine Music-Br'er Bear, the groundhogs, and the Tar Baby from Song of the South-the singing harp from the "Mickey and the Beanstalk" segment of Fun and Fancy Free-Danny the lamb from So Dear to My Heart (1949) -Mr. Toad and his horse Cyril from The Adventures of Ichabod and Mr. Toad-Tinker-Bell from Peter Pan-Maleficent's goons from Sleeping Beauty-the penguins from Mary Poppins
-Warner Bros - Looney Tunes:
-Bugs Bunny
-Daffy Duck
-Porky Pig
-Tweety
-SylvesterZ
-Yosemite Sam
-Foghorn Leghorn
-Marvin the Martian (first appeared in 1948)
-Road Runner & Wile E. Coyote (first appeared in 1949)
-Marc Anthony the bulldog from Feed the Kitty
-Sam Sheepdog from Don't Give Up the Sheep
-Speedy Gonzales (first appeared in 1953)
Max Fleischer/Paramount:
-Koko the Clown-Betty Boop
-Walter Lantz:-Woody Woodpecker
-MGM: Wile E. Coyote and the Road Runner also appear silhouetted on the elevator door as it goes up.
Felix the Cat's face appears as the masks of tragedy and comedy on the keystone of the entrance to Toontown.

* The song played by Daffy and Donald Duck in the Ink and Paint Club is the Second Hungarian Rhapsody by Franz List, a song featured in numerous cartoons, including the Oscar winning Tom & Jerry short The Cat Concerto and the Bugs Bunny Merrie Melodie Rhapsody Rabbit.

* Since the movie was being made by Disney, Warner Brothers would only allow the use of their biggest toon star, Bugs Bunny, if he got an equal amount of screen time as Disney's biggest star, Mickey Mouse. Because of this, both characters are always together in frame when on the screen.
* To create the animation, over 85,000 hand-inked and painted cells were created and composited with the live-action backdrops, live-action characters, and hand-animated tone mattes (shading) and cast shadows using optical film printers. NO computer animation was used in creating the animations. Some scenes involved up to 100 individual film elements. Any live-action that had to be later composited was shot in VistaVision to take advantage of the double-area frame of the horizontal 35mm format. The finished film thus does not suffer from the increased grain that plagued previous live-action/animation combos such as Mary Poppins.
* When the toon train hits the Dip Machine, each window of the train shows a murder or death taking place (if viewed frame-by-frame).
* In one of the early versions of the script, Judge Doom was revealed to be the one who killed Bambi's mother.
* The opening track on the Sting album "...Nothing Like the Sun", the song "The Lazarus Heart" was originally written as the movie's musical finale, at an early stage of the movie's production when the book's tragic ending, where Roger is killed in the crossfire during the final duel, was still in the script. When the studio ordered its default ending to be used at the film's end, in which Roger is alive at the end of the duel, however, the song was deleted from the script and ended up on Sting's album instead.
* Bill the Lizard, from Alice in Wonderland, can be seen carrying a ladder in the scene where the musical toon chairs break out of their box.
* The dancing thistles from the Nutcracker Suite segment of Fantasia appear as the wallpaper pattern in the hallway of the Toontown building where Eddie Valiant looks for Jessica.
* The gag of the toon pelican falling off his bicycle came about by accident. Originally, the pelican would have ridden straight past the camera, but the effects technicians were unable to keep the bike upright. The filmmakers decided to let the bicycle fall and animate the pelican losing his balance.
* Roger Rabbit is described as having a "Warners face", a "Disney body", a "Tex Avery attitude", Goofy's overalls, Mickey Mouse's gloves, and Porky Pig's bowtie
* Famous Studio/Paramount characters Popeye, Bluto, Olive Oyl, Little Lulu and Casper the Friendly Ghost, as well as Pat Sullivan's Felix the Cat and MGM's Tom & Jerry, were all scripted to appear, but the rights to the characters could not be obtained in time, although a photo of Felix shaking hands with R.K. Maroon is seen in Maroon's office when he first hires Eddie.
* When Eddie takes Roger Rabbit into the back room at the bar where Dolores works to cut apart the hand-cuffs, the lamp from ceiling is bumped and swinging. Lots of extra work was needed to make the shadows match between the actual room shots and the animation for very little viewer benefit. Today, "Bump the Lamp" is a term used by many Disney employees to refer to going that extra mile on an effect just to make it a little more special even though most viewers or guests will never notice it.
* The Ink and Paint Club is the name of a show of Walt Disney's from back in the '50s
* The Judge Doom character was originally going to have an animated pet vulture that sat on his shoulder, but that idea was dropped in the interest of saving time. However, the vulture later resurfaced with Judge Doom when a bendable action figure was produced
* There were over 40 drafts of the script, including drafts that had either Jessica Rabbit or Baby Herman as the villain.
* The original price in the tune, 'Shave & a Haircut', was six bits, not two.
* The Ink and Paint Club's policy of only letting toons onto the premises as entertainers and employees, not as customers or audience members, is a reference to the real-life Cotton Club, which, along with many other segregated clubs before the Civil Rights movement, only allowed Black people to enter as performers.
* The truck full of "stuff" (bowling balls, pianos, etc.) that Eddie Valiant crashes into when he returns to Toontown is labeled "ACME Overused Gags"
* Set in 1947, a bar patron introduces Judge Doom to his invisible rabbit friend, Harvey. While the Jimmy Stewart movie Harvey was not produced yet, the play it was based on was first produced in 1944 and could be assumed to be well known.
* Disney's version of Peter Pan's Tinker-Bell appears at the end of the film to "poof" away the picture.
* No sequels, though Warner Brothers made a number of live action/animated features on their own including "Looney Tunes: Back in Action" which referenced Roger Rabbit
* Wallace & Gromit in The Curse of the Were-Rabbit also referenced Roger Rabbit
* Jessica Rabbit (Kathleen Turner) "Roger, darling. I want you to know I love you. I've loved you more than any woman's ever loved a rabbit"
* For the 2007 motion-capture film "Beowulf", Zemeckis opted for computer-generated sets and digitized characters instead of traditional animation, leading to dismal box-office returns. New Yorker magazine said of it, "The heightened "realism" gained through this device is outweighed by the jumpiness and the loss of fluidity--the technique offers more punch than poetry...By removing the poem's religious overtones and Scandinavian myths, the filmmakers have opted for a more modern focus: how power corrupts. Although the feats of derring-do are impressive (especially in the startling 3-D prints), the dialogue is dull and stilted. The dreary look (computer-animated torches, for the most part, light the action) further robs the movie of thrills."
* Elwood P. Dowd (Jimmy Stewart) in 1950's Harvey: "I've wrestled with reality for 35 years, doctor, and I'm happy to state I finally won out over it."

* Jimmy Stewart wanted to star as the guy whose best friend is a 6' invisible rabbit so badly he agreed to do a western (Winchester '73) for Universal as part of the deal. He later played the part on Broadway but made it a 7' rabbit so he would be able to look up when talking to Harvey on the stage. He and Jesse White (the Man in White) reprised their roles for a 1972 TV-movie version. Jesse White appeared in the more recent William Castle-inspired movie Matinee


© Bill Laidlaw. All Rights Reserved. Shave & a haircut, six bits

Broadcasts 20 years later, in 2007:
Who Framed Roger Rabbit (1987)
Sun  Mar  4  01:30P on The Movie Channel
Fri  Mar 30  07:00P & 5am on Showtime Family Zone
Sat  Apr 21  08:15A on Showtime #2
Wed  Apr 25  08:45A on Showtime
Mon  May 14  09:00A & 4:40P on Flix Movie Channel
Tue  Jun 26  08:15P on Showtime Beyond
Thu  Sep 13  10:00A on Wam!
Fri  Sep 21  04:20P on Mystery
Fri  Sep 21  05:20P on Movie Plex
Sat  Sep 22  08:35A on Encore

Anchors Aweigh (1945, Gene Kelly dances with Jerry the Mouse)
Thu  Sep 20  7am/10am EST on Turner Classic Movies

Harvey (1950, starring Jimmy Stewart and his 7' tall invisible rabbit)
Sat  June 16  5pm/8pm EST on Turner Classic Movies
Sun  Aug  5  6:45/9:45A EST on Turner Classic Movies

See also Back To The Future listings (Lloyd as Doc)

See also Addams Family listings (Lloyd as Uncle Fester)

See also My Favorite Martian listings (Lloyd as the Martian)