Dark Shadows

The tv series that had a poster by the dressing-room door showing a woman with two holes in her neck and a reminder to actors on the show:


"Remember Your Fangs!"
DARK SHADOWS is a unique, dramatic half-hour series fashioned in the style of the classic Gothic horror suspense novel.
The setting is a small fishing village, Collinsport, Maine. High on Widows Hill stands Collinwood, the brooding family mansion. It's a home of dark mysteries and intrigue. Within its great halls stalk the tormented residents of the estate... ghosts, witches, werewolves... held captive by spells reaching out from the depths of time.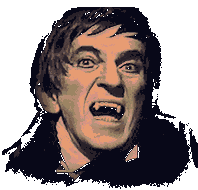 Young Vicki Winters has come here to be the governess of 10-year old David Collins, heir to the family fortune... and also to be companion to Elizabeth Collins Stoddard, the inscrutable mistress of Collinwood. To Vicki's surprise, ominous events unfold, not only in the present but in the past.
The supernatural is commonplace at Collinwood, home of the family's 175-year old resident vampire, Barnabas Collins. Two feature versions of Dark Shadows were seen in theaters:
House of Dark Shadows (1970), in which Barnabas tries to find a cure so he can wed lovely guest star Kathryn Leigh Scott


House Of Dark Shadows movie trailer



Sequel: Night Of Dark Shadows (1971) about ghosts and reincarnation, guest star Kate Jackson
Though it didn't make Kate Jackson a star, Dark Shadows led to The Rookies tv series (1972-76 as a cop's wife), which led to her superstar role in Charlie's Angels the same year as Sabrina "the smart one."

When Dark Shadows started on the Sci-Fi Channel, they announced: DS Premiered on ABC, 1966. All 1225 episodes will be shown, including the first 210, which have not been aired since their original broadcast.


It's not too late to return to MonsterVision

Official Dark Shadows website on SciFi.com (archived in 2004)

Cast credits, year 1 (in the present)...

Season 2 (set in the year 1796)

Episodes aired daily on the SciFi channel at the same time EST & Pacific Time until 2004, currently seen occasionally on SYFY Channel's ChillerTV (schedule posted on Ripley page

The newer soap "Passions" began airing 2006/2007
There are over 300 Dark Shadows videos available and DVDs including the recent new series. Also Dark Shadows books
Including one on Barnabas cowritten by Jonathan Frid
~~~~~~~~~~~~~~~~~~~~~~~~~~~~~~~~~~~~~~~~~~~~~
Dark Shadows was produced by Bill Curtis, whose most recent tv series was The Unexplained on the A&E network. And in 1970 he became involved with a little something called Kolchak, the Night Stalker starring Darren McGavin. Curtis and his wife died, in the same month, recently
Episodes showing on SYFY's Chiller TV channel in 2013
And Tim Burton's version came to HBO in April, 2013

Most recent Dark Shadows broadcast dates & time/date broadcast on the SciFi Channel (if available)

TV Guide reported 6-30-01 that Port Charles, a General Hospital spinoff series, will bring back a vampire to daytime soaps 34 years after Barnabas Collins made his first entrance. For years, PC has been a pale copy of General Hospital, but this is the latest of "Surreal, fast-paced, 13-week story arcs" that have generated measurable fan interest.
This one started June 4, when Jack (Brian Presley), a popular Port character, was seemingly killed off. His friends buried him (ala I Know What You Did Last Summer movies), but in a July 2 cliff-hanger, a tattooed creep named Caleb (played by tattooed actor Michael Easton) turns out to be a vampire and his latest recruit is Jack. "Jack must kill someone in order to survive and have eternal life as a vampire," says exec. producer Julie Hanan Carruthers, also kicking off the show's "next big romantic triangle."
"Will he succumb to this and cross over? Or will he fight it off in order to preserve his love with Livvie and protect her from Caleb?" The plot is titled Tainted Love and Carruthers says, "I've never seen the cast and crew so excited."
Michael Easton starred in the syndicated tv series Total Recall 2070, and is currently also playing Caleb's twin brother, priest Father Michael. The actor is an Anne Rice fan and says he has reread all the Rice novels to prepare for the role. "Rice has been very influential on the PC storyline - in spirit if not literally." Recently, he accidentally walked in to Coven 13, a Goth dance party held sporadically at a music hall (near his home in Los Angeles). "It's a vampire club. People come with their teeth filed. They bring their blood work. This vampire stuff is very real to them...the night I stumbled in, there was a crowd of 4,000!"

Note: Unfortunately, the producers and Network decided to cancel this storyline for the most part after September 11, 2001, on the assumption that the audience was too stupid to not be upset by fake nasty villains and went back to the sappy storylines that have kept "Port Charles" one of the lowest rated soaps on the air.

Like this site? Recommend It!

Elvira intro for Dark Shadows


For Edgar Allen Poe click here

Click here to hear the official dsTheme.au (over 500k). Dark Shadows themesong (over 500k) or right-click to save it yourself.
Do not link to it, Angelfire.com does not allow audio or graphics files to be linked to by other websites


"House of Dark Shadows...nobody lives there."