Add Your Italian Website
Bilingual Italian English Webring
Cooking Sites
English-Italian Picture Dictionary
Essential Words
Guestbook View / Sign
Italian Cities and Regions
Italian for Children
Italian Language Slideshow
Italian Links
Italian Radio & Music
Italian Search Engines
Useful Phrases
What's New?
Welcome to Il Sito, the site for learners of the Italian language.

Here you will find an Italian language slideshow, an English-Italian picture dictionary, essential Italian words, useful phrases and an abundance of links to sites featuring the Italian language and culture. Please feel free to add a link to your favourite Italian website!


Travelling through a webring?
Click here.
Viaggiando attraverso una webring? Clicca qui.
Link of the Week
Link della settimana
www.ilportone.net
New Italian language portal featuring greeting cards, desktops & wallpaper, Italian free for all links, flash movies teaching English and Italian, interactive story in Italian, many Italian links and much more! Bilingual.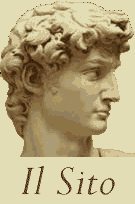 E-mail