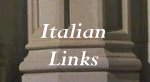 Here are links to sites which provide information about Italy and/or the Italian language.

Quick Links:

Chatrooms
Dictionaries
General Italian Language Sites
Italian Courses
Italian Culture
Italian History
Italian Jokes
Italian Webrings
Literature
Magazines/Newspapers
Mailing Lists
Translation Sites
Verb Sites


Chatrooms

About.com's Italian Language Chatroom
Regularly scheduled.

Capucina Chatroom
Conversations about learning Italian, Italian genealogy, and writing.




Dictionaries

Italian>English Translator's Tools
Links for translating Italian to English.

R-O-Matic Italian/English Dictionary
Translates Italian words to English.




General Italian Language Sites

About.com's Italian Language Home Page
Lots and lots of Italian language links and information. Very valuable site.

BBC Knowledge - Italian Fix
Phrases, facts and links related to the Italian language.

Centro Studi Italiani
The Italian Electronic Classroom is a project of Centro Studi Italiani, aimed at providing free on-line, useful information on difficult aspects of the Italian language to students, teachers, translators, writers.

Italian Online at the E L Easton Languages site
Listen and speak; Read and write.




Italian Courses

Adesso!
Teaches Italian language and culture.

Avery Fisher Center: Language Learning Materials
RealPlayer Italian lessons - pretty amazing.

Ciao!
Concise Italian language course. Every 10 seconds a new page of Italian words is shown.

Mama's Learn to Speak Italian
Fun though basic Italian language course. Sound files of Italian words.

Oggi e Domani
Interactive Italian language website. RealPlayer samples of Italian words.




Italian Culture

Liber Liber Home Page
Non-profit cultural association.

OperaWeb
Everything you could ever want to know about Opera.

Palazzo Grassi
Information about the Palazzo Grassi and its exhibitions.




Italian History

Capitolium.org
Official website of the Imperial Forums.




Italian Jokes

Giovanni Gallino's Homepage
Jokes in Italian and English with sound files.



Italian Webrings
Bilingual Italian English Webring
Italy Ring
Italy1 Club Webring
Ring Italiano
Webring Italiani


Literature

Biblioteca
Library site where you can download the literary work of Italian authors.

CRS4 Antologia (frammentaria) della Letteratura Italiana
Anthology (fragmentary) of Italian literature.

The Little Prince in Italian




Magazines/Newspapers

Il Corriere della Sera Online
Italian newspaper.

Il Sole 24 ORE Online
Italian newspaper.

La Repubblica.it Home Page
Italian newspaper.

L'Espresso Online
Italian newspaper.

Mondadori.com
News, science, culture, technology.

Mondo Medi@ Magazine
Newspaper Stand site.

RAI News 24
Italian news.

Virgilio Newspaper Stand
Italian newspapers.




Mailing Lists

Buongiorno!
Mailing list which sends out a joke in Italian every morning.

Italian
Mailing list for people learning the Italian language.




Translation Sites

AltaVista Translations
Enter Italian text, click 'Italian to English' and you have a general translation. Great for checking the general meaning of text.




Verb Sites

Il sito del verbo
The verb site. Plenty of information about Italian verbs.

Virgilio - Coniuga i verbi
Site which conjugates Italian verbs - very useful.

Virgilio - Conjugated Forms of Andare
All the conjugations of the Italian verb, andare.

Virgilio - Conjugated Forms of Essere
All the conjugations of the Italian verb, essere.

Back to the top