Italian Cities

Assisi.com
Map & monuments, the story of the city, events, hotel, restaurants and commercial activities, museums.

Augusta On Line
Augusta Port, business area, Sicilian cooking, touring, TV network.

Firenze by Net
Guide to Florence. A comprehensive city and art guide, maps, helpful information for tourists and residents.

Intervių
The premium site for providing information about the city of Naples.

Milano in...
City tour, shopping, entertainment, sport, etc. A great site.


Pisa Online
All you are looking for about your travel to Pisa, the marvellous city of the Leaning Tower.

Pompei On Line
Get an answer to any question concerning history, art and culture, social and tourist services, religious places and commercial activities that Pompeii offers to its visitors and citizens.

Roma On line
Virtual magazine of Rome. Lots of information - news, shopping and business, tourist guide, etc.

Terra di Toscana
The website of Tuscany. Lots of wonderful tourist information, screensavers and wallpaper, free newsletter and breath-taking photos.

The Best of Parma
Art, music, castles, news, hotels, restaurants, Giuseppe Verdi, etc.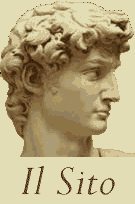 Add Your Italian Website
Guestbook View / Sign
Cooking Sites
Italian for Children
Italian Links