Italian Children's Music

Mama Lisa's World
Italian children's songs and rhymes with music and musical score.

Musiche per Bambini
Music and illustrations.

Italian for Children

English-Italian Picture Dictionary
Dictionary for children and for beginners.

The Italian/English Bilingual Children Project
This page collects information contributed by families that speak both English and Italian, with the purpose of helping each other. Alphabet cards.
Stories in Italian

Belle e Sebastien
Short story in Italian.

Favole infinite
Italian story site.

Il fantasmagorico mondo di Cleo l'armadillo
Italian comic strip.

Il sito del gatto Sissi e del topino
One of my favourite sites to visit. Frequently updated. Lots of stories.

Le Avventure di Ugo
Italian story site.

Le Favole dei Bambini
Stories written by Italian children.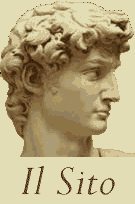 Add Your Italian Website
Guestbook View / Sign
Italian Links
Italian Radio & Music