Italian Music

Andrea Bocelli - My Official Site
Biography, discography, etc.

The Andrea Bocelli Page
Song lyrics, sound excerpts, 349 images, newspaper articles, etc.

Giorgia.net - The Official Site
RealAudio sound samples of some of Giorgia's songs with lyrics and lots more. A fun, enjoyable way to learn Italian and one of the most beautiful voices in the world.

Il Sito Non Ufficiale di Giorgia

Musica News
Magazine featuring Italian music.


Italian Radio
Radio 101
Radio 105
Radio Company
Radio Dimensione Suona
Radio Flash Network
Radio L'Olgiata
Radio Padova
Radio Primiera
Radio Subasio
RAI News 24
RTL 102.5 La Radio
TeleRadioStereo
WindowsMedia.com - Radio Station Guide Italy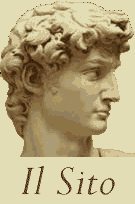 Add Your Italian Website
Guestbook View / Sign
Italian for Children
Italian Links