MUSIC NEWS, RUMOURS, AND INTERESTING STUFF...
Roofdog beats international publications to Marion news story by three weeks
The story regarding Jaime Harding's court appearance was broken at Roofdog over summer 2000, three weeks before it was covered by The New Musical Express website, Melody Maker, Channel 4 Teletext and numerous other publications.
For the latest breaking news on Marion, stay tuned to Roofdog...
NEW! Marion - where are they now? More news... NEW!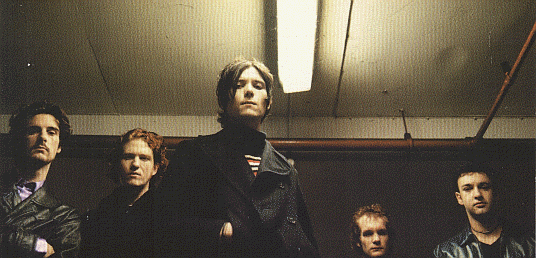 More information has emerged on the whereabouts of ex-members of Marion.

Roofdog now understands that of the ex-members of the band, guitarist Phil Cunningham, who previously had left the post-Marion group Headway to join Tailgunner, is now playing with Manchester legends New Order. Bassist Nick Gilbert and drummer Murad Mousa are now involved in non-music professions.

There is little news on Jaime Harding other than that below. It had previously been stated that the 'new' Marion would release an e.p, tentatively titled Sister, sometime in 2001; as yet, nothing more on this has been heard.
More news here as soon as we get it.
Apart from an article in the Macclesfield Express in June detailing worrying news of a court appearance (right - Click to enlarge), there is no further news as yet on Jaime Harding's progress. His project, set to retain the Marion name, is possibly the most eagerly awaited by fans, who are avid to hear what has been described as 'astonishing'. Last December, an interview with Harding was posted onto Marion fan site Chance - Marion Web Pages, detailing Jaime's new writing partnership with long-time friend Wayne Ward, and his hopes to record brand new material as soon as possible. Ward played all the instruments on the recordings, and it was thought that the 'new' Marion would be playing shows before the end of the year.
For the latest updates on these stories, join the Roofdog Mailing List
Many thanks to Darren Woodhall of Chance - Marion Web Pages - the best Marion site on the net
Have you heard or seen any projects featuring ex-Marion members?
Do you know any more information on any of these stories?
Or are you just a devoted fan of Marion and their music?
Then chat with fans on the Roofdog Message Board
---

The album cover...

A mystery guy at That pharmacy... we're not worthy!





Just in case you ever wondered whether the Pharmacy on the cover of Sebadoh's classic album Harmacy ever fixed its sign, Roofdog is proud to show you this picture, sent to us by Sebadoh member and all-round cool guy Jason Loewenstein.

The Pharmacy itself is actually situated somewhere in Ireland; but the legendary missing "P" has now been replaced. Even so, on very close scrutiny it still looks a bit wobbly.

So now you know!.

Do you know where the pharmacy is?
Have you visited it, or do you live nearby?
Or do you not know any of this but just happen to think Sebadoh rock?

Make your opinion known on the Roofdog Message Board
Check out Sebadoh's official site at http://www.sebadoh.com