PHILLY VIEWS
COMING IN 2010 HAUNTED PHILADELPHIA PREVIEW

COMING IN 2010 A TRIP DOWN THE JERSEY SHORE PREVIEW

LOCATION : Macy's(wanamakers)department store Market st. Philadelphia
The Store's famous light show has always been one of Philadelphia's most hallowed traditions, ever since its inception in November 1955, when it was devised by Frederick Yost, a theatre-lighting graduate of Yale University who came to John Wanamaker to create many of the beautiful Grand Court displays that helped make the historic store famous. Yost was following a long tradition.p> Previous years, stretching back to the days of John and Rodman Wanamaker, featured fanciful Christmas and Easter displays that ran the full height of the Grand Court, and Yost expanded on the decorating schemes at Christmas by adding lights, fountains and the Magic Christmas Tree to produce a sound-and-light spectacular that continues to the present day.
The show runs from Black Friday following Thanksgiving through to the New Year and is offered several times each shopping day.
The Light Show statistics are impressive. The tree contains an estimated 23,500 lights, many custom-tinted in shades of pink and purple just for the Show, and the figures contain 29,000 lamps.
The fountain system uses 3000 gallons of water. The total electrical consumption during the 21 seconds when the entire show is lit at the climax is a staggering 288,000 watts.
Fun Facts and Figures
The Magic Christmas Tree has approximately 23,500 7-watt light bulbs and is fed with 1200 amps of power (an actual lamp count is being conducted this year).
The Tree has three sections, each with six colors of light bulbs: red, green, blue, amber, pink, and purple. The pink and purple bulbs are specially made for the show.
There are 85 individual branches on the Tree, topped by a cone-shaped section, then crowned with the star, which has white, amber and blue lights.
The figures have 23,635 individual 7-watt light bulbs. The vertical strings of lights have 5906 light bulbs, powered by 40 different circuits so that the lights can be programmed to "chase" in different directions.
The train engine weighs 700 pounds and each of the two cars weigh 500 pounds.
It takes six weeks to set up the show.
The end of the Grand Finale uses 288,000 watts of electricity and lasts for 21 seconds.
The John Wanamaker Christmas Cathedral, Philadelphia. Inspired by the beauty of famous churches and religious art throughout the world, this Christmas presentation is located in the Grand Court of the Philadelphia store. The Nativity tableau is placed in the central portal above which are stained glass windows portraying The Annunciation and The Flight Into Egypt. Figures of the Disciples and Prophets are set into the Cathedral front.
Towering high above the Wanamaker Grand Court, facing the Christmas Cathedral, the Magic Christmas Tree of a Million Lights adds brilliance to the holiday season. As though touched by a magic wand, the colors flash and change before your eyes while the Enchanted Fountains rise and fall to the accompaniment of Christmas music.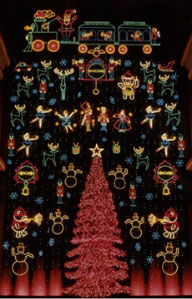 click for the original Wanamaker's Christmas show introduced by John Facenda

LONG CLIP


SHORT CLIP


DICKENS SCROOGE

A video of the monorail that used to run around the toy department

PHILLY NOTEBOOK PRESENTS
THE UNEXPECTED GUEST

CHAPTERS
PHILLY FOODS