Congrats to this year's big winners: Duane Walker the 2011 Champion and Todd Langdon, the 2011 Rookie of the Year!
1 Todd Langdon 6 NC 50 Laps $600.00 $77.00 Pole award = $677.00
2 Lynn Waller 5 NC 50 Laps $400.00
3 Duane Walker 48 NC 50 Laps $300.00.
4 Travis Miller 99 NC 50 Laps $200.00
5 Rick Watson 50 WV 50 Laps $91.00
6 Keith Watson 51 WV 50 Laps $91.00
7 Kristin Gault 8 NC 50 Laps $91.00
8 Chad McKinney 95 NC 50 Laps $91.00
9 Bert Brasz 68 VA 50 Laps $91.00
10 Tyler McKinney 47 NC 50 Laps $91.00
11 Nathan Brasz 37x VA 49 Laps $91.00
12 Austin Caudle 11 NC 47 Laps $91.00
13 Ronald McNeill -1 NC 46 Laps $91.00
14 Jason Byrd 57 NC 46 Laps $91.00
15 Cody Honeycutt 29 NC 37 Laps $91.00
16 Sammy Pacitti 41 NC 50 Laps DQ Chained down both sides of rear end $0
A special message from series director Larry Walls:
I have been told that I alone have destroyed UCAR racing.When you look at the total picture I am the only one that has keep our cars stock as they can be. As with everything else in motor sports the drivers and team owners have pushed the tracks as well as the UCAR Clash to allow them to cut springs add after market wheels and work done to motors to make them faster.
When I started the UCAR Clash I did so to keep the cost down to my racers and to help bring new drivers into the sport. That is all out the window now when we started four years ago the average car cost was $600-$1200 now I have some cars that cost right at $5000 to build.
I know that I have made mistakes in running the UCAR Clash I am not perfect at all. I have invested 4 years of my life and my own money into giving you guys a place to race 10-12 times a year.
Now the bottom line for me is ether to stop the loss of money or try to stay afloat and finish the last 3 races of the 2011 season. I can't do this without you the drivers and team owners. My staff and I are looking at opening up our rules to allow more cars to race with us. I now need feed back from all UCAR drivers to help bring the UCAR Clash back. I know with the economy in such a down turn and car and fan counts down everywhere it will be hard for you to travel but again I need your help not your bashing. Bashing is killing our home tracks and the UCAR Clash everyday now.
For Hickory I am opening a pre-registration form on the Walls Roofing UCAR Clash web site I need all drivers that are going to race at Hickory to register for this great race. At this point and time we are going to open up the spring rule to cut springs and lowering the ride height down as well.
I would like to thank all of the past, currant teams and sponsors for all of your support without you I could not have made it this far.
Thanks for your time
Larry P. Walls
Workmans take top 3 at Motor Mile
It was a Workman family reunion at Motor Mile Speedway, a historic first event at the famous Virginia track that saw three family members sweep the podium for the first time in Walls' Roofing UCAR CLASH history!
It was Joe Workman, part of a West Virgina racing family with a history of Clash appearances, who took the top spot in both the feature event and the heat race held to set the field.
For his stellar performance, Workman collected $300.
The rest of the running order was as follows:
1 Jay Workman WV Heat winner as well only one heat race
2 Eddie Workman WV
3 Joe Workman WV
4 Tony Houseman VA
5 Joseph Knuckles KY
6 Ryan Cox VA
7 Eric Bisbop VA
8 Ricky Howell VA
9 Patrick Jannery VA
10 Jerry Hollandsworth VA
RULE UPDATE FOR THE UCAR CLASH - EFFECTIVE IMMEDIATELY
Tires and Rims 1. All four wheels must be the same size and offset on all four corners and must be 13-14-15" tires.
TIRE RULE FOR THE REMAINDER OF THE 2011 SEASON AS FOLLOWS:
HOOSIER 790s STILL ALLOWED ALONG WITH ANY STREET DOT TIRE 200 TREAD TIRE OR HIGHER.
THIS RULE WILL BE REVIEWED PRIOR TO THE 2012 SEASON
2. No UCAR can soak tires at any track at any time.
3. All 4 tires and wheels MUST be the same size on all 4 corners.
2010 Claim Rule:
1A ONLY UCAR CLASH OWNER OR OFFICIALS HAVE THE RIGHT TO CLAIM ANY CAR, AT ANY TIME. CLAIM WILL BE AS STATED:
$3000.00 PER CAR. NO DRIVER OR CAR OWNER WILL BE ALLOWED TO CLAIM A CAR.
This claim is for the whole car minus seat and harness or seat belts and window net. Any driver who refuses a claim will be disqualified for the next two events. If he or she denies a claim a second time in the same season, he or she will suspended for the remainder of the season. We are going to put the "stock" back in stock car racing. If you do not see it in the rules or specifications, DO NOT DO IT. This division is intended for those who wish to race but don't want to spend a lot of money. This division is slated to be one of the most exciting and fastest growing in our region and kept affordable enough for all to enjoy. For more info for the Walls Roofing UCAR Clash call Larry P. Walls at 919-291-0938 or go to www.ucarclash.com
1B. All Claims must be in cash only and must be in place with in 5 minutes of race finish.
Duane Walker wins first Clash race
Duane Walker has ran great all season. He'd claimed a regular weekly racing victory at Dillon Motor Speedway earlier this year, but had yet to win a Walls' Roofing UCAR Clash points race. All that changed Saturday Night at Dillon.
Walker led all 20 laps in the feature in route to his first career touring series win. Walker held off a hard charging Bill Pearce, who won the night's earlier heat race, to win the $300 check at the end of the night.
Jason Beck finished 3rd and Jessie Hatcher finished fourth.
Stay tuned for more news from the UCAR Clash for Cash series!
"Wild Bill" Pearce wins with last lap pass
Matt Grimes dominated the race, but Bill Pearce took home the hardware. That was the story during the Walls' Roofing UCAR Clash's fist trip to Wake County Speedway this year.
Grimes' Piping Performance Nissan 200 SX led 49 laps of the 50 lap feature, steadily pacing the field for the entire event. However, former super late model driver Pearce made a daring last lap pass to take the lead and a $500 first prize courtesy of Dunn Benson Ford.
For Pearce, it was his second straight win on the Clash Series. His Honda Prelude came all the way from the rear in the most recent race, proving its muscle.
Eric Winslow, who won the inaugural UCAR Clash race at Wake County Speedway in 2007, placed 3rd in his Honda Prelude. Duane Walker and Chris Gault rounded out the top five.
Full results and race rundown will be posted soon.
From Walls Roofing UCAR Clash
North Wilkesboro (N.C.) Speedway has announced that a "business restructure" is underway at the 5/8-mile paved oval, placing all 2011 scheduled events in a "tentative" position. The June 18th and OCT 29th Walls Roofing UCAR Clash races at North Wilkesboro will be listed as "tentative" until this process has been completed. Track principals have indicated that final decisions regarding future potential re-opening of the facility should be made by June 15, at which time the Walls Roofing UCAR Clash will reflect the situation regarding the June 18th events. In the interim, all questions regarding the future of North Wilkesboro Speedway may be directed to the Speedway offices at (336) 651-0018.
"Wild Bill" Pearce wins at Dillon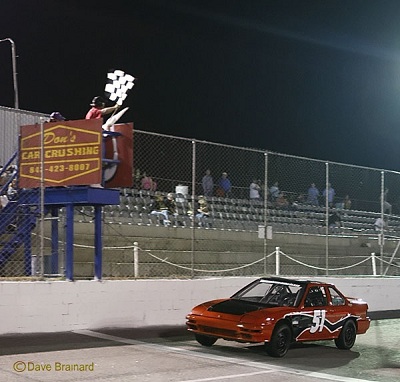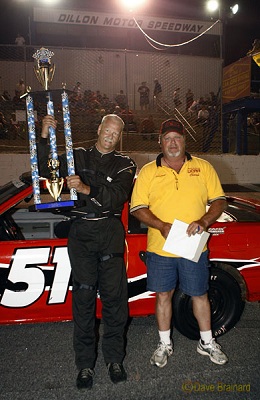 "Wild Bill" Pearce won his first ever UCAR Clash feature at Dillon Motor Speedway, holding off Duane Walker and Min Stock specialist Chad Wall in a caution free race that had been shortened to 25 laps.
Peirce piloted his #51 Honda Prelude to an earlier heat race win, making him undefeated on the night. Walker put up a charge, but had to settle for second after his car developed a miss that couldn't be remedied at the race track.
Wall was piloting the car that Chris Lowell won the previous UCAR Clash race at VIR, but the car didn't seem to have the handle at the tricky 4/10 mile Dillon.
Check back soon for a full rundown. >
Smith, Lowell win at VIR
The #23 Acura Integra, owned by Wil Smith, won both the Walls' Roofing UCAR Clash and the UCAR Clash Open race at Virginia International Raceway Saturday. Chris Lowell, making his first UCAR Clash start, won both his heat race and feature event. Smith, driving the same car, won the open modified race.
In the UCAR Clash feature, Aaron Miller crossed the finish line first, but was disqualified after refusing the second place driver's claim. The UCAR Clash has a claim and exchange rule allowing a driver to claim the car that finishes directly in front of them for $1,500. Anyone refusing the claim will be disqualified. The rule is designed to keep the cost of racing at a manageable level.
In the UCAR Clash feature, Michael Neal finished second, Rick Watson third, Eric Winslow fourth and Todd Langdon in fifth.
Even with gas prices approaching $4 a gallon, 16 cars showed up for the third running of the Clash at VIR. Though the turnout was lower than previous years, series director Larry Walls thanked the drivers who came from more than three states to run the race.
"This is a good turnout," Walls said during the drivers' meeting. "We will be back next year."
The race was surprisingly clean, with few incidents other than some minor excursions through the grass and a couple of single-car spins on the winding road course.
The final finishing order was:

Chris Lowell

Michael Neal

Rick Watson

Eric Winslow

Todd Langdon

Duane Walker

Keith Watson

Todd Massey

David Wiggins

Matt Grimes

Jason Beck

Jeremy Rowe

Thomas Sheridan

Jason Miller

Greg Napier

Jeff Thomas

Aaron Miller

In the open UCAR race, Smith pulled out to a healthy lead early over Eric Winslow and led all the way.

Wilson Smith

Eric Winslow

David Wiggins

Andy Delay
Aaron Miller has won the UCAR Clash for Cash race at Dillon Motor Speedway.
Kevin Herndon was second, Duane Walker third, Todd Langdon fourth and Jeremy Kidd was fifth. Check back later this week for a full-field rundown.
Jeff Woods won the Open Mod portion of the UCAR Clash event. Below is a full field rundown from that race. 03 Jeff Woods
18 Aaron Miller
88 Dennis Morgan
10 Justin Terry
88 Richard Jones
92 Zack Bralley
3 Jeremy Kidd
Home