Robert Arch claimed the pole and the win in the season-ending Walls' Roofing UCAR Clash race at Dillon Motor Speedway on Sept. 22. The 2010 series champion missed most of the last two seasons, but came back with a vengeance, winning the final two Clash races of 2012 in dramatic fashion.
The series' tight points battle came down to an nail-biting final few laps. In the end, Gibsonville, N.C.'s Keith Brame Jr. became the series' first two-time champion, besting Raleigh's Chris Gault by a mere one point.
Brame nursed a steaming car to a second place finish in the race, just enough to claim the title.
Gault, who led the standings by 9 points heading into the championship race finished the event in fourth place.
The 25-lap feature was slowed by two caution periods and featured plenty of contact and exchanged paint. Arch, of Raleigh, stormed out to an early lead but was soon challenged by Dillon, S.C., driver Kayla Dean. Dean and Arch made contact on lap four, allowing Brame to take the lead.
Brame led the next dozen or so laps, until a late caution flew for the slowing Chevrolet of Mark Dean.
On the ensuing restart, contact between Kayla Dean and Gault led to Gault's Nissan spinning in turn one. The race restarted again with nine laps to go.
Arch re-claimed the lead from Brame's overheating Honda and went on to victory. Gault, meanwhile, stormed from the rear of the field to Dean's back bumper, but was unable to make the pass for third on the final lap.
Arch performed his trademark victory burnout on Dillon's front stretch, much to the delight of the fans who stayed on hand to watch the evening's most exciting feature. With Arch's victory, he tied Brame for the series' win total, both with two a piece. The highly-competitive season featured seven different winners.
Gault, in his first year of competing on the tour, claimed the Piedmont Racing Expo Rookie of the Year award. Gault won his first Clash event at the historic Rockingham Speedway and put together an impressive season.
2012 winners were: Todd Langdon, Barry Wilson, Mark Dean, Chris Gault, Keith Brame Jr., Chad Wall and Robert Arch.
Stay tuned for information on some special non-points races to close the 2012 season!
Robert Arch wins in return to UCARS
Robert Arch, the 2010 UCAR Clash champion, hadn't sat foot in a UCAR since his championship season. Last Friday, Arch looked as if he never left.
The current late model driver rolled to victory at the UCAR Clash for Cash 50 lap event at Wake County Speedway, besting track champion Chad Wall in a heated battle that turned physical.
The two drivers each won a heat race and qualified on the front row for the feature. Wall, who had won every UCAR race of the season at the 50-year-old bullring, pulled out to an early lead. However, after a caution for a spinning car, Arch took advantage of a restart, moving Wall from his lead position. Wall was able to charge back up to second place, but ran out of time. Arch's Acura stormed to victory in the race, which had been delayed by rain for two consecutive weeks.
Chris Gault, who came into the race second in points, made up ground on season-long leader Keith Brame Jr. Gault finished third at his home track while Brame, who raced a heat race the week before, was unable to return to the track the next week after the rainout.
The two head into the final race of the season at Dillon in a close points battle, which could come down to a single position on the final lap. Both drivers have won this season, meaning anything could happen going into the season's final race!
Lower entry fee, higher purse through the field! (race rescheduled for Aug. 24) >
Friday night's race at historic Wake County Speedway is sponsored by Dunn Benson Ford. The Dunn, N.C., dealership has helped cover the purse for the UCAR Clash's second trip to the .25 mile speedway. The purse for this event is Guaranteed!
In addition, Walls Roofing LLC has added an additional $100 to the back end of the purse for this event, meaning those finishing further back in the field will receive $25 rather than $15. The entry fee for this event has also been lowered to $25 a car.
Remarks from Larry Walls regarding Ace disqualifications.
Keith Brame Jr. wins at Ace, secures points lead
Keith Brame Jr. took his second victory of the season at his home track of ACE Speedway on a special Tuesday night July 4 spectacular.
The win allowed Brame to extend his slim points lead over Raleigh driver Chris Gault.
Brame won the race in the tech area following the disqualification of two series regulars, Barry Wilson and Michael Neal. Series technical inspector Jessie Richardson Jr. said both the first and second place finishers had unapproved springs on their cars.
Brame moved from his fifth-place starting position to an early second place spot on the race track before settling into third when the checkered flag flew. The #1 team picked up $300 for the winning effort.
Ben Walker, who is tied for Brame five with regular-season wins in Ace Speedway's UCAR division, advanced to second after the disqualifications. Gault was third, Roger Brannon fourth and Tim Brown rounded out the top five finishers.
Expanded Purse, lower entry fee for ACE race!
Tuesday, July, 3 2012 ACE Speedway $ 35.00 entry fee for this race. The highest-finishing weekly ACE Speedway UCAR that runs at ACE or any other track for the race on July 3, 2012, in the Walls Roofing UCAR Clash receive a $100.00 Bonus from the Walls Roofing UCAR Clash. A $50.00 bonus will be paid to the next highest-finishing car that is a weekly racer at ACE or any other track. To qualify for this, you must not have ran any of the 2012 season in the Walls Roofing UCAR Clash, and you must be a weekly racer at ACE or any other track.
Walls Roofing LLC Has posted another $100.00 to the purse from 6th back to 16th place The new purse is listed below For the ACE Speedway race July, 3 2012:
Purse for race with less than 20 cars for ACE Speedway $300.00 $200.00 $100.00 $55.00 $35.00 $25.00 back to 16th place
Chad Wall wins Wake County
Chad Wall dominated the first Walls' Roofing UCAR Clash event of the season at Wake County, making it six different winners so far in 2012. Wall, no relation to series founder Larry Walls, cruised from his pole starting spot to an easy win in a race marred by crashes, spinouts and a fire that ended the race two laps prematurely.
Wall qualified nearly a second faster than the entire field, setting a blistering lap of 14.54 around the .25 mile bullring. Chris Gault, who was second in points going into the night's event, qualified second and held his own throughout the race, finishing right behind Wall.
However, behind them, things got a little wild. Around lap 30 points leader and defending race winner Keith Brame Jr. would get involved in an incident with a lapped car while running in the top five, ending his night early and creating serious championship implications.
After the restart, Wake County Speedway UCAR champion Kristin Gault charged through the field all the way to third place, but blew her engine with only two laps remaining. Her car erupted into a fireball, causing chaos behind her as the third through sixth place cars would all be collected in the ensuing wreck. Fortunately for Wall, he was long gone and easily collected his first Clash feature win.
Finishing order for the Walls Roofing UCAR Clash race at Wake County Speedway May, 25 2012 1 Chad Wall 5 NC
2 Chris Gault 11 NC
3 Dwayne Goodwin 71 NC
4 Kristin Gault 8 NC
5 Josh Taylor 22 NC
6 David Wiggins 14 NC
7 Eric Sykes 23 NC
8 Keith Brame Jr. 1 NC
9 Chris Lowell 28 NC
10 Lee Horner 60 NC Blown motor show points
11 Justin Fussell 07 NC DQ After market headers on motor
Keith Brame Jr. back in the winner's circle
When you look at the Walls' Roofing UCAR Clash history books, one name rises to the top of the list - Keith Brame Jr. The 2009 champion is the series' first repeat winner, all-time wins leader, and has won on all three types of tracks the series has raced - oval, dirt and road course.
On the opposite end of the spectrum is Jason Beck Racing, one of the founding UCAR Clash teams that had never seen victory lane in the touring division. Now, the two have joined to create a winning combination.
After several near misses and letdowns this year, Brame captured the first UCAR Clash win of his career driving a car owned by someone other than himself. Brame dominated the series' fifth race of the year, qualifying on the pole and leading 24 laps of the 25-lap main event at Dillon Motor Speedway.
The win pushes the Gibsonville, N.C. native further ahead in the points battle, extending his attempt at becoming the series' first repeat champion.
Not bad for a driver who hadn't run the UCAR Clash in more than two years and had no plans of racing cars this season.
"I came down to the New Years Day race and didn't even have a car with me, I was just helping a friend," Brame said Saturday night in victory lane, hoisting the winner's trophy. "Jason saw me and asked if I wanted to drive his car. He liked what he saw, so we decided to keep racing."
Brame has qualified on the pole for three of the series' five races this year and has posted four top fives. However, Raleigh's Chris Gault has kept the points battle tight, winning the inaugural race at Rockingham Motor Speedway and finishing 2nd to Brame Saturday night at Dillon. The race at Dillon may have been one of the strongest runs of Gault's young career. He'll be a force to be reckoned with as the series heads into his home track of Wake County Speedway in May.
Dillon natives Josh and Mark Dean finished third and fourth at their home track, waging an epic battle for position throughout the race. Andy Norris rounded out the top-five finishers.
Chris Gault wins Rockingham
For the third race this season, the Walls' Roofing UCAR Clash has a first-time winner. Chris Gault, who has ran every race this season the entire 2012 season so far took the win at the inaugural UCAR event at Rockingham Motor Speedway.
Gault, who also won a his heat race, started on the pole and led wire to wire in the 25 lap feature.
Ben Walker, who hasn't finished out of the top five this season, finished second. Jessie Duke was third.
Keith Brame, the series' points leader, was leading the heat race when mechanical trouble ended his day early.
The UCAR Clash will visit Dillon Motor Speedway for the fourth race of the season on April 28.
Click Here for updated raceday schedule!
Dean takes Clash dirt win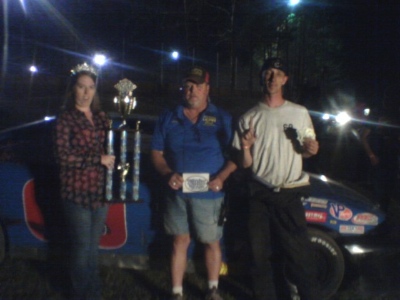 The second points race of the 2012 Walls' Roofing UCAR Clash season is in the books and once again a first-time Clash winner found himself in victory lane.
Marty Dean made the long trip from Dillon, S.C., to County Line Raceway just outside of Wilson, N.C., for the only dirt race of the 2012 season. Dean, a dirt regular, easily rolled to victory in the 25-lap feature.
Keith Brame Jr. of Gibsonville, N.C., would qualify on the pole for the second week in a row, this week by winning a qualifying heat race. In the feature, Ben Walker would storm to an early lead from his front-row starting spot. Dean, who started third, would take the lead on lap 3.
From there, Dean would roll out to a straightaway lead. Walker would fade with mechanical issues, setting the stage for a big battle for second between Brame and Barry Wilson, who won at Ace. Ultimately, Brame would prevail, with Wilson finishing third.
Chris Gault, an asphalt driver making his dirt debut would finish fourth, while Walker would fall to fifth.
Wilson claims first clash win at Ace
Barry Wilson has dominated Ace Speedway over the last year's time, winning last year's track championship. He continued his dominance on March 10, claiming his first Walls' Roofing UCAR Clash win at the historic .4 mile track in Alamance County, N.C.
The race featured the hard fought racing Ace is known for, with plenty of side-by-side racing for the lead and three-wide racing throughout the 50 lap feature.
Wilson didn't take his win without a fight from the other Clash competitors. 2009 UCAR Clash Champ Keith Brame Jr. of nearby Gibsonville took the pole with a 19.17 lap, and started in 7th place after an invert. That left Chris Gault and 2011 Wake County Speedway champion Jessie Duke on the front row for the feature. When the green flag flew, Wilson missed a shift, bunching up the field. Wilson would make contact with Brame, sending him spinning and to the rear of the field for a complete race restart.
Sam Pacitti, of Angier, N.C., took an early lead in the race, and would swap the lead with Wilson and a hard charging Michael Neal throughout the race's opening laps. Trouble for Brame would continue, with his car's engine stalling, causing a second caution.
The UCAR Clash adopted Ace Speedway's famous "Choose cone" rule for restarts, allowing cars deep in the field to choose to move to the outside lane for the restart. This created exciting three-wide racing and competitiveness all day.
Brame took advantage of the cone restarts, and worked his way back into the top 5. The caution would soon fly again, as contact between Chris Gault and Jeff Thomas would make contact, sending Thomas hard into the turn 2 wall.
Wilson would muscle his way into the lead for good, and pull out to a healthy lead as Pacitti, Neal and Brame would fight tooth and nail for second.
The caution would fly again, as Gault broke a suspension part and ended up in the wall, ending his race, setting up a final restart.
Brame would pass Pacitti for second, only to loose the position the next lap. Neal was fading with mechanical trouble and dropped to fourth. On the last lap, Brame would move around Pacitti in turn four, bringing Neal with him for a podium finish. Pacitti would finish fourth and Ben Walker would round out the top five.
Once again, as is the case in nearly every Clash race, 3/4 of the field finished on the lead lap. Though the field of 12 cars was less than the 27 at Dillon in January, the race was one of the more competitive in recent memory.
A full run down is below
7 Barry Wilson
1 Keith Brame
11 Michael Neal
41 Sam Pacitti
2 Ben Walker
13 Chris Meeks
14 David Wiggens
1X Roger Brannon
33 Jesse Duke
01
G11Chris Gault
5 Jeff Thomas
UCAR Clash to race at Rockingham Speedway
The UCAR Clash will visit Rockingham Motor Speedway for the first time on April 1, 2012. The series' cars will race on the Little Rock, which is located behind the main speedway of NASCAR fame. The Little Rock is a 1/2 mile replica of Martinsville Speedway. The UCAR Clash will race on a 1/4 mile portion that uses half of the "Little Rock". The Bandolero and Legends Divisions will also race that day.
UCAR Clash remembers Marion Johnson
The Walls Roofing UCAR Clash will hand over the flagging duties of Marion Johnson to his son Larry Johnson at the FAREWELL TO FROST 200 on Saturday, March 10, with the Mad House Modified's at ACE Speedway. Larry is the son of the late Marion Johnson NASCAR flagging legend and former Walls Roofing UCAR Clash flagman. It is a honor to pass the flagging duties over to Larry Johnson for the 2012 Walls Roofing UCAR Clash.
Please join us as we dedicate this season of 2012 Walls Roofing UCAR Clash in his honor - heaven's flagstand just got even classier. We thank God for allowing us the privilege of knowing such a man - rest easy Marion... Marion Flagged for the Walls Roofing UCAR Clash in the 2010 season. What a great man. I always loved to hear his story's about flagging in NASCAR.
Press Release: Schedule for the 2012 season Walls Roofing UCAR Clash
With much regret the Walls' Roofing UCAR Clash has pulled all of its dates at the Southern National Motorsports Park for the 2012 season.
With that said here is our exciting 2012 season. We start out our year for the Walls Roofing UCAR Clash points battle at Ace Speedway http://www.acespeedway.com/ on March 10th with the Mad House Modifieds.
We return to dirt at County Line Raceway http://countylineracewaync.com/ on March 17th. April 1st will be announced as soon as we finalize the track and date that will be coming soon. We return to the Dillon Motor Speedway http://www.dillonmotorspeedway.com/cms/ on April 28.
Wake County Speedway http://wakecountyspeedway.com/ will host our race on May 25th. If everything goes well for the new Carteret County Speedway http://www.carteretcountyspeedway.com/ we will be going down east for a weekend at the beach in June TBA. On July 3rd the Walls Roofing UCAR Clash will be back at the lightning fast Ace Speedway http://www.acespeedway.com/ with the Mad House Modifieds.
On July 21st we will be going back to one of our first tracks that the UCAR Clash ever raced at East Carolina Motor Speedway www.ecmsracin.com. August 10th we will be back at Wake County Speedway http://wakecountyspeedway.com/ . We return to East Carolina Motor Speedway September 1st and head back to Dillon Motor Speedway on September 22. Our big race at Hickory Motor Speedway http://www.hickorymotorspeedway.com/ will be in October date TBA. We are working on a date for one of two road courses for our final race of the season so stay tuned for more info on this coming soon.
I would like to welcome all of our new tracks to the 2012 schedule and to welcome back all of our old tracks as well. This year will be one of the best ever for the Walls Roofing UCAR Clash.
Thanks
Larry P. Walls
Langdon wins in epic race for UCAR Clash
Larry Walls is no stranger to big races, but the New Years Day UCAR Clash Race may have been his biggest, most-important event yet.
By all accounts, he passed the test. With a huge field of 27 of the best stock four cylinder cars to ever run on an oval, the $500 to win January showdown was a battle for the ages.
Todd Langdon cruised to victory for his second win in as many races, fighting from a third row starting spot to take the lead after a late caution. It's Langdon's third Clash win.
Jimmy Waller, Sammy Pacitti, Keith Brame Jr., Jonathan Belfore and Barry Wilson rounded out the top-six finishers.
Micheal Neal set fast time for the race with an unofficial track-record 19.60 qualifying time, but was forced to start 7th due to an invert for the feature event. That gave Brame Jr., the 2009 UCAR Clash champion, the top starting spot in his first race back to the series in two years.
Once the green flag flew, Brame took an early lead in his borrowed car, but couldn't hold off Waller or Neal, who eventually passed both Brame and Waller for the lead.
All that would change on lap 23 when Dillon regular Kayla Dean made contact with the turn-4 wall, then across the track into the leader Neal. Dean was transported to the hospital for minor injuries, and the race was delayed by both a crash and rain for more than 10 minutes.
That set up a 5-lap shootout for the finish, with Langdon driving off into the sunset to continue his win-streak.
It's a new season for the Walls' Roofing UCAR Clash and Larry Walls has something to say,
"We're back!"
After a season of low car counts, controversy and the struggle to survive an economic downturn, the series known in 2009 as the fastest growing touring series in America has returned to its former glory. No where is that more evident than at Dillon, where a tradition is being built when all other regional tracks are taking a break for winter.
"This race is important to us, we are trying to build on it and make it bigger every year," Walls said. "Next year it will be a points race."
It wasn't just the number of cars, but the quality of the field that stood out on New Years day. It was a champion's field with Ace Speedway champion Barry Wilson, Ace runner-up Michael Neal, Coastal Plains Raceway champ Jonathan Belfore, Wake County Speedway stock-4 champ Jessie Duke, UCAR Clash champ Brame Jr. and the 1st and 2nd place cars from Orange County Speedway.
The event was only a handful of cars short of the all-time record car count set at Wake County speedway in 2008. Walls hopes this will prompt more drivers to race the Clash in 2012, and put the UCAR touring series back on the map
Stay tuned for full results from Dillon soon.