Welcome to my Animal page!


Eventually I hope that my whole web site will be available in English.

Meanwhile, I made this index page for my English visitors
so that you can help me to fight
against animal terror in the world.

*****



I will fill these pages with what I care about -
my four-legged friends.

I write letters every day to ministers, shops and fur traders
to urge them not to import or sell these poor animals' skin and fur in Europe.

I love my four-legged friends more than the whole universe

It is hard to see all the poor animals suffering,
just because people do not understand the animals' feelings and pain.

I will do something for all that not can speak out for themselves.
I also care about old people and the handicapped.

That's what you, dear visitor, will find on my pages.
I sincerely hope that these pages can touch your heart.


~ Marita ~








Warning!
Some pages have very shocking pictures!




Animal fore adoption




Use your back-button to come back to this page!





This pages are in Swedish, but you can take a look at my dear friends






Slideshow of my dogs
* Sanda & Sara *





In Loving Memory





My candle light for
all animals in the world





Please use this picture to link to this page


AnimalAsia Foundation



Help Bring Kei the Wolf Home

Please accept this gift as a token of Friendship.You have all given me inspiration when visiting your sites to build and improve mine!
Take care,you are all special to me.




They are helping cats and dogs in Thailand



Let's make a last try to help the por animals in Soud Korea
before may-2004..
Protest NOW !
**URGENT ACTION NEEDED**



Stop this horse slaughters
sign petition


VIDEO: North Carolina Puppies in the "Kill box"

Sign this petition

Argentine Street Dogs Beign Slaughtered for the Sake of Tourism









Action Against Poisonning all kapitals




Wherever you are, there is a global boycott of all products belonging to
Proctor and Gamble. You can see all of them at
http://www.pg.com/products/usa_product_facts.jhtml P&G animal tests for new
ingredients (even though animal testing is cruel and unscientific)

Mark/Tesco


Members oft he Europen Parliament







World Day of Demonstration
Wednesday, July 16th, 2003.
The beginning of
Bok Days in Saud Korea

It was a very good day with great
respons from the Swedish people and from
turists from other countrys.
here are som photos © Marita Carlsson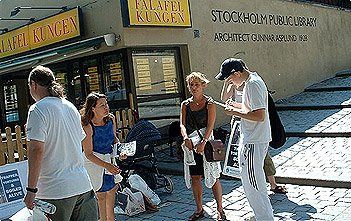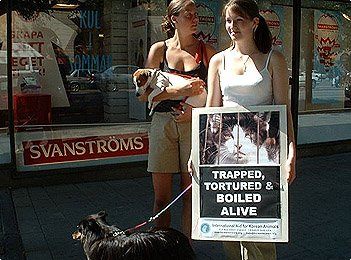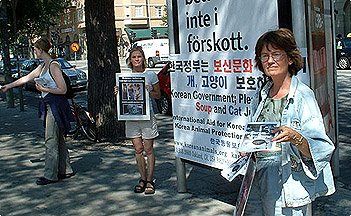 *******

Back to my Swedish index page
Please look around there to









© Marita