MEMORIAL TO ROOSEVELT RACEWAY
by Jeffrey Rosen

Monday, February 7, 2000-On this date Roosevelt Raceway, which had closed its doors 12 years earlier after giving Long Island the best of harness racing for almost 48 years finally was torn down. What was a landmark along the Meadowbrook Parkway in Westbury, New York, is no more. I created this site as a memorial to a great Long Island landmark.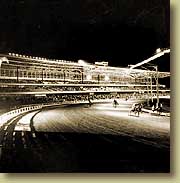 I never realized how traumatic this day would be. I actually don't know why I'm so bothered. I am really a much bigger thoroughbred fan than harness fan. (Thank G-d I still can see Belmont Pk from the Grand Central Pkway on the way to work) I guess its because it was always there, a place to go when I had nowhere to go at night. Hell, I even remember going to Thanksgiving dinner with my family to the Cloud Casino in the clubhouse. I was too young to be affected by the tearing down of Ebbets Field, The Polo Grounds, Jamaica Racetrack, the old Belmont plant, the Old Garden, etc. They never bothered me. However, each day driving to work on the Meadowbrook Parkway and seeing nothing at all where I used to see the huge grandstand for almost 40 years leaves an empty feeling in me, almost making me sick.
I remember always seeing the sky lit up in the northwest from my house in East Meadow.
I remember the drivers working out horses on the practice tracks along Merrick Av in Westbury where Friday's and Symms now stand.
I remember walking along the Meadowbrook Parkway with about 10 friends and trying to get in even though we were underage.
I remember the $2 WIN express line (2 ticket Max) snaking all over the 1rst floor grandstand.
I remember Jack Lee calling the races yelling "and here comes Carmine on the extreme inside to take the lead!!!" and I remember the young red headed fellow who used to call the races unofficially at one of the first floor monitors.(update-2/21/00-according to an email from Tony Markowsky that red headed guy was Howard Oil, presently the race caller at Monticello)
I remember counting the days till Yonkers Raceway closed!!!
I remember Doc Robins programs
I remember parking at Ohrbach's Department Store to avoid the parking fee.
I remember the Cloud Casino in the clubhouse and the John Peel Room at the Island Inn just outside the track. (I hope someone opens a restaurant called the Cloud Casino in the shopping mall on the site)
I remember making the double header of Belmont or Aqueduct then Roosevelt.
I remember the Moby Dick Cafeteria.
I even remember when they opened a disco on the third floor of the grandstand.
This memorial site was started on February 13, 2000 and will be updated a little at a time. If anyone has any information or corrections you may Email me at the below Email address. Also since I am using WebTV and have no computer, if anyone has any pictures or images of Roosevelt Raceway they can Email it to me also. It would be greatly appreciated!!!
Email: sgtjeff56@hotmail.com
Click here to read some Selected Emails (2/21/00-3/21/00)
Page 2 of selected emails (4/6/00-6/24/00)
Page 3 of selected emails (6/25/00-9/10/00)
Page 4 of selected emails (9/10/00-4/4/01)
Page 5 of selected emails (4/4/01-10/1/01)
Page 6 of selected emails (10/1/01-8/1/02)
Page 7 of selected emails (8/1/02-2/7/03)
Page 8 of selected emails (2/8/03-11/2/03)
Page 9 of selected emails (11/2/03-2/25/04)
Page 10 of selected emails (2/26/04-12/19/04)
Page 11 of selected emails (12/19/04-6/19/05)
Page 12 of selected emails (6/28/05-12/24/05)
Page 13 of selected emails (12/24/05-12/26/06)
Page 14 of selected emails (1/07-present)
Facts about Roosevelt Raceway
Roosevelt Raceway opened on the evening of September 2, 1940 bringing harness racing to Long Island. It was built in a location very close (about 1/2 mile) to where Charles Lindberg took off on his historic flight to Europe. In 1956-57 the grandstand was completely rebuilt to become the ultra modern plant that everyone remembers. The raceway was open for almost 48 years until its final racing program on July 15, 1988. In between those two dates is harness racing history.
For many years Roosevelt along with her sister track Yonkers Raceway was the worlds formost harness tracks leading in attendance, handle, and purses.
Roosevelt Raceway introduced a new type of tote board which showed what a horses possible win place and show prices will be rather than display the odds.
In 1946 Roosevelt introduced the mobile starting gate to Harness Racing which is now the standard gate used for the sport the world over.
For many years the Roosevelt International Trot was held there, probably the second most important harness race second only to the Hambletonian.
Roosevelt highlighted the careers of some of harness racing's great horses such as Albatross and Niatross.
Many of the great drivers of Roosevelt Raceway
Carmine Abbatiello-Del Insko-Stanley Dancer-Lucien Fontaine-Norman Dauplaise-John Chapman-William Haughton-Satch Werner-Eddie Cobb-Ben Webster-Earl Cruise-Buddy Gilmore-George Phalen-Herve Filion-Henri Filion-Frank Popfinger-Russell Rash-William Myers-George Sholty-Frank Tagariello-Joe Faraldo-Real Cormier-Ken McNutt-Alan Myer-Jimmy Cruise Sr.-Mike Santa Maria-Satch Werner-Virgilio V. DiBenedetto-Jimmy Tallman
Jeffrey Rosen
East Meadow, New York




FastCounter by LinkExchange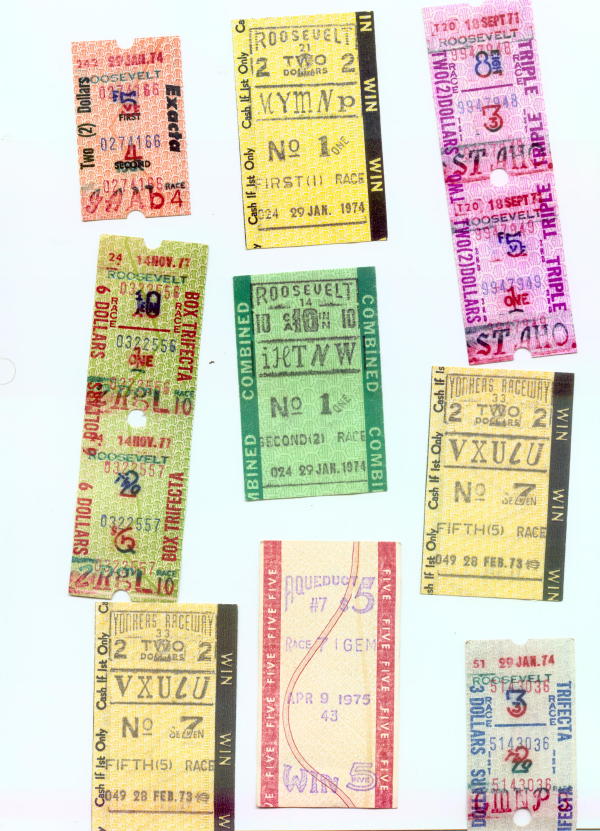 ---
Roosevelt,Westbury,New York,Yonkers,Yonkers Raceway,Meadowlands,raceway,harness racing,Long Island,Jeffrey Rosen,Nassau County, Roosevelt,Westbury,New York,Yonkers,Yonkers Raceway,Meadowlands,raceway,harness racing,Long Island,Jeffrey Rosen,Nassau County, Roosevelt,Westbury,New York,Yonkers,Yonkers Raceway,Meadowlands,raceway,harness racing,Long Island,Jeffrey Rosen,Nassau County, Roosevelt,Westbury,New York,Yonkers,Yonkers Raceway,Meadowlands,raceway,harness racing,Long Island,Jeffrey Rosen,Nassau County, Roosevelt,Westbury,New York,Yonkers,Yonkers Raceway,Meadowlands,raceway,harness racing,Long Island,Jeffrey Rosen,Nassau County,