Page 12 of Selected Emails
~~~~~
Also read what people wrote in my Roosevelt Raceway guestbook by clicking HERE
---
---
Tuesday, June 28, 2005 12:24 AM
Dear Jeff-
Thinking about Birdie Kim's improbable win at the Women's Open yesterday, and remembered a quote from Del Insko after some super-ridiculous 2 or 3-year old longshot won a big stakes race. He was asked about what he thought the horse could do in the future and he said something like: "Tonight was his future". In searching for that quote, I found your site, and have blown the last hour or so reading the great e-mails.
Roosevelt Raceway was a most important part of my eventually becoming the very happy Controller and Business Consultant I am today. First went there in the summer of '69 with my nickel-dime poker friends, and, to this day, I remember thinking that I'd died and gone to heaven. All that data, those beautiful horses, and the excitement of each race! In 1973, after 4 indifferent off-and-on years at SUNY Buffalo, I walked past the RR stable gate at 5:00 AM one morning, wandered into some trainer's barn (incredible that I can't remember who it was!) and said I'd work for free to learn the business. Of course, I was immediately put to work, and somehow or another, ended up working as a groom at RR, YR, Monticello, Pompano, Green Mountain, Wilkes Barre, and those are some of the fondest memories I have of my wonderful life. Slept in a lot of stalls, and, when money was very tight, even learned that Purina Omaline is fairly tasty. By the way, I know some people don't have a great opinion of Herve Filion, but I met him one day at Monticello, when he was driving a trotter from the barn I was working in. Not only was he extremely polite, he made 3 moves and almost won with one of the most gutless animals I've ever worked with, so count me as a believer!
Anyhow, when it came time for me to finally grow up and get serious about having a career, I read "What Color is your Parachute". One of the exercises is to write stories about things you love doing, then find a career where you can do it! Suffice it to say that RR, my grooming career, and my love of handicapping took up a lot of those stories, and with a bit of luck, I've been getting paid to do what I love for the last 20 years.
And yes, even though I make a little more now than the $135 a week I got while working in Billy Haughton's Pompano operation in the early '70's, I'll never forget what a great (and sometimes a little crazy…) time I had working with those wonderful animals.
And the horses were also a lot of fun!
Thanks again for the great memories… Rick Brosseau
Chico, CA
---
Saturday, July 2, 2005 6:25 AM
You've done a fine job with your sight. People are bringing back old memories and keeping the track alive. I went to school at clarke and east meadow in 1955. I n 1975 I raced a horse called Prince Mac iIn with Momentus{one that seems to be a fan favorite} I decided that i would park Momentus and rahner around the first turn leaving me in the two hole and winning the race. Most people didn't know prince mac could leave let alone park the other horse. Neither did bobby. When he didn't get by me right a way, he just came in anyway. i didn't expect that but then all i had to do was finish second. $22.00 and change.
good luck
G Myer
---
Wednesday, July 27, 2005 11:38 AM
Hi Jeff
Just discovered your site about the Roosevelt Raceway yartzheit and it has lots of neat stuff. While I haven't read all of it I'm sure it readers e mails have covered Henry Hecht, Ed Baer et al. I do have a question that has puzzled me for a few years. Is the baseball pitcher Rheal Cormier any relation to the harness driver Real Cormier? Just curious keep up the good work.
Martin Frisch
*******
Webmaster: To be honest with you, I have no idea about the two Cormiers.
-Jeff
---
Sunday, August 7, 2005 4:42 AM
Subject : Where it all began, where it is today...

Hi Jeff,
I don't know what it is about East Meadow, but like so many others who enjoy your site, I too am from there, and remember and respond to the same things...the lights, Nathans, the coupons in the program, the balloon guy - "Don't forget the kids are home", the light blue RR tee-shirt with the orange logo that everyone in High School seemed to have, and sitting in home room listening to Jack E. Lee imitations and talking about Stan Bergstein and John Dockery hosting "Racing From Roosevelt (with the BT Express theme song.) Like you I counted the days until Yonkers closed.

I so fondly remember working a crummy summer job so I could sit in the grandstand an hour before post on a summer's night, watch the sun go down on the far turn, handicap, listen to the scoring, and waiting for Jack E. Lee to announce: "Welcome to Roosevelt Raceway, where it all began, where it is today. The world capitol of harness racing." There was no place I would rather be. It made working in Macy's at Roosevelt Field worthwhile.

I would sit in the third floor grandstand seeing the same faces night after night, making racetrack friendships that never went any farther. I'm sure I know some of the folks who wrote. Some by name and others by face, I bet.

It was a Long Island institution, a way of life, a way of thinking. I live in Seattle now and you can't even get harness racing at the simulcasts. I've seriously reduced my time with horse racing, but through all the negatives, I remember it fondly and for a good part of my adult life there was probably no place else I'd rather be than under the crown formed by back to back r's.

Joe Trelin
---
Thursday, August 11, 2005 1:54 PM
Hello Jeff.
I have always been intrigued by your Memorial to Roosevelt Raceway. I myself grew up around Buffalo Raceway and Batavia Downs. We almost lost Batavia to the same fate as Roosevelt. However a group of investors have come to the rescue. I was at the regrand opening last week. Trust me when I say I thought of you and hoped that this could have been you experiencing something like this with Roosevelt Raceway. I certainly don't have to tell you that Roosevelt Raceway was an awesome racetrack and certainly ahead of it's time. Heck, that is where the Mobile Starting Gate had its debut.

I wanted to communicate to you that I am an avid harness fan and have been all my life. I have always been particularly interested in the Mobile Starting Gate. Thanks to technology, I have created a blog of starting gates from past, present and around the globe. I would be honored if you could take a look at it. I even have pictures of the 3 starting gates that were used at Roosevelt including the Phillips Gate. Some of the pictures are dated, but still in somewhat good shape. The URL is http://spaces.msn.com/members/mobilestartinggates

I really hope you like the blog. Let me know what you think.

Again, thank you for keeping Roosevelt Raceway alive in our hearts.

Mike Imbruglia
Charlotte, NC
---
Sunday, August 14, 2005 3:57 PM
hello Jeff,
I am trying to locate some stock footage and photos of the Roosevelt Raceway in the 1970's. Could you assist.
Phil
---
Saturday, August 20, 2005 11:33 AM
Jeff,
What a fabulous site! Scrolling through the memories and emails literally made tears well up in my eyes. Thanks for doing this.

I recall as a kid growing up in the Salisbury part of Westbury cutting through Salisbury (now Eisenhauer) Park on my bike to catch the races. Upon arriving, we would climb the fence adjacent to one of the entrances, and scale the barbed wire, to avoid paying the couple of dollar admission fee. Hell, that gave us an extra $2 to lose on the races!

When I was a little older, and worked in area restaurants (Murants in Hicksville, SirLoin Steak Pub which is now a Mexican restaurant, Ty Coz, a fancy French place, etc), I would rush to the track after work to catch the last couple of races, grabbing a program from the people as they were leaving, and losing all of my night's tips in less than 2 minutes! Memories!

Of course, on those nights that we won, we would blow half of the winnings at Gam Wah and local bars. They dont make Chinese Food that good anymore.

Would you post the following question -- Does anyone know whatever happenned to Bobby Shuttleworth Junior? We were best friends growing up, but I lost track of him more than 20 years ago.
Great work!
Spence
---
Saturday, September 10, 2005 4:53 PM
Hi Jeff,
I 'm Jeff Hoffman,don't know if you remember me,but I was the trainer of Majestic Andrew [driver Rejean]the last winning horse at Roosevelt Raceway. Who would ever figure that would be it for Roosevelt. Thank God I have the video tapes saved, I had some pretty decent horses racing at that time,some of which were Go Precious Go,Great Save, and a few others.The memories are great,I had a few winning drives with these horses but most of the driving was done by Rejean,Sonny,Herve,Luc,and the great Walter Case,[such a shame,unreal driver]I purchased Buddy Regan's home in Brookville and had some of the trainers turning horses out by me[John Paton, Linda Toscano ,Tom DeLuca, Paul Appell,Dennis Laterza,Larry Summer etc] Came across your site and thought I'd say hi Keep up the good work
Jeff Hoffman
---
Thursday, September 15, 2005 10:07 AM
Hi,
Just happened to see your website while looking for things to do on an upcoming trip to L.I. I am currently living in central Texas where my husband, a retired U.S. Army doctor, works at Fort Hood.
The very first time I was ever on a horse's back was at my mother's cousins farm. The horse was a draft horse and he had just been retired from plowing fields at the farm. I was two years old. The year was 1947. Her cousin's name was Casper Van Bourgendein and he came from Holland and grew tulips on his farm. I moved away from L.I. in 1967 when I got married. Sometime during those 20 years the land from Casper's farm got sold to the people who built Roosevelt Raceway.
I became an avid horse lover from that first experience on that horse and my husband and I have raised Morgan horses since 1971 until the present. Hope you enjoy this little piece of history.
Janet Mong
---
Friday, October 7, 2005 8:58 PM
Let me introduce myself I'm Real "Coco" Cormier sister, he took me to Roosevelt, Monticello, Goshen to the races a few years ago...if you know what I mean. I'm sure you heard of him. Well Coco lives in Pinehurst, NC and we are celebrating his 70th B'day on Dec. 10/2005 and also on July 25/05 he had a stroke but he's recovering very well, talking, walking so he's doing very good. If any of your viewer/reader has any pictures, videos or newspaper articles or to let us know where we can this king of information so his kids can put memory scrapbook together for his B'day that would be great. He always been such a wonderful man. Here's COCO: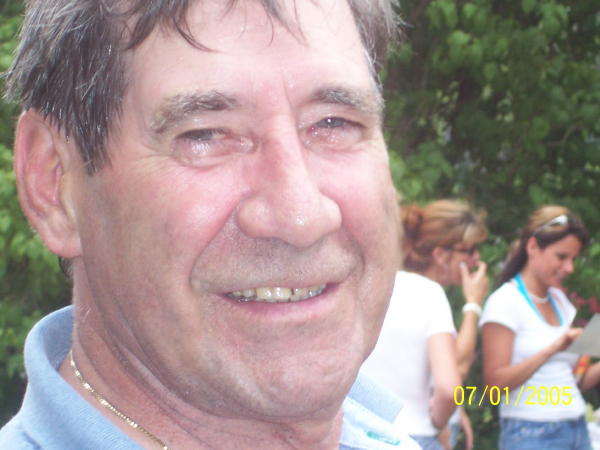 ---
Friday, October 21, 2005 10:28 AM
My brother and I used to drive to RR from Bergen County, NJ. One night, in the early 70's, while walking across the parking lot, my brother bends down, picks up a 1962 dime off the ground and announces, "I'll have to bet a 6-2 double." Damn if 6-2 doesn't come in returning him something like $120. Had I found that dime it would've been a 1963! I remember being at Roosevelt when Bret Hanover, driven by the great Frank Ervin, defeated and avenged an earlier loss at Yonkers to Cardigan Bay and Stanley Dancer. Bret then bowed to the fans from the winners circle as was his custom after a victory.
---
Tuesday, October 25, 2005 1:26 PM
great website, my late dad (owner/trainer/driver Mack Hayman-yellow and grey) would have enjoyed it!!
Russ Hayman
---
Monday, November 7, 2005 9:25 PM
Jeff:
What a pleasure to have found your site! It's nice to see that some many people remember what a great place RR was and will always be in our memories. "Rosey" was always a special place to me even though I grew up in Yonkers and for 4 years lived across the street from Yonkers Raceway. I became a harness fan in 1976-77, which was right after graduating from college. Strangely enough, having grown up in Yonkers across the thruway from the track, I had never gone to the races until I was 19 years old. But I became a "regular" and when Yonkers closed and the races move to Long Island, I was there. Just driving across the Throggs Neck bridge got me excited, and seeing that colorful harness "plant" in Westbury was truly magic.

I was pretty much a $2 bettor but I had a few friends back in the day who were very big bettors and they had a few tricks. First, they told me that you could park in the horseman's parking area if you pulled up to the entrance and slipped "Cuz" (that's what you were supposed to call him) $2, which you held below the car window edge so no one saw him take the money. The most amazing thing I ever saw was one of the really big bettors, who routinely bet $500-$1000 per race, stand at the $50 minimum window with several hundred dollar bills fanned out in front of the teller watching the horses on the TV monitor over the shoulder of the teller as the horses moved behind the gate approaching the start of the race. He made sure they passed the recall pole (in case the horse he wanted to bet broke stride after they passed the pole) and said to the teller "Give me $500 to Win and $500 to place on number…" and he'd wait until the gate actually started to swing open and the horses charged out. There was actually a brief period of time, perhaps 1 or 2 seconds, when the gate would swing open and the horses would bolt away before the bell rang and the windows closed when he could see which horse(s) were going for the front. Then he'd call out the number of the horse he wanted to bet and the teller, usually the same one each time, would punch in the number and he'd literally get his ticket as the bell rang!!! He had taken advantage of that short window when the gate swung open and the horses started out before committing his bet and he could clearly tell which horse was gunning away from the gate. This guy did VERY well with this technique. This same guy was part of a group who pooled their funds to hit an $11,000 Pick-Four one lovely summer evening. These guys knew how to bet.

I saw some great racing over the years before they closed this fabulous place down, but one of the most amazing races was Dragon's Lair 1985 Messenger Stakes elimination where he set the track record with a 1:54.4 mile. The final went to Pershing Square despite racing against the Dragon and Falcon Seelster!! Seeing greats like Niatross, Cam Fella, Governor Skipper, Big Towner, Docs Fella and Tiger Almahurst to name a just a few was a special treat. Carmine and Herve ruled the ½ mile with competition from John Chapman, Butch Dokey, Lucien Fontaine, Joe Marsh, Henri Fillion, Bill Popfinger, Rejean Denault, Ed Lohmeyer, Del Insko, Jimmy Marohn, and the rest.

And of course there was the race calling of Jack Lee. Some of my favorite phrases from Jack:

"…it's Sugar Dust is on the outside and he's been there all evening!"
"and Seedling Herbert has the best view.."
Or he'd take the name of a horse who was straining to get up in the last stride and stretch it out until he hit the wire:
"…and on the far outside, it's Nadaaaaaaaaaaaalaaaaaaaaaaaaaa………….in front!!!"
The man was a classic.
So thanks for bringing it all back for us. It's much appreciated.
Peter Silverman
Chappaqua, NY
---
Friday, November 11, 2005 11:42 PM
Hi Jeff, i have been coming to your site every so often to catch up on the emails, which i enjoy very much. First i want to thank you for keeping this site going for so long.
My uncle used to make the programs there on the grounds of the track. When i was 12, my parents asked my uncle to try to get me a job working with the horses. He did. I worked with Pat Iovine (trained Main Morris, Cellini, Rebb Ranger, Red Ideal to name a few). I mainly worked summers and weekends, and did some catch paddocks when i could. I went on to work for a few trainers thru out the years i was there. The most memorable was Robbie Siegelman, who is currently training at the Meadowlands. He was such a nice guy. I had been out of touch with him after Roosevelt closed. But saw him on Fox 5 news one morning, doing a show about harness horses! I called the Meadowlands and was able to get back in touch with him, and on occasion, still do speak with him. And while i am filling people in on what i find out, i might as well mention some other news from not long ago. Anyone remember Lou Meitteinis (not sure of the spelling)? After Roosevelt closed, he started training thoroughbreds. He wasn't doing that badly either. Well, he died about a year or so ago, although i do not remember from what. In his obituary, there was a quote i thought was great. When he was asked what the difference is between tb trainers and standardbred trainers, he said Standardbred trainers know more, TB trainers just dress better! I thought that was great! And if there is anyone looking to find dvd's on Roosevelt, recently RR's great, Jack E. Lee, started selling on ebay! I did purchase one, but have not had the time to see it yet. It is titled "Memories of the Golden voice of harness racing", Volume one. For those not ebay saavy, when you go to ebay, click on advanced search, then on the left side, click on sellers, and then type in jackelee63 and there you should see his dvd's he is selling. If there are none listed, just click on his name and you can send him an email and ask him about it. I'm glad to hear he is still around.
As far as reminiscing, i think about a lot of the big named horses i knew in some way shape or form. The first "Famous" horse i ever "met", was Governor Skipper. He was beautiful to this then 12 year old girl! He had a full screen gate on his stall, which i later found out that he was not the friendliest horse, although he seemed to like me. He'd see me, walk to the front of his stall, and press his neck against the gate for me to scratch his neck, which i of course always did! He did not like apples or carrots! Very strange!
I also knew Rambling Willie (when i worked for Buddy Regan i think it was, Bob Farrington would stable him at the other end of our barn with another trainer whose name is on the tip of my tongue and i can't remember it!). He was a sweet horse. Got to take a picture of Niatross in the paddock one night (that was the closest i was allowed to him). Knew Bobbo really well. What a character he was, another real sweet horse. Such a shame what happened to him. I heard that he was on a track in Canada, racing, and he had a heart attack and died. I knew Bobby Rahner (of Momentous fame) well, his daughter also went to school with me, she was a year older. I remember Mo's last race. Everyone (or so we thought) was going to let Mo win that race, because it was his last career race. It was New Years eve, and the following day he was going to turn 14, and horses 14 years and over are not allowed to race. So everyone wanted Mo to go out a winner. If i recall, it was Bobby Vitrano who spoiled the night and came on flying at the end with his horse to beat Mo by a nose! Oh Bobby was irate! He was ready to kill Vitrano! I was in the paddock that night to see the race, and i thought Bobby was going to kill him! He was screaming his head off "did you need the money that bad, i would have given it to you, you just couldn't let him (meaning Mo) get this one could you"! Oh, it was bad!
So many horses and experiences i could talk about, but so little time!
I hope you can post this email, just for the Jack E Lee info alone. If you do post my email, could you just send me a quick note letting me know?
Thanks!!
Dianne
---
Tuesday, December 6, 2005 8:48 PM
Hi Jeff,
Very interesting web site. I'm trying to research an old shield I've acquired. It's from the Roosevelt Raceway Police....It's a Detective's shield...It seems to me that the numbers were cut off another shield, perhaps a dupe NYPD Detective shield, and welded onto the RR shield. If you or any of your Raceway acquaintances have any info I'd appreciate it. I'd like to remove the numbers if they aren't original.........THANKS.......Rob

---
Saturday, December 24, 2005 1:25 PM
Aside from all the nostalgia your site conjures uo for me ansd all other RR fans.It was also a poignant time for some people in the sport.Years ago a young French Canadian kid named Luc Ouellette was training horses for us at Monticllo Racetrack.As part of the deal we let him drive some of our cheaper horse up there so he could garner enough drives to get his "A" license.In the interim whenever we shipped a horse down to RR,Luc's uncle and idol,Michelle LaChance would handle the driving.When Luc qualified for his "A" liicense,we let him drive Brittle Sword and he won iin his first start.Luc never forgot us and we are still friends today!
---
---
Return to:

The Memorial to Roosevelt Raceway

FastCounter by LinkExchange