THE INTERVIEW - TAROT SERIES - QUEEN OF WANDS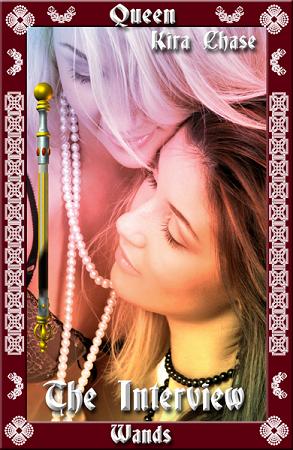 Published by eXtasy Books
ISBN: 978-1-55487-003-5
Flame Rating: 4 Flames
Category: Lesbian/Romance/Contemporary/Tarot
Cover Artist: Martine Jardine
Price $3.99
Best selling author Shayla Bolton is torn between protecting a secret from her past and her love for reporter Rae Wilcox whom she believes may expose her secret.
PURCHASE
REVIEWS
The Interview is a very sweet and satisfying love story that didn't disappoint me on any level. In fact, it left me feeling warm and fuzzy all over and wishing to read more of Rae and Shayla's story.
What I loved about this story is that Kira Chase managed to really convey all of those feelings of excitement and joy that that happens when falling in love as well as all the insecurities that come up until really getting to know each other. It was very real and well written.
Reviewed by: Madame Butterfly (LEAH)
To Read The Full Review: http://tiny.cc/BVP8K/B>
EXCERPT
Shayla finally spoke. "I'm going to give you the best interview you've ever had!"
Rae's eyes widened. "After I've made a fool of myself?"
"You didn't make a fool of yourself. It took a lot of courage for you to tell me the things that you did." A faint smile crossed her lips. "I like you, Rae." She touched her arm. "I liked you from the moment I first laid eyes on you."
Rae looked into those stunning penetrating eyes almost became lost in them. "Is that why you gave me the interview?"
"No. You have great potential as a reporter. If you didn't, you wouldn't be here." She ran her fingertips up Rae's bare arm. "No matter your profession, I would have still wanted to fuck you," she seductively replied.
Her jaw dropped and for a brief second she wondered if she heard her correctly. She didn't know how to respond, but a response didn't seem to matter to Shayla. Before she knew what was happening, Shayla tenderly placed a hand under Rae's chin and turned her head until she was staring into her eyes. Shayla's face closed the distance and brought her soft full lips to Rae's.
A shudder tore through her and her arms instinctively went around Shayla. At that moment, she didn't care that she barely knew this remarkable woman or that she would probably only end up being another notch on her belt; all that mattered was that Shayla Bolton was kissing her. She eagerly responded. When Shayla ended the kiss, Rae looked at her with what she knew must have been a stunned expression.
"Is something wrong?" Shayla asked in a husky voice.
"I'm just surprised," Rae whispered.

Kira Chase's Books On Fictionwise
LDate.com - The best place in the world for lesbian singles!

The Free Directory of Independent Writers and Artists