Great Holiday album returns....
Now Playing: on www.StudioShows.com stations
Topic: Robin Spielberg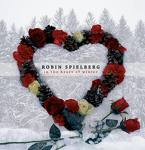 ROBIN SPIELBERG writes us...She has re-releaed her Holiday album with a few changes:
"In the Heart of Winter" contains familiar holiday songs from around the globe as well as 4 Robin Spielberg originals that celebrate the Winter season. Instrumentation: piano, cello, flute, percussion. Please note: this album is now being manufactured by playMountain Music with updated sequence, cover art and mastering.
Song List: 1. In the Heart of Winter [4:51] 2. St. Basil's Hymn [4:11] 3.Amazing Grace/Silent Night [4:33] 4. What Child Is This? (Greensleeves) [4:04] 5. A Change of Season [4:12] 6. God Rest Ye Merry, Gentlemen [4:30] 7. Solstice Celebration [5:28] 8. Hark! The Herald Angels Sing [3:45] 9. Jolly Old St. Nicholas {3:54} 10. First Night [3:25] 11. Away In A Manger [3:26] 12. Still Still Still [3:29]
BUY Robin Spielberg