wamp


hing
This page is devoted to Swamp Thing, star of stage, tv & movies (well maybe not stage). Do not bring your evil here.

There were 2 movies Swamp Thing (1981)
The Return of Swamp Thing (1989)

Louis Jourdan played the bad guy in both, as well as the MonsterVision 100% Weird movie "Julie"
Wes Craven directed the first one, in which a biologist's lab in the swamp is destroyed and he's assumed dead. But no, the stuff he was working on has mutated him into a human-like creature with white blood. When the bad guy goes after Adrienne Barbeau of The Fog, the big green guy comes to the rescue. Leonard Maltin says Jourdan's "almost on a level with Vincent Price's standard routine."
In the second movie, almost a decade later, Swamp Thing's human stepdaughter (Heather Locklear) comes looking for him and gets nabbed by Jourdan's thugs. There's a pointless subplot by two little kids but overall a good movie.
The Return of Swamp Thing is available on DVD, but not episodes of the syndicated tv series that followed though novelizations of the episodes are available as books.

And who can forget the great 1946 movie, Strangler Of The Swamp? "An innocent man, executed for a murder he didn't commit, returns from the dead seeking vengeance. One by one, he kills the townsfolk who sentenced him to death." It was made with
Rosemary La Planche, who of course was also the star of Devil Bat's Daughter, sequel to a 1940 Bela Lugosi movie.
MonsterVision host segments for Swamp Thing
Swamp Thing the TV series can currently be seen at Hulu.com/swamp-thing
Episodes of the Swamp Thing TV-series are no longer airing on the SYFY channel at this time, but continue airing on the British Sci-Fi channel: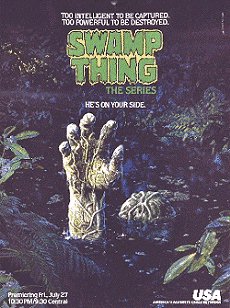 1st June 2003 - Birthmarks
Dr Arcane's efforts to destroy an adversary's work are thwarted when he is forced to track down two survivors bearing laser tattoo birth-marks.Guest cast William Whitehead(Dr Hollister), Kevin Quigley(Graham), Doc Duhame(Keifer).
1st June - Dark Side of the Mirror
Dr Arcane creates a mutant Swamp Thing to murder a nosey district attorney.Guest cast William Whitehead(Dr Hollister), Kevin Quigley(Graham), Jordan Williams(Eric Matthews), Danny Hanemann(Hammett), Doc Duhame(Keifer), Steve Zurk(Deputy Javert).
2nd June - Silent Screams
Tressa's friends are trapped in an invisible stealth shield weapon created by Dr Arcane and General Sunderland.Guest cast William Whitehead(Dr Hollister), Catherine Hader(Melissa), Elizabeth Fendrick(Ilene), Roger Pretto(Commander Hammer), Michael Champlin(Alexander)
2nd June - Walk a Mile in My Shoots
The minds of Swamp Thing and Dr Arcane are transferred into each other's body by Arcane's latest invention.Guest cast William Whitehead(Dr Hollister), Kevin Quigley(Graham), Robert Reynolds(Gorley), Doc Duhame(Wilkes).
3rd June - The Watchers
Dr Arcane creates two cyborgs to hunt down Abigail.Guest cast Scott Higgs(Lamar), Peter Palmer(Orvis), William Whitehead(Dr Hollister), Kevin Quigley(Graham), Steve DuMouchel(Officer Donnelly).
3rd June - The Hunt
Will's reunion with his father is short-lived when he finds out that the latter has stolen a rare flower from the swamp.Guest cast Paul Coufos(Brydon Kipp), William Whitehead(Dr Hollister), Kevin Quigley(Graham).
4th June - Touch of Death
Dr Arcane injects a dead man with a serum that brings him back to life, but everything the man touches instantly dies.Guest cast Mark McCracken(Abraham MacCyrus), William Whitehead(Dr Hollister), Kevin Quigley(Graham), Ralph Wilcox(Sentry Hunter).
4th June - Tremors of the Heart
Dr Arcane builds an underground machine which creates devastating earthquakes.Guest cast Sandahl Bergman(Sienna), William Whitehead(Dr Hollister), Kevin Quigley(Graham), Steve DuMouchel(Guard)
5th June - The Prometheus Parabola
Dax, an old adversary of Dr Arcane, arrives in Houma for a showdown.Guest cast Terry Funk(JJ Dax), William Whitehead(Dr Hollister), Kevin Quigley(Graham).
6th June - Night of the Dying
Dr Arcane falls victim to an onslaught of demons who possess him.Guest cast Jessie Lawrence Ferguson(Duchamp), Kevin Quigley(Graham), Karen Fraction(Tanda), Judy Clayton(Doctor Thomas), Michael George Owens(Wharf Rat).
6th June - Love Lost
There's a new face in town, convinced that something in the swamp needs her help.Guest cast David Lansbury(Randy), Lisa Eichhorn(Victoria).
7th June - Mist Demeanor
The swamp becomes plagued by a strange, misty cloud that threatens the lives of all the people in town.Guest cast Marc Macaulay(Sheriff), Kevin Quigley(Graham), Shane Obedzinski(Joshua), Jim Greene(Reiger), Craig Thomas(Johnson), Judy Clayton(Doctor Thomas).
7th June - Nightmare on Jackson Street
Something in Will's past is causing nightmares in the present.Guest cast Roger Floyd(Vinnie Pagnozzi), Christian Martin(Bobby Fritsch), Orlando Powers(Jase Evans), Robb Morris(Kevin Jenkins).
8th June - Better Angels
A man announces the building of a recycling plant that will give a boost to the local economy. However, it is discovered that his true motive is to flood the swamp.Guest cast Janet Julian(Ann Fisk), Don Hood(Carter LaRoche), Patrick Neil Quinn(Dr Holland), Jack Swanson(Coroner), Kevin Quigley(Graham), Kurt Smildsen(Surveyor).
8th June - Children of the Fool
A carnival comes to town, and Will falls for a beautiful and mysterious teenage girl who is travelling with the company.Guest cast Wolfman Jack(Hurly), Bill Orsini(Chuck), Caroline Strong(Amanda), Jay Derrick(Jamie).
9th June - A Jury of His Fears
Dr Arcane is electrocuted in a lab accident and finds himself on trial in a surrealistic swamp courtroom.Guest cast Kevin Quigley(Graham / Slight Male), Rusty Pouch(Lab Tech / Sheriff), Patrick Neil Quinn(Dr Holland), Kari Wuhrer.
10th June - Poisonous
A famous director arrives at the swamp to make his next film, but his plan involves releasing poisonous frogs.Guest cast David Ackroyd(Ian James), Kevin Corrigan(Yuri Lapiniks), Larry Bucklan(Mark Steinman)
10th June - Smoke and Mirrors
A rock star on the run from the press looks to find peace in the swamp.Guest cast Adam Curry(Nathan Stone), Larry Manetti(Officer Rick Nestor), Michael Callan(Larry Kefler / Newscaster / Minister / Satan), Joe Rohland(Rob (dead teenager)), Matthew James(Tony (dead teenager)
11th June - This Old House of Mayan
A simple treasure hunt turns into a search for an Ark-like urn rumoured to be the legacy of the Mayan empire.Guest cast Frank Hilgenberg(Professor Goldwise), Andrew Stevens(Bartok), Antoni Corone(Alonso), Kevin Nash(Guardian Quixo), Jorge Gonsales(Guardian M'Tama).
11th June - Sonata
Intrigued by the mysterious man she encountered in the Swamp, Dr Ann Fisk returns to Houma to learn more.Guest cast Janet Julian(Dr Ann Fisk), Bill Luhrs(Burl Caleb), Mark McCracken(Matt Caleb), Kevin Quigley(Graham).
12th - Dead and Married
A recent storm in the swamp uncovers a car wreck from ten years ago and the ghosts of a married couple who think only hours have passed. Guest cast Sheila Wills(Daphne Scott), Tom Nowicki(Clarence Pickens), Marc Macaulay(Sheriff), Tracy Roberts(Dorothy Pickens), Timothy Bass(Bennie), Joe Candelora(Smitty).
12th - Powers of Darkness
A young boy from a dysfunctional family finds escape in his belief that he is a vampire. Guest cast Jeremy Licht(Dorian), Bobbi Evors(Angela), Larry Manetti(Nestor Parkins), Marc Macauley(Sheriff), Von Von Lindenberg(Hank), Christie Smith(Tory).
No eps were scheduled in July
Previous episodes seen on the Sci-Fi Channel (starting 8-11-00)

Fri, 8/11/00  -  MARATHON:
                  LEGEND OF THE SWAMP MAIDEN     
                  THE SHIPMENT                   
                  BIRTHMARKS                     
                  DARK SIDE OF THE MIRROR        
                  CHANGES                        
                  HIDE IN THE NIGHT              
                  IN THE BEGINNING               
                  GROTESQUERY                    
                  MIST DEMEANOR                  
                  THE WATCHERS                   
                  EASY PREY                      
                  AN EYE FOR AN EYE              
                August 26 (movie) SWAMP THING (1981)
9/29/00  -  Marathon:
                 10:00 AM, LIVING IMAGE                  
                 10:30 AM, THE DEATH OF DR. ARCANE       
                 11:00 AM, SPIRIT OF THE SWAMP           
                 11:30 AM, FALCO                         
                 12:00 PM, WALK A MILE IN MY SHOES       
                 12:30 PM, TREASURE                      
                  1:00 PM, NIGHT OF THE DYING            
                  1:30 PM, SILENT SCREAMS                
                  2:00 PM, A JURY OF HIS FEARS           
                  2:30 PM, SONATA                        
                  3:00 PM, TATANIA                       
                  3:30 PM, MIRANDOR'S BRAIN              
11/10/00  Marathon -          
                 11:00 AM  TOUCH OF DEATH                
                 11:30 AM POISONOUS                     
                 12:00 PM HEART OF THE MANTIS           
                 12:30 PM DEAD AND MARRIED              
                 1:00 PM  FEAR ITSELF                   
                 1:30 PM  THE HURTING                   
                 2:00 PM  THE CURSE                     
                 2:30 PM  EYE OF THE STORM              
                 3:00 PM  THE LESSER OF THE TWO EVILS   
                 3:30 PM  NEVER ALONE                   
Sun, 11/26/00, 3:00 PM (movie) SWAMP THING
Tue, 12/12/00,  Marathon -        
                 11:00 AM THE EMERALD HEART             
                 11:30 AM BLOOD WIND                    
                 12:00 PM THE PROMETHEUS PARABOLA       
                 12:30 PM SWAMP OF DREAMS               
                  1:00 PM THE POWER OF DARKNESS         
                  1:30 PM VENDETTA                      
                  2:00 PM RITE OF PASSAGE               
                  2:30 PM THE BURNING TIMES             
                  3:00 PM JUDGEMENT DAY                 
                  3:30 PM SPECTER OF DEATH              

Swamp Thing episodes were also seen for a while on the Sci-Fi channels's British (UK) channel.

You are visiting Swamp Thing on