Sci-fans.com looks at:
Banacek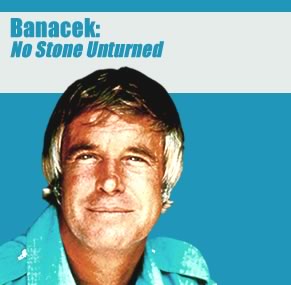 It starred George Peppard as a "cool, smooth, shrewd Polish-American" private detective. The TV-series ran 9-13-72 to 9-3-74, and because it ran in the NBC Mystery Movie timeslot, each episode was 90 minutes (except the 2-hour pilot/movie). It rotated with 3 other 90-minute series, each running one episode per month: Columbo, McCloud and another series (some didn't even last a full year)

Each month, Banacek would solve an impossible disappearance for a share of what the insurance company would have had to pay out. It might be the Car of the Future, which disappeared from a non-stop railroad train. Or an airliner that makes an emergency landing at an abandoned military base and vanishes. Or a room-filling super-computer that can diagnose any disease in seconds, that's replaced the next morning by an empty room (and the only clue is a witness who says a big black dog was near the electric fence outside).
Cast

           Thomas Banacek...............................George Peppard
           Jay (his driver).............................Ralph Manza
           Felix (Banacek's researcher & mentor)........Murray Matheson
           Carlie (his main competitor).................Christine Belford
           Penniman (occasional only)...................Linden Chiles

* Jay not only drove Banacek's limo, he owns it. In the first episode, Banacek hires a limo, then decides to put Jay on permanent retainer. When leaving Boston (his home) on a case, it's Jay's job to call ahead and arrange for suitable transportation to drive the boss around in. Like taxi driver Shrevie in The Shadow, Jay is always coming up with helpful suggestions on the latest mystery, usually wrong.
* Felix is a rich mentor that Banacek goes to for consultation because he knows everything about everything, like the Professor in the "X-Men."
* Carlie joined the series in 1973 as a rival investigator, who works directly for the insurance company and is promised a bonus if they don't have to pay a big commission to Banacek.

The TV-series was full of "old Polish proverbs" and won an award from the Polish-American Congress for portraying Polish-Americans in a positive manner.
George Peppard was born 10-1-28 in Detroit. He began in 1950s radio drama and went on to make a number of movies including roles in "Breakfast At Tiffany's" (1961), and a number of WW2 movies and Westerns.

In fact, he had just made 20 movies in 13 years when NBC hired him for the "Banacek" TV-movie series. His father was Canadian (Peppard is a Norman name) and his mother was from Ohio - her grandfather founded Dayton. George had no brothers or sisters. His mother had toured in light opera, and taught voice at Detroit Conservatory of Music, as well as lessons once a week at home for extra money.

Peppard and friends put on plays in grade school, but after high school he joined the U.S. Marine Corps for 18 months before going to college. He started out to be a civil engineer to build houses with his contractor father, but didn't like it and switched majors, graduating from Carnegie Tech with a degree in Fine Arts.

Of "Banacek" he said, "There's a great deal of stress to doing a TV-series that's not relieved by physical action. That stress wears you out if you don't stay in shape. I play tennis as ofter as possible. I also do calisthenics, work with weights, and jog. I like to fish - especially trout fishing in northern California. I enjoy hunting but I don't shoot anything I don't eat."

"Banacek" appeals to me," he said. "He has a sense of humor. He's whimsical. His attitude toward life is real. He lives in Boston. He's Polish, the son of an immigrant. He seems to me to be indigenous to America - his individuality, his toughness."

But Peppard is probably best know today for the goofy adventure TV-series "The A Team", sometimes still seen on the TV Land channel. When the A Team was cancelled, he was relieved. He had been suffering from a painful bone spur in one foot for years, but production schedules never allowed time to fix the problem. Now you know why Hannibal let Mr. T do all the jumping around in The A Team.

While Peppard made a number of good adventure and war movies, he also starred in one of the worst sci-fi movies ever released, "Damnation Alley" (1977), which showed up on MonsterVision 4-24-99 Damnation Alley host segments. 1972

   1.                20 Mar 72   Banacek (120 min pilot, later retitled for reruns)
1st Season
   2.                13 Sep 72   Let's Hear it For a Living Legend
   3.                27 Sep 72   Project Phoenix
   4.                11 Oct 72   No Sign of the Cross
   5.                 1 Nov 72   A Million the Hard Way
   6.                15 Nov 72   To Steal a King
   7.                10 Jan 73   Ten Thousand Dollars a Page
   8.                24 Jan 73   The Greatest Collection of Them All
   9.                 7 Feb 73   The Two Million Clams of Cap'n Jack
2nd Season
  10.                 3 Oct 73   No Stone Unturned
  11.                 7 Nov 73   If Max is So Smart, Why Doesn't He Tell Us Where He Is?
  12.                21 Nov 73   The Three Million Dollar Piracy
  13.                15 Jan 74   The Vanishing Chalice
  14.                22 Jan 74   Horse of a Slightly Different Color
  15.                12 Feb 74   Rocket to Oblivion
  16.                19 Feb 74   Fly Me- If You Can Find Me
  17.                12 Mar 74   Now You See Me, Now You Don't

Title/descriptions:
Banacek (2-hour pilot, retitled Detour to Nowhere in reruns)
Banacek travels to a grand canyon in Texas where he races with Carlie (Christine Belford) to figure out how an armored car and its cargo of gold bullion could disappear on a deserted stretch of highway - its tracks end at the edge of the canyon, with no wreckage below. Guest stars included J. Pat O'Malley as Hank.

Let's Hear It For A Living Legend
When a professional football player vanishes from the field of play in front of a large crowd and millions of watching TV viewers, leaving only his helmet behind, Banacek is called in by the owner of the team to solve the mystery of the bizarre disappearance. Many guest stars, including:
Stefanie Powers as Angie Ives, Robert Webber, Deacon Jones, Clancy Williams, Conrad Janis of Mork & Mindy, Michael Lerner, Jock Mahoney, with Curt Gowdy, Charlie Jones & Marty Ingels as themselves

Project Phoenix
On its way to Boston, a railroad car carrying the "car of tomorrow" worth $5,000,000 disappears. When Banacek enters the case he finds three key people reluctant to cooperate: the car's engineer (William Windom), the company president, and a car insurance executive. Mystery buffs who have read "The Lost Special" by Arthur Conan Doyle will be able to solve the first half of the mystery: how a railroad flatcar disappeared between stations in the middle of a nonstop train. Guest stars included:
Herb Edelman, Bert Convy, John Fiedler, Bruce Kirby

No Sign Of The Cross
A priceless gold cross disappears somewhere between Mexico and Los Angeles. It had been guarded by an army officer, and handcuffed to a priest. Guest cast included:
Broderick Crawford, Victor Jory, Ned Romero, Peter Donat, Peter Brocco and Alan Fudge as Father Cass

A Million the Hard Way
When someone gets an illegal jackpot in Las Vegas by making a million dollars disappear out of a tamperproof display case in full view of everyone, Banacek must find the culprit. Guest cast included:
Margot Kidder and Don Porter. Stanley Ralph Ross wrote the episode and appears in it as Larry Fields. A character named Frank Burns is in the episode; a character name also used in the TV-series MASH but played by a different actor

To Steal A King
The priceless collection of a coin expert disappears from its hotel vault and Banacek is called to the scene. He uncovers the bitterness between the victim and a rival collector, but also identifies a bank representative as a possible suspect. And there's something strange about the hotel elevator. Guest cast included:
Kevin McCarthy (Invasion of the Body Snatchers), Janis Paige, Brenda Vaccaro of Supergirl and Pernell Roberts; but Roger C. Carmel and Logan Ramsey steal the show as the amoral and threatening collectors Oliver & Roland Garson

Ten Thousand Dollars A Page
Restricted to his wheelchair, a millionaire agrees to put his priceless "Book of Hours" on display. But before the exhibit, the book mysteriously vanishes. When Banacek is called in, the insurance investigator is not happy to see his arch rival also on the case.
Neither are the three suspects--the millionaire's handyman, his attorney and a security officer. Only when Banacek and the millionaire come face to face do the pieces begin to fall together. Guest cast includes:
David Wayne (the Mad Hatter in 1960s Batman), Stella Stevens of Matt Helm fame, David Doyle of TVís Charlies Angels, Ted Cassidy (better known as Lurch in The Addams Family), and George Lindsey (Mayberry's Goober) plays it strait as homicide detective Lt. Bradshaw

Greatest Collection Of Them All
When the world's greatest collection of French Impressionist paintings, insured for $23,000,000, is stolen from inside a truck somewhere between Boston and New York, Banacek is brought in to investigate. Helpful museum officials, insurance investigators and art experts offer lots of clues, but Banacek produces his own collection of surprising evidence. Guest cast includes:
Penny Fuller, Mike Farrell (who later joined the cast of MASH), David Spielberg, and Penny Marshall of A League Of Their Own plays the receptionist

Two Million Clams Of Cap`n Jack
Millions of dollars worth of stock is stolen from the United Food Company less than two days before the company's scheduled takeover of a chain of restaurants run by Cap'n Jack. Banacek is hired to retrieve the valuable stock certificate plates, and delves into the business affairs of the two companies, but finds more helpful information from Cap'n Jack's daughter and the insurance company where the claim is filed. Guest stars included:
: Jessica Walter (Play Misty For Me), Andrew Duggan (as Cap'n Jack Osburn), Linden Chiles, David White, William Schallert (the scientist in Matinee), Gregory Sierra

No Stone Unturned
Banacek gets to locate a 3 ton, 10-foot-tall statue that somehow disappeared from inside a locked building before its unveiling. Guest cast:
Gary Lockwood, Don Stroud, Linden Chiles

If Max Is So Smart, Why Doesn`t He Tell Us Where He Is?
A rich hypochondriac (Anne Baxter) owns a million dollar computer named MAX that can compile and evaluate medical knowledge from all over the world, to provide her with up to the minute information about her imagined ills. When Max is stolen, Banacek is brought in to investigate the mystery of the room-filling computerís disappearance from the millionaire's high security compound surrounded by an electric fence. The only clue: an eyewitness says there was a big black dog next to the fence that night. Guest Cast includes:
Richard Jordan, Jim Davis, Paul Richards, Alan Fudge, George Murdock, Julie Rogers, William Sylvester, Poupee Bocar, John Zaremba, St. William's Boston CYO Band

The Three Million Dollar Piracy
The sealed international air/land/sea all-metal shipping container containing a precious jewel encrusted coach is offloaded from a ship and opened, empty. Since it was for an Eastern Shah's wedding and priceless, finding it will not only save the insurance company a lot of money, but avert an international incident. Guest cast includes:
Linden Chiles, Don Knight, Dick Gautier (Hymie in GET SMART), Arlene Martell, Titos Vandis, Martin Kosleck, Susan Damante, Rudy Challenger, Lada Edmund, Jr., Jean Manson, Byron Morrow, Hal Baylor, Hal Buckley

The Vanishing Chalice
A unique Greek treasure disappears from a museum gallery in front of invited guests at the unveiling, but Banacek begins to suspect it never existed in the first place.
Guest cast includes:
Cesar Romero (The Joker in 1960s Batman), Eric Braeden, Sue Anne Langdon, John Saxon (the bad guy in Bruce Leeís Enter The Dragon), Robert Wolders, Don Collier, Lester Rawlins, George Murdock, Paul Picerni, Nedra Deen, Ruth Prince, Carle Bensen, and famous belly dancer Little Egypt appears as herself

Horse Of A Slightly Different Color
During a slightly foggy morning workout, a $5,000,000 racehorse is switched for a dyed substitute in another Banacek episode inspired by a Sherlock Holmes story. Guest cast includes:
Anne Francis (of Forbidden Planet), Tim O'Connor, Lane Bradbury, John Crawford, Linden Chiles, Willard Sage, William Harmatz, Terry Wilson, Robert Swan, Rocky Frier, Pamela Hensley (of Buck Rogers), Interviewer: Allen Ludden, Track announcer: Harry Carey Jr.

Rocket to Oblivion
An experimental rocket engine on display at a high-security tradeshow disappears right in front of security cameras during the night, causing concern for both its builder and the U.S. government.
Guest cast includes:
Linda Evans, Andrew Prine, Don Gordon, Tom Drake, Philip Carey, Roy Poole, George Murdock, Dick Van Patten (king of the planet in Mel Brooksí Spaceballs), Polly Middleton (as Beautiful Girl), Robert Rothwell, Jayne Kennedy, Jimmy Joyce

Fly Me - If You Can Find Me
A crippled airliner flying empty makes an emergency landing on an airstrip in a desert area, only to vanish the next morning, leaving behind nothing but the dead co-pilot leaning against a building. Since it is an old U.S. air base, Jay thinks there might be secret giant elevators underground
Guest cast includes:
Sterling Hayden, Victoria Principal, Jack Kelly, Patricia Quinn, James Daris, Charles H. Gray, Carlos Romero (as the Sheriff), Richard Roat, Paul Cavonis, Beverly Gill, Laurence Haddon, Larry Ward, Don Hanmer, Byron Mabe

Now You See Me, Now You Don't
Itís personal when Banacek takes the case of the daughter of a stage magician (suspected of grand larceny) who disappeared during his act and hasnít been seen since.
Guest cast includes:
Nancy Olson, Gretchen Corbett, Jay Robinson, Pat Harrington Jr., Peter Marshall (host of Hollywood Squares at the time), Lynnette Mettey, Bruce Gordon
Last ep of series, broadcast 3-12-74

Banacek is not currently scheduled on Hallmark or A&E Networks

Banacek themesong




Banacek is occasionally seen on the Hallmark Channel at 2:30pm EST Sundays. Most recent broadcasts were in 2004:
1-11-04, Let's Hear It For A Living Legend
1-18, Project Phoenix
1-25, No Sign Of The Cross
2-15, To Steal A King
2-22, Ten Thousand Dollars A Page
3-14, Greatest Collection Of Them All
3-21, Two Million Clams Of Cap`n Jack
3-28, No Stone Unturned
4-25, If Max Is So Smart, Why Doesn't He Tell Us Where He Is
Banacek was previously seen on A&E channel, though I don't remember the 2-hour pilot movie ever running on either channel.
Fun facts:
This was long before cell-phones. When Banacek wanted to use his cumbersome mobile car phone, he would call the operator and give her his official call sign: KL-17811. Banacek had a 1973 Fleetwood Cadillac and a 1941 Packard Darrin. He usually drove the Packard himself

© Bill Laidlaw. All Rights Reserved
There's an old proverb that says, "The early bird gets the worm, but it's the second mouse that gets the cheese"