and
A Anti--Chemtrail TV commercial that has been aired at Powel River, British Columbia--have a listen.

THE WELSBACH PATENT-- In 1991, a practical patent for "stratospheric Welsbach seeding for reduction of global warming" was filed by the Hughes aircraft company. Besides reflecting incoming sunlight, Welsbach materials are oxides of metals that convert heat trapped by greenhouse gases near the surface of the earth into far-infrared wavelengths that radiate into space. The Hughes patent suggests that these very tiny metal flakes could be "added to the fuel of jet airliners, so that the particles would be emitted from the jet engine exhaust while the airliner was at its cruising altitude." Aluminum oxide can withstand temperatures far higher than jet engine exhausts. While highly abrasive in larger sizes, a former engineer for Alcoa aluminum says that aluminum in the 10 to 100 micron sizes called for in the sunscreen patent would simply polish jet turbine blades without harming them. The engineer added that this "very fine, talcum-like" aluminum powder would appear as a "pure white plume" in the sky.
US Patent 5003186:Stratospheric Welsbach seeding for reduction of global warming
A method is described for reducing atmospheric or global warming resulting from the presence of heat-trapping gases in the atmosphere, i.e., from the greenhouse effect. Such gases are relatively transparent to sunshine, but absorb strongly the long-wavelength infrared radiation released by the earth. The method incudes the step of seeding the layer of heat-trapping gases in the atmosphere with particles of materials characterized by wavelength-dependent emissivity. Such materials include Welsbach materials and the oxides of metals which have high emissivity (and thus low reflectivities) in the visible and 8-12 micron infrared wavelength regions.
DR. EDWARD TELLER RESPONDS TO CHEMTRAILS CONTROVERSY
GOES Satellite Image of High Altitude Grid-Chemtrails over Wisconsin to Iowa just after sunrise.

Parliament of Canada-Nov. 18, 1999---COMMITTEES OF THE HOUSE--PETITIONS---AIRCRAFT EMISSIONS
United States Senate Testimony before the Committee on Veterans' Affairs May 6, 1994 --Open Air Testing with Simulated Biological and Chemical Warfare Agents
On-Line Petition--Aerial Chemtrail Spraying--A Petition to the United States Congress to hold an open hearing on aerial chemtrail spraying.


WEBSITES WITH INFO ABOUT CHEMTRAILS:

and
Chemtrail Message Boards :

Clifford Carnicom`s Chemtrail Message Board

GOES WEATHER SATELLITE PHOTO IMAGES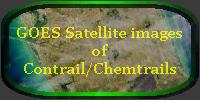 WEATHER SATELLITE IMAGERY SITES

Play the video presentation at the bottom of the page. This taped presentation, which was made in 1985, is included for historical reference purposes only. Since then, the technology has been developed into more rigorous longitudinal EM wave interferometry, which is the exact nature of those earlier weather engineering weapons. The foundations of scalar electro-magnetics are well explained in this presentation. They are able to create LOW pressure weather areas and MOVE the jetstream which can deliver droughts or sever rain/snow storms.

Read some recent Contrail reports from Canada at the Contrail Connection site.


KHOU-May 11, 2000 Houston TV news story about the Chemtrails -RealPlayer audio file only.