We are going to do WHAT?
That used to be the first thing out of my eighth graders mouths when I would explain to them that I was going to take them to the cemetery on an all day long field trip. The moans and groans that you would hear, would make you think that this was a "haunted classroom." But not any more. Now it has become a looked forward to tradition for the students. Older brothers, sisters and friends have told them about the outing. They no longer think that I am the strangest teacher in the world! In fact, now the older classes that have already gone beg for me to take them back.
The biggest problems now is administration and parents that ask,
"Why study about the cemetery?"

(In my most adult voice, I try to answer.)
Going to a local cemetery can have many educational values. One main purpose of this to encourage an appreciation of the unique historical significance of that place. Nearly every community has an old cemetery of historic and educational value. A study of it can reveal much about the lives of people of the past. Once there you can enjoy the wonderful artwork and architecture of the mausoleums.
A cemetery is a quiet place; much contemplation can take place there. One can learn about the philosophy prevailing and their decoration and epitaphs. Gaze upon the monuments and come to understand the staturay and iconography common upon them.
Of course the students just think, "This is a really cool day!"
Read about the trip on October 31, 2000, to Spring Grove Cemetery
Cemetery can teach lessons,
by David Wecker of the Cincinnati Post
During the week of October 25, 2004, I had to honor of being the Featured Teacher On Education World for Cemetery Studies.
The Article An Education World Teacher Feature was written by Cara Bafile.
Lesson plans for Cemetery Studies

Language Arts

Be sure to check out the "funny" Obituaries on this page.
One of the most beautiful cemeteries in the Cincinnati Area is


Spring Grove Cemetery & Arboretum
4521 Spring Grove Avenue
Cincinnati Ohio 45232-1954

Rich in local history, Spring Grove
is the perfect backdrop for our yearly Halloween trip. On this page you
will find links telling about some of the
local history and over 100 pictures of this 733 acre cemetery.

Independence Cemetery
This is a much smaller cemetery located at


2167 Dixie Highway
Independence, Kentucky


This cemetery has quite of few very interesting monuments as shown in the pictures.

Evergreen Cemetery

Located in Southgate, Kentucky

St. Stephens Cemetery
Located in Fort Thomas, Kentucky
An Education at the Cemetery
An article that appeared in Ancestry Magazine, May/June 2001 Vol. 19 No. 3, written by Linda Prather
Cemetery Walk
Read about how a cemetery in Elgin, IL makes history come alive with a Cemetery Walk. From that page, be sure to visit Karen Kruse's other articles she has written, Ghosts of History Live in Rosehill Cemetery and Milwaukee's Best
Graveyard Symbolism
This is an article, written by Pam Reid, that appeared in the September/October 2000, issue of Ancestry.
Are Dead People Really Dead?
A new book, Buried Alive, examines the sometimes macabre methods that have been used throughout history to determine whether a body was really a stiff. This is taken from Wired News, Apr. 2, 2001.
My students favorite picture from the November 1, 1999 trip.
This one had the class just a tad "freaked out". Do you see our ghost?
If anyone has ideas to add, PLEASE SEND THEM TO ME! I will post them here.
How Other Teachers Study The Cemetery
If you use Webshots you can download some of my photos from the cemetery here.
Webshots Photos
Resources This page has links to some pages on the internet to use to help with research.
Site Index

Links to all the Cemetery Studies Pages

Email: traveler@who.net
A big part of why I made this page was to get people other than me to read my students work. Please leave them a message in the guest book.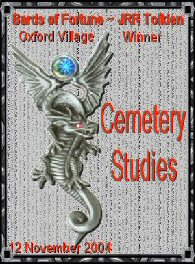 Please click on the icon to go to the page where you can vote for my site to win the Battle of the Ancients each week. Thanks!
Thank you to those who voted during that week. Please vote each week by clicking the top icon.
Cemetery Sites was also sent out as a mass mailing by Works4Me on October 11,2004. Works4Me is a part www.OWL.org and the National Education Association. I would like to thank them for bringing so many people to my site.
Please visit Christmas on the Net
A Ladybug Production


Some material is taken from CEMETERY STUDIES: AN "INTEGRATED" RESOURCE FOUND IN THE OUTDOORS,
by Audrey E. Wilson
Northumberland and Newcastle Board of Education, Centeral Area


This Cemetery Photo site is owned by Cemetery Studies.
[ Next Skip Previous List Random Next5]
Want to join the ring? Click here for information!


1/12/00

Total Hits

Since November 5, 1999