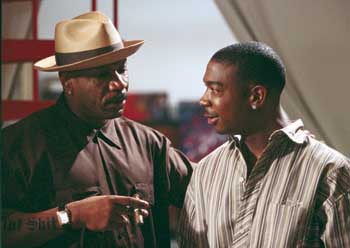 BET HOSTS WORLDWIDE PREMIERE OF EXPLOSIVE URBAN DRAMA "BACK IN THE DAY" STARRING VING RHAMES AND JA RULE
Telecast Set for Friday, May 13 at 7:30 p.m. ET/PT on BET; DVD Hits Stores on May 24th
Pam Grier, Tatyana Ali, Giancarlo Esposito, Frank Langella and Tia Carrere Round Out All-Star Ensemble Cast
Emmy AwardŽ winner Ving Rhames (Mission Impossible) and platinum-selling rapper Ja Rule (Assault on Precinct 13) star in the complex urban drama BACK IN THE DAY, making its worldwide premiere on BET on Friday, May 13 at 7:30 p.m. ET/PT.
Directed by James Hunter, this gritty tale of love and redemption features an all-star ensemble cast including Pam Grier (The L Word), Frank Langella (Unscripted), Tatyana Ali (The Brothers), Giancarlo Esposito, (Law & Order), Tia Carrere (Supernova), and Joe Morton (Ali).
In BACK IN THE DAY, Ja Rule portrays Reggie Cooper, a young man from the rough side of the tracks who lives with his divorced, affluent father (Esposito) in order to avoid the gang activity that almost claimed his teenage life in his mother's neighborhood (Grier). When Reggie reconnects with a recently paroled friend from his past (Rhames), he slips back into a life of crime with fatal consequences.
Reggie becomes involved in the murder of a local preacher (Morton) and in aftermath of this crime, he falls in love with the preacher's daughter (Ali).
Ultimately, he must choose between losing everything he cares about and his lifelong loyalty to his oldest friend.
BACK IN THE DAY chronicles the powerful story of one man's search for personal redemption.
PREMIERE TELECAST: Friday, May 13 @ 7:30 p.m. ET/PT
ENCORE PRESENTATION: Saturday, May 14 @ 11:00 p.m. ET/PT
DVD DEBUT: Tuesday, May 24, 2005