1969 CUBS
CHOKE!
The season started Wednesday, April 9, 1969. The Cubs beat the Phillies 11-3 at Wrigley Field. They were in first place and stayed right there for exactly five months. Too bad the baseball season is six months.
Through the first half, the Cubs were 52-29 and enjoyed a comfortable lead in the NL East.
However, by late August, the improbable New York Mets had snuck up on the Cubs and were just 2 games back. On September 9 Tom Seaver gave the Cubs their 6th straight loss, giving the Mets a sweep of 2 games. New York now trailed the Cubs by one-half game.
The very next day, Ken Boswell's 12th-inning single scores Cleon Jones, and the Mets beat the Expos 3-2 in the first game of a doubleheader. The win puts the Mets in the top spot for the first time in club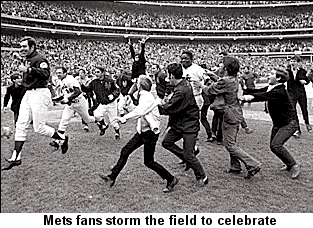 history. The Cubs' loss drops them out of first after 155 days atop the NL.
The Cubs continued to blow and finished the month of September with a 9-17 record. On September 9, they were in first. The season ended October 2 and they were 8 games out.
Seven years after a 120-loss season, the Mets won the East, thanks to a hot September coupled with a disastrous Cubs meltdown. The "Miracle Mets" went on to win the World Series.
f

One of the losers of '69, Ron Santo has no business in the Hall of Fame