1962 CUBS
THEY WERE AWFUL, BUT WHO WAS WATCHING?
Fronted by superstars like Ernie Banks, Billy Williams, Ron Santo, and Lou Brock, the Cubs finished with the worst record in team history. The highlight of the 1962 season was playing the first game ever in Houston against their new team, the Colt 45s (who later became the Astros). The Cubs lost, and there was a lot more where that came from.
Maybe the most impressive fact about 1962 was that the Cubs' attendance that year was an overwhelmingly miserable 609,802! That's an average of 7,528!!!
Early in the year the Cubs used 5 pitchers in the 8th inning of a 10-6 loss to Pittsburgh,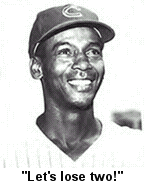 tying the NL mark.
A few weeks later, Sandy Koufax ties the ML record at the time as he strikes out 18 hapless Cubs in 9 innings, as Los Angeles wins 10-2.
In May, Ernie Banks is beaned by Moe Drabowsky and taken from the field on a stretcher, as Cincinnati beats Chicago 2-1 (That had nothing to do with the terrible season, he only missed 2 games).
The Cubs finished 1962 with a record of 59-103. They would've been worse, but they got 9 free wins against the expansion Mets who lost 120 that year.
During this great season the Cubs went through 3 managers. They finished last, of course, finishing 42½ games back. They had another great year in '66 with the same record.
FUN FACTS
-Attendance 609,802. Cubs attendance was dismal during the '60s. (and it wouldn't be cool to be seen at Wrigley until the late 80s)
-Lost 30 games by 5 runs or more
-10 game losing streak in September
-Starter Dick Ellsworth went 9-20