The Meli's Poser Illustrations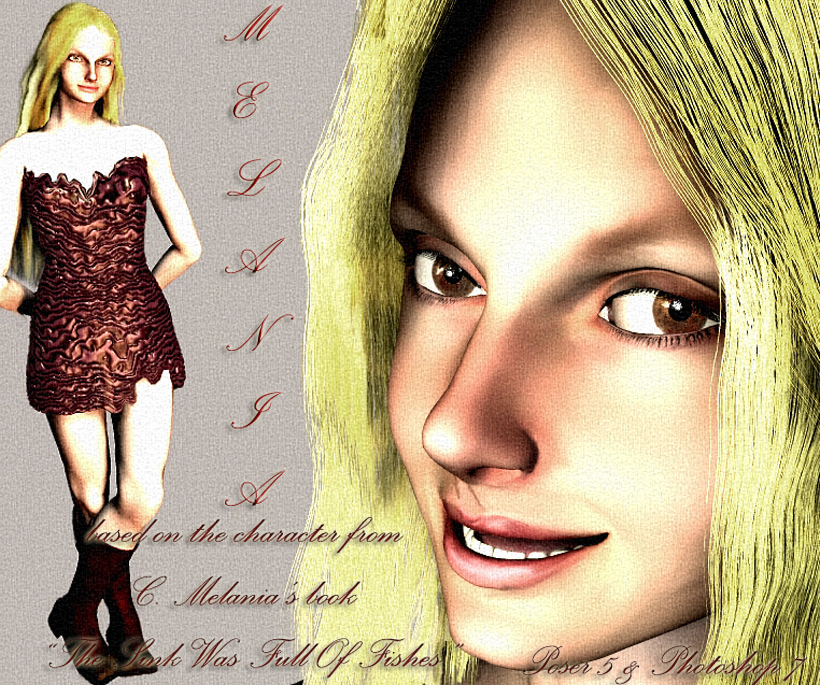 ---
The Main character of the book: an obvious alter ego, but after all, prolly the male character resembles in attitude to real me more than this blonde chick above. So when reading the book, don't think Meli's personality relate to me that much. It does in certain ways, but in so many others, she's just too calm and reflective.You know the real me is pretty impulsive, instead ;). And after all, you know the story of the book is an offspring of fantasy, in full (with real memories... but who can say the memories that belong to me are Meli's and not others' ones? ;))
---
This page will be dedicated to the illustrations I am gonna make for my online book, "
The Sink Was Full Of Fishes
", that you can read about in my other site pages. All illustrations are gonna be produced using
Poser 5
to give faces to the roles. I was someway both forced and interested in using this powerful tool a friend kindly gifted me with for Xmas 2003. For so much time I thought I would have never tried any 3d software, being a painter and a drawing fella (not more than an hobbist, though), but my experience in
Renderosity site
drove me into curiosity about 3d world enough to consider the positive sides of the game with Poser. But the main reason I somweay HAD to use Poser was the need from my side to have characters easily replicable for the illustrations.And to create customized Poser "dolls" would have made the job quite well. I am a total newbie with the software and I don't aim any realism, nor "masterpiece" target with 3d. I just wanna create illustrations for my book. And I will use also
pictures, Photoshop 7,
and my own style to create something which will have a trademark (hopefully)not so obvious, and not merely 3-dish. Hope you're gonna enjoy. I certainly do ;)
---
All images, pictures and contents, literary and artistic in these pages are COPYRIGHTED. Any not allowed nor certified copying, stealing or manipulation of these materials is FORBIDDEN.Relate to Miss Cioni Melania, aka gallimel for any informations about rules applied to her own material.Mail me here: gallimel@tin.it
further note: For their explicit contents, images and excerpts of writing might be unsuitable for children alone, due to their references to also loving/sexual life. Parents's presence might be requested to see/read the material, although it isn't nor pornographic nor violent at all.
---
Back To WebDoor
---
The Book I am Makin Illustrations For
---
The Other People Of The Book
---
The Sink Was Full Of Fishes Illustrations
Chapt. 1 Page 4: Meli Talks With Jill Image
Chapt. 1 Page 11: Jill, Ila and Meli talk in Jill's room
Chapt. 1 Page 16: Meli's BDay Party @Jill and Nell's garage
Chapt. 1 Page 17: Jill's Gift to Meli's 20th BDay
Chapt.2 Page 3: Outside Sheffield Arena
Chapt. 2 Page 7: By The End Of The Gig
Chapt.2 Page 10: The First Time (mild nudity)
Chapt. 2 Page 16: Jill Writes His Diary
Chapt.3 Page 1: Ilaria's Comfort
Chapt. 3 Page 4 : In The Tube
Chapt. 3 Page 6: Nell's attack to Oasis
Chapt. 3 Page 10: @ Stonehenge
Chapt.3 Page 13: Sea Surprise
Chapt.3 Page 21: Glastonbury Day
Chapt. 4 Page 2: Back To Italy
Chapt. 4 Page 6: Jacob's Date
Chapt 4 Page 11: @ Florence Station Bar
Chapt. 4 Page 15: Kass Night Outburst
Chapt. 4 Page 21: Nell Heals Jill's Pain
Chapt. 5 Page 6: Meeting Steve On The Way Home
Chapt 5 Page 12: Jill's Princess
Chapt 5 Page 16: Kass's Awareness
Chapt 5 Page 21: Back To The Sun
Roll On To the Second Section of the Poser Illustrations (from Chapt 6 and ongoin')