Posted February 18 2007


DE PALMA TO ADAPT BOYD NOVEL
BLUE AFTERNOON IN CASTING STAGE, SAYS AUTHOR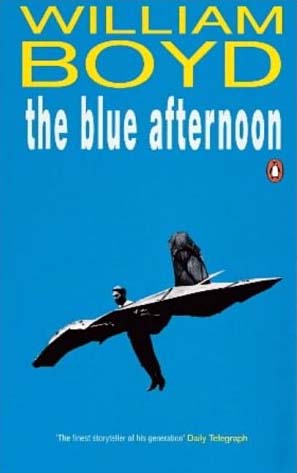 William Boyd, who has been promoting his new novel Restless for the past two or three months, has been mentioning here and there that he and Brian De Palma are currently collaborating on an adaptation of Boyd's 1993 novel, The Blue Afternoon. The novel, a romantic thriller, begins in Hollywood in 1936, and is told in flashback, the meat of which involves a surgeon in Manila during the American occupation of the Philippines in 1902. At the beginning of the novel, this surgeon (now an elderly man) approaches the book's narrator (a woman architect) and tells her that he is her father. He convinces her to accompany him to Lisbon to look for the woman he now realizes was the great love of his life. As they journey, he tells her of his adventures in Manila. David Christie of The Sunday Herald describes it as "a tale of grisly murders and illicit passion." One of the main subplots involves the surgeon aiding the U.S. army in an investigation of a series of murders. Another subplot involves an attempt to build a flying machine.

BOYD: DE PALMA'S BEEN OBSESSED WITH NOVEL FOR YEARS
Boyd, who has written several screenplays, including some from his own novels and stories, has adapted the screenplay for The Blue Afternoon himself. According to The Sunday Herald, Boyd told an audience at the Glasgow Aye Write! book festival on Friday that he was somewhat surprised by De Palma's approach to the project. "It turns out he has been obsessed with The Blue Afternoon for years," Boyd told the crowd. "It was wonderful to discover a movie enthusiast such as he was a fan." Boyd said that De Palma has teamed up with an independent British producer for the film. "It is in the process of being cast just now," Boyd said. "If all goes well, and these things in my experience tend not to, it should be complete by the end of this year, beginning of next."

BLUE ALMOST FILMED TWICE BEFORE
Boyd has reason to be cautious-- it turns out that The Blue Afternoon has been attached publicly to two other directors within the past six years. According to Variety, Nicholas Hytner was to direct Boyd's adaptation in 2001 as "a $20 million-$30 million love story set in the Philippines in 1902 at the end of the Spanish-American War." Hytner (The Madness of King George, The Crucible) went back to Broadway and did not direct another feature until last year. Then in 2003, Bruce Beresford, who had previously worked with Boyd on Mister Johnson (1990) and A Good Man In Africa (1994), had gotten so far as to cast Olivier Martinez and Sam Neill in what was to be an Asian and Australian production. An article at 4RFV said that "the film will star Martinez as a doctor in turn of the century Manila who becomes embroiled in the investigation into the guerrilla attacks on the notorious American 49th battalion and their evangelical, psychopathic colonel, played by Neill."

CASTING: BOYD WANTS HIS FRIEND DANIEL CRAIG
In 2005, Boyd cowrote the screenplay of Man To Man with director Régis Wargnier, a friend of De Palma's (Wargnier appeared as himself in De Palma's Femme Fatale). In 1999, Boyd wrote and directed a film himself: The Trench, a claustrophobic World War I drama which featured Daniel Craig. Boyd told Oliver Marre at the Observer last week that he had finished the script for the Blue Afternoon, and that "we are casting it at the moment." Boyd told Marre that he would love his friend Daniel Craig to take a role in the film, but feared he is "busy." And yes, it would appear Boyd has indeed rewritten his screenplay since De Palma came along. In an online chat at Readerville last December, Boyd stated, "I'm working on the script of my novel The Blue Afternoon with the director Brian De Palma – absolutely fascinating." The next day (on the same chat), Boyd stated that he was "polishing the latest draft of the screenplay based on my novel The Blue Afternoon for Brian De Palma."

OPENING PROLOGUE SAYS IT ALL
After reading the prologue to Boyd's The Blue Afternoon, it becomes clear why De Palma might become "obsessed" with this novel. De Palma's father was a surgeon who left before De Palma turned two, to join the service on a hospital boat during World War II. In later years, De Palma would often observe his father at the operating table, commonly referred to as the source of De Palma's tolerance for blood in his films. Keep these things in mind as you read the following prologue excerpted from The Blue Afternoon by William Boyd:

Prologue

I remember that afternoon, not long into our travels, sitting on deck in the mild mid-Atlantic sun on a slightly smirched and foggy day, the sky a pale washed-out blue above the smokestacks, that I asked my father what it felt like to pick up a knife and make an incision into living human flesh. He thought seriously for a while before replying.

"It depends on where you cut," he said. "Sometimes it's like a knife through clay or modeling wax. Some days it's like cutting into a cold blancmange or… or cold raw chicken."

He pondered a while longer and then reached inside his coat pocket and drew out a scalpel. He removed the small leather sleeve that protected the blade and offered the slim knife to me.

"Take this. See for yourself."

I took the scalpel from him, small as a pen but much heavier than I had imagined. He looked down at the remains of our lunch on the table: an edge of cheese with a thick yellow rind, a bowl of fruit, four apples and a green melon, some bread rolls.

"Close your eyes," he said. "I'll get something for you, an exact simulacrum."

I closed my eyes and gripped the scalpel firmly between my thumb and first two fingers. I felt his hand on mine, the gentle pressure of his dry rough fingers, and then he lifted my hand up and I felt him guiding it forward until the poised blade came to rest on a surface, firm but somehow yielding.

"Make a cut," he said. "A small cut. Press down."

I pressed. Whatever I cut into yielded easily and I moved the blade down an inch or so, or so it seemed, smoothly, with no fuss.

"Keep your eyes closed… What did it feel like?"

I thought for a second or two before replying. I wanted this to be right, to be exact, scientific.

"It felt like… Like cold butter, you know, from an icebox. Or a sirloin, like cutting through a tender sirloin."

"See?" he said. "There's nothing mysterious, nothing to be alarmed about."

I opened my eyes and saw his square face smiling at me, almost in triumph, as if he had been vindicated in some argument. He was holding out his bare left forearm, the sleeve of his coat and shirt pushed back to the crook of his elbow. On the bulge of muscle, three inches above his wrist, a thin two-inch gash oozed bright blisters of blood.

"There," he said. "It's easy. A beautiful incision. Not a waver, with even pressure, and with your eyes closed too."

The expression on his face changed at this moment, to a form of sadness mingled with pride.

"You know," he said, "you would have made a great surgeon."

End of excerpt.
It'd make a tantalizing opening for a film, wouldn't it?