Variety on Vantage Point
"Pic suggests a collision
between 1998's Snake Eyes
and the two most recent
'Bourne' movies, minus Brian
De Palma's voyeur-implicating
subtexts and Paul Greengrass'
kinetic precision."

Political Culture:
Films They Won't
Be Celebrating
on Oscar Night

Doug Liman promises
"outrageous" take on
Valerie Plame film that
will also get around
any possible government
objections
"I have a really, really
insane take on how to
tell it. It's so outrageous.
Ultimately, I'd be doing
something no one has ever
done before. Therefore it's
automatically appealing to
me. I'm just starting to
explore whether [what I
have in mind] is even
possible to do."

Shaun Brady on
Diary Of The Dead
"In the YouTube age,
the handheld, character-
wielded camera has become
an all-pervasive meme.
Romero's use of the tactic
echoes both Cloverfield and
Brian De Palma's Redacted
in the credulity-stretching
conceit that characters in
the midst of life-threatening
situations continue filming
rather than getting directly
involved in events unfolding
directly in front of them,
though he employs that
concept to more compelling
ends. Diary shares with
Redacted the idea that a film
student uses the camera to
distance himself from
shocking realities; and with
Cloverfield the more
intriguing suggestion that,
surrounded by media, today's
young people are simply
unable to process their
surroundings without an
intervening media scrim...
Romero's cynicism has
increasingly edged toward
misanthropy over the decades
as his sympathies have
shifted from living characters
to dead, and Diary closes
on an image that burns
itself into the brain, a more
effective evocation of the
Abu Ghraib photos and other
recent atrocities than the
obvious referents in
Land Of The Dead."

First reviews from Berlin
of Errol Morris' Abu
Ghraib doc Standard
Operating Procedure
David D'Arcy: "Morris's
distillation of long talks
with young ex-soldiers and
the female general who
commanded prisons all over
Iraq is among the best
documentaries on the Iraq
war and on official efforts
to cover up ugly aspects
of the 'war on terror'.
It will test the current
American aversion to most
films about Iraq."

Variety: "All the fancy
style applied to the sordid
military equivalent of
basement videotapes, and
further whipped into a
lather by Danny Elfman's
music, makes the proceedings
feel far too melodramatic.
A stark, matter-of-fact
approach would seem all
that's required when dealing
with such powerful central
images, but Morris detracts
from them by placing them
within his elaborate
modernist frame."

Nathan Lee on
Diary Of The Dead
"Visually, Romero's ersatz-DIY
experiment isn't as suave as
Brian De Palma's similar
effort in the recent and
risible Redacted, nor as
exactingly engineered as
the video convulsions of
Cloverfield, but its
scrappy, ultra-low-budget
edges are part of
its charm."

Movie Poster Artist
John Alvin has
passed away
"The Smithsonian even
named one of his works,
for Brian De Palma's
Phantom of the Paradise,
one of the best posters
of the 20th century."
(Thanks to Akahan!)
Michael Sooriyakumaran
asks, "Why Is Every
Movie I See These Days
Such a Bummer?"
"While Allen, Lumet and
the Coens, consciously or
not, allude to the civilian
casualities in Iraq indirectly,
De Palma's Redacted is a
frontal assault on the
audience even before the final
sequence, which is why it's
been marginalized. Of course,
this could never be film for
mainstream audiences, even
if more staid Iraq-war movies
weren't dropping like flies at
the box office... De Palma
obviously wants people to see
these images, which he's
stated in interviews were the
main reason he made the film,
but nobody really wants to
see a film with these kinds of
images (at one point I closed
my eyes, they're so awful).
It's self-defeating."
Geoffrey Macnab on
Operation Homecoming
"The filmmakers don't ask
their subjects why they
volunteered. Perhaps as a
result, Operation Homecoming
has had a mixed reception left
and right. Some have been
infuriated by its failure to
condemn the Bush administration.
Supporters of the war have also
attacked it. Meanwhile, it has
elicited enthusiastic responses
in unlikely quarters, for example
in the Pentagon, where it was
shown to Government officials
last year... Operation Homecom-
ing makes a striking counterpart
to Brian De Palma's Redacted.
De Palma (who based his
screenplay on veterans' accounts
of the war he found on the web)
shows US soldiers committing
rape and murder. He suggests
that the soldiers have utterly
lost their moral bearings. By
contrast, the soldiers whose
writing is showcased in Robbins'
documentary are portrayed as
heroic and intelligent – and
making the best decisions
they could in impossible
circumstances."
Jeffrey Wells on Oscar's
bias against Iraq war docs
Still Waters director
Carolyn Miller took
advice from De Palma
"Miller recalled an early
conversation with Brian
De Palma while she was
working as his driver on the
set of The Black Dahlia in
which the helmer urged her to
quit that job and throw herself
into realizing her dreams.
That was a pivotal moment,
she said, that gave her the
confidence to commit herself
to being a filmmaker."
Nigel Andrews on Haditha
"There will be no better
film about the Iraq war than
Nick Broomfield's Battle for
Haditha. With its emotional
immediacy and depth-charged
intelligence, it surpasses even
Brian De Palma's Redacted,
its closest cousin in subject
(a true-life atrocity) and
treatment (reportage-style
re-enactment)."
Jamie McLeish on
Battle For Haditha
"The film shares close
parallels with Brian
De Palma's Redacted, which
investigates the real-life
rape and murder of an
Iraqi girl and the massacre
of her family. De Palma's
outrage prompted him to paint
a starker, more simplistic
piece of agit-prop, whereas
Broomfield is more subtle
in his presentation."
Hoberman on Rambo,
the "one-man surge,"
endorsing John McCain
"Brian De Palma is hardly the
only old New Lefty equating
Iraq with Vietnam. But
Redacted is 'Vietnam: The
Bummer.' Rambo is something
else. Stallone knows that if
the Republicans nominate
action-hero McCain, Vietnam
will return—with bells on.
And, back on the national
agenda, the war will have
to be won again."
Mark Yoshimoto Nemcoff
on White Noise 2
"There is one scene where
a piano plummets from
several floors up while Abe's
character races up the
stairs in a futile attempt
to stop the tragedy about
to happen that is pretty
amazing, capturing for me, a
very similar kind of cinematic
'wow' moment I experienced
watching Brian De Palma's
famous baby-carriage-down-
the-stairs scene in The
Untouchables. In fact the
cinematic influence of
De Palma is very much
present throughout the film,
especially during White
Noise 2's opening scene."
Patrick Z McGavin on
What Just Happened?
"Like Brian De Palma's Femme
Fatale, the movie recreates
the pomp and circumstances
of the Cannes Film festival
and gets pretty much every
single part of the
festival wrong."
Oliver Stone casts
Josh Brolin as
George W. Bush
Stone says Bush will have
a structure comparable
to Frears' The Queen.
"It's a behind-the-scenes
approach, similar to Nixon,
to give a sense of what it's
like to be in his skin," Stone
told Daily Variety. "But if
Nixon was a symphony,
this is more like a chamber
piece, and not as dark in
tone. People have turned my
political ideas into a cliche,
but that is superficial. I'm
a dramatist who is interested
in people, and I have empathy
for Bush as a human being,
much the same as I did for
Castro, Nixon, Jim Morrison,
Jim Garrison and Alexander
the Great."
What Just Happened?
screens at Sundance
Friedman: "A film that sort
of picks up where Robert
Altman's The Player left off,
but really is more of an ode
to Blake Edwards' S.O.B."
Zacharek on Cloverfield
"Maybe we're supposed to give
Abrams and Reeves extra points
for cleverness, for the
way they've adapted traditional
narrative into YouTube-style
storytelling, using seemingly
homegrown video footage
to heighten the sense of
immediacy. But we've already
seen a far more effective
version of that approach in
Brian De Palma's Iraq war drama
Redacted, and George Romero's
upcoming Diary of the Dead
makes use of some similar
techniques. It's no longer good
enough to be among the first;
you have to be an effective
storyteller, too, and that's
where Reeves, Goddard
and Abrams fail."
Foundas on Cloverfield
"But unlike Brian De Palma's
recent Redacted and Romero's
forthcoming Diary of the
Dead— both of which use
subjective cameras as a way
of questioning our YouTube-d
universe and the trust we
put in recorded images —
Cloverfield's first-person
videography has little sense
of purpose. It's just another
salable gimmick in a movie
whose closest kinship to
Blair Witch may be the
genius of its ad campaign."
Similarities between
Body Double &
Mulholland Drive
Scarlett to direct
short film for New
York, I Love You
White Noise 2 director
on being called "the
Brian DePalma of the
direct-to-video world"
"Yeah I read that DVD
Talk review... loved it. The
'DTV De Palma' is an amazing
compliment. When we were
tweaking the script in the last
week before production, Matt
and I would talk about De Palma
a lot, especially Blow Out
which we were both huge fans
of. That film, Untouchables,
Dressed To Kill, Carrie,
Obsession, are all incredible
De Palma films. There are
several sequences where we
discussed De Palma's style,
not to mimic it, but there
was, especially in his early
films, such a great sense
of dread and impending
doom that just consumed
each frame. We took
inspiration from that
beyond a doubt."
Dargis on Redacted
"What has really been shocking
about this year, though, aren't
the idiocies of Hostel: Part II,
but rather the rage radiating
off the movie screens. Brian
De Palma's Redacted, about
American soldiers who rape
and murder an Iraqi girl (and
her family), falls short in many
ways, but the director's anger
is itself a tonic. I think that
De Palma's focus is misplaced -
you can certainly blame these
soldiers, though the tougher
film would blame people like
us, who let them be sent to
Iraq - yet I am grateful
for his fury."
Dargis on Swank in Dahlia
"One reason she was so good
in Brian De Palma's convoluted
noir The Black Dahlia, in
which she crept around like
poison ivy, is that her
performance as a femme fatale
is set inside quotation marks.
She didn't register as a
toxically dangerous woman but
as an idea of that irresistible
sexist cliché. She filled out
her character's snug gown
as a drag queen would."
Armond White
on Sweeney Todd
"Don't think Burton has
stepped up in class by
stepping into Sondheim's
jackboots. Sweeney Todd
lowers Burton's own comic-
book vivacity. The empathy
Burton usually provides for
freakish outsiders like Depp's
memorable Ed Wood and
Willy Wonka gets debased.
Perhaps only David Fincher
could have appropriately
conveyed Sondheim's depravity.
Imagine Zodiac with a score
by Philip Glass. (Oops, that's
Woody Allen's upcoming
Cassandra's Dream.) Reveling
in bloodlust is too much like
torture-porn, too analogous
to Abu Ghraib. This movie
should have offered the giddy
sanity of De Palma's Grand
Guignol musical, Phantom
of the Paradise, not pseudo-
operatic gravitas. Burton turns
Todd's bloodletting into a
cascade of crimson tears; his
final tableau stretches outrage
into mawkishness. When
Burton goes wrong, he
morphs into David
Cronenberg."
Director of Taxi To
The Dark Side cites
censorship in MPAA's
rejection of poster
"Not permitting us to
use an image of a hooded
man that comes from a
documentary photograph is
censorship, pure and simple,"
said producer, writer and
director Gibney. "Intentional
or not, the MPAA's disapproval
of the poster is a political
act, undermining legitimate
criticism of the Bush
administration. I agree
that the image is offensive;
it's also real."
Video from 1986:
Carrie Snodgress talks
about working with
De Palma on The Fury
Michael Joshua Rowin
on Adam Rifkin's Look
"What separates Look from a
similar recent film like
Brian De Palma's flawed
but critical Redacted, is
that it earnestly believes in
a simplistic correspondence
of image to truth. Since our
position vis-a-vis the film's
parade of embarrassing
idiocies is privileged and
superior--and since everything
that happens in front of
the cameras is either
moralistically punished or
cheaply, ironically rewarded--
we never have to think about
the ethical, psychological, or
philosophical consequences
of having our lives constantly
monitored and recorded.
Whereas we're asked in
Redacted to take a second
look, as it were, at a media
landscape that doesn't just
give us access to things we
would not ordinarily see but
changes their very reception,
in Look we're asked to
simply gawk, to view its
walking caricatures, laugh
at and judge them, and
then leave the theater
unmoved and indifferent."
Aaron Hillis on Look
"At least Brian De Palma's
Redacted and George Romero's
Diary of the Dead wield their
peeping-tom filters for
more ambitious purposes, and
Michael Haneke's Caché teases
and implicates audiences
by drawing focus to the
camera's eye. Look isn't
processing, critiquing, or
even warning; in the end,
it's just recording."
Eric Kohn on Look
"In the deplorable tradition
of Brian De Palma's Redacted,
Rifkin makes a flawed attempt
to replicate off-the-cuff
dialogue. The whole thing
feels so heavily scripted
that it brings down the
overarching impact. The
misguided route raises the
question of what kind of juicy
stories might be produced by
the real thing. It's hard
not to imagine a better movie
buried in some CIA vault—
assuming that it hasn't
already been burnt."
ABC News: Woman claims
govt. cover-up after she
was gang-raped by
Halliburton/KBR
coworkers in Iraq
two years ago
Her lawyer: "I think that
men who are there believe
that they live without laws.
The last thing she should
have expected was for her
own people to turn
on her."
Watch Scorsese's secret
Hitchcock experiment
(Thanks to Space Ace!)
Iraq war vets disturbed
by public's lack of interest
in recent films
To some soldiers who served
in Iraq, public indifference
to the films has little to
do with filmmaking
techniques or cultural
controversies. It's just
another sign that the folks
back home don't really care
to hear much about their
experience. "I feel that
it's a general sign of the
apathy out there towards
Iraq," said Joe Wheeler, a
San Bruno resident who
spent a year in Iraq as a
surgical assistant in the Army.
The 31-year-old limousine
driver is under treatment
for post-traumatic stress
disorder and has felt his
condition stabilizing. "It is
happening somewhere else
to somebody else, and the
last thing they want to do
is go see a movie about it.
Personally, it affected me
to see the lack of interest in
these films," said Wheeler,
who has seen Elah and
Lions for Lambs.
Kevin Hassett: Iraq Movie
`Curse' Is a Myth Worthy
of Hollywood
Michael Medved:
"The out and out worst,
most disgusting, most
hateful, most incompetent,
most revolting, most
loathsome, most
reprehensible
cinematic work I
have ever encountered."
TIME's Richard Corliss:
This Means War
"What De Palma is going
for, and achieves, is a mix
of edgy ennui and hysteria
that could be close to
the daily lot of
soldiers in Iraq."
Awards Daily's Ryan C.
Adams loves Redacted
"You know that movie about
the war in Iraq that's
been MIA this year? Not
the disappointing ones;
I mean a good one. I
think I've found it."
Oscar race is under way
"And the darkest of dark horses
is Redacted, director Brian
De Palma's raw, unflinching
fictionalization of a real war
atrocity in Iraq, on screens
next week. Here the question
is whether Oscar has an
appetite for the feel-really-
bad movie of the year."
John Thomason on
Taxi to the Dark Side
"The horrifying photos from
Abu Ghraib, censored by the
mainstream media, are shown
uncut here and resemble less
a military interrogation than a
scene from Pier Paolo Pasolini's
repugnant Salo. That the United
States is endorsing the same
kind of barbarism it's alleging
to combat is just one disturbing
revelation to take away from
this should-be argument for
presidential – or vice-
presidential – impeachment."
Charles Taylor discusses
Redacted and De Palma
From Zaillian to
De Palma to Fuqua
to George to Scott
Getting Gangster Made

Peter Keough on
American Gangster
"Scott goes so far as to
steal from Brian De Palma's
Scarface, itself an imitation
of generations of better
films. Which makes Gangster
a knockoff of a knockoff."

Jeff Simon on
American Gangster
"It's a solid '30s mobster
movie for the era after
Brian De Palma's Scarface
remake. But the movies it
reminded me of the most
were those magnificent and
increasingly revered Sidney
Lumet movies of the '70s."
Hannah Levin on
the Art of the Horror
Film Soundtrack
O'Reilly to Mark Cuban:
"You push that movie,
I'm your worst nightmare."
New Spanish trailer for
Redacted uses quotes
from Bill O'Reilly
Hollywood writer "David
Kahane" fires the audience
"You've let us all
down by not going
to see our movies."
A. O. Scott: A War
On Every Screen
"It's a franchise."
FBI informant posing as
al-Qaida emissary used
the name 'Montana'
from Scarface
"The witness, Elie Assad,
acknowledged Wednesday under
questioning from a defense
lawyer that he was often
known as Elie Assad Montana
after arriving in the United
States from the Middle East
in the late 1990s. When asked
why by defense attorney
Albert Levin, Assad replied,
'Scarface'... Working covertly
for the FBI, Assad acted as an
emissary from al-Qaida who
was supposedly sent to help
the group of seven Miami
men, led by 33-year-old
Narseal Batiste, realize
their alleged goal of
destroying the Sears Tower
in Chicago and attacking
five FBI offices around
the country."
Conviction in
Last Seduction case
Danny Elfman picks the
most unforgettable
music of the movies
"Every now and then, somebody
says, 'You know, the thing
about film music is you
really shouldn't notice it. It's
best when you don't notice
that it's there.' And I go,
'You're crazy. Go check out
Lawrence of Arabia and
Citizen Kane. Those
scores are so there.'"
The Whole World is
Watching: Medium Cool,
Redacted, and Documentary
Coppola disappointed with
Pacino, De Niro, Nicholson
Greenaway announces
the death of cinema
"If you shoot a dinosaur
in the brain on Monday, it's
tail is still waggling
on Friday. Cinema is brain
dead... Cinema's death date
was 31 September 1983,
when the remote-control
zapper was introduced to the
living room, because now
cinema has to be interactive,
multi-media art... Here's a
real provocation: Bill Viola
is worth 10 Martin Scorseses.
Scorsese is old-fashioned
and is making the same films
that DW Griffiths was making
early last century... [cinema
should not be] a playground
for Sharon Stone. Cinema is
wasted on cinema – most
cinema is bedtime stories
for adults... We're still
illustrating Jane Austen novels
– what a waste of time...
We're obliged to look at
new media... it's exciting
and stimulating, and I
believe we will have an
interactive cinema which will
make Star Wars look like a
16th-century lantern lecture...
Thirty-five years of silent
cinema is gone, no one looks
at it anymore. This will
happen to the rest of
cinema. Cinema is dead."
Anne Thompson on Redacted
"I feel strongly that
De Palma's movie in its
fiction form is much watered
down and less powerful--
it is, on some level, finally,
fake--than it would have
been if he had followed
his initial conception through
and made a documentary
instead. When I saw De Palma
in Toronto, it seemed like
he was regretting the film's
selection by four major fall
film fests. He was feeling
beat up, and it wasn't over
yet. While the director
was feted in Venice by the
Europeans, he was grilled
less mercifully in Telluride,
Toronto and New York. I don't
think De Palma had any idea
what sort of maelstrom he
was walking into."
Redacted to open
in Canadian cinemas
on November 7

Jeffrey Wells:
"If I had the power,
I would make every person
who voted to continue the
Iraq War by voting for
Bush's reelection in '04
watch every last Iraq War
movie there is. I would
have them gently brought
into theatres and strapped
down like Alex in A
Clockwork Orange with their
eyes kept open with those
clamp devices and shown
every last one. Okay, I might
let them off the hook with
Brian De Palma's Redacted,
which is a rough sit even
for people like myself.
But they'd see all the
rest. I'd make sure they're
comfortable and serve them
good food between screenings
and offer free shiatsu neck
massages to anyone who
wants one, but they would
see each and every Iraq
War movie, Afghanistan
movie and 9/11 movie...
anything to do with that
general tragedy."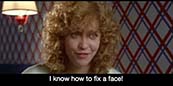 Sally & Jack
"ultrascored"
from Blow Out
Life imitates film noir
as The Last Seduction
haunts murder trial
Rebecca watched The Last
Seduction to prepare
for Femme Fatale
"Before we started shooting,
I watched Double Indemnity
seven times because my
character is obsessed with
Barbara Stanwyck. I watched
a bunch of Brian De Palma
films like Body Double and
Dressed to Kill. And I
watched Linda Fiorentino in
The Last Seduction because
that's the last time a
female character like this
has come along--one who
is unapologetically wicked.
Being this evil is normally
reserved for male
characters. It was so
cool to get to be that bad."
The Kingdom is
pro-war, despite
director's intentions
NYFF committee chairman
Pena on film selection
"If you had told me
we would never show a
De Palma film, I would
have said 'that's
probably true.'"
Anne Thompson:
Hollywood tries to
distance itself from
the "Iraq movie" label
"Thus, The Kingdom is
an actioner set in Saudi
Arabia, Lions for Lambs
is a thought-provoking
examination of war, from
Vietnam to Iraq, Grace
Is Gone, Stop Loss and In
the Valley of Elah deal
with the war's aftermath
in the U.S., and The Kite
Runner is firmly placed
in Afghanistan. As for
Redacted, Brian De Palma's
politically-charged anti-
Iraq diatribe, there's no
way to distance that
movie. It is what it is."
Anderson's There Will
Be Blood was secret
closing night film
of Fantastic Fest
"Anderson's film is a
true American saga -
one that rivals Giant
and Citizen Kane in our
popular lore as origin
stories about how we came
to be the people we are. In
The Treasure of the Sierra
Madre, it's not the gold
that destroys men's souls
but greed; in There Will Be
Blood, the commodity that
drives the greed is oil."
Durning to receive SAG
Life Achievement Award
"Durning never spoke of
his war experiences until
the 50th anniversary of
D-Day, when he disclosed
that he had been among the
soldiers in the first wave
that stormed Omaha Beach
during the Normandy
invasion, suffering machine
gun and shrapnel wounds.
He was also stabbed eight
times by a German soldier,
taken prisoner during the
Battle of the Bulge and
was the sole survivor of
40-man unit that took
out a German machine
gun nest. He has three
Purple Hearts and
a Silver Star."
Why distorted flat-
panel pictures are
ruining TV shows
and movies
Battle For Haditha
at San Sebastian
"I think this film can
play a role, provide
information at a time
when there is very little
information coming
out of Iraq that is not
from official sources.
This is a war with very
little information," said
Broomfield. The film
includes several harsh
scenes which led several
people who watched
the screening in San
Sebastian to walk out
early but was widely
applauded by those who
stayed until the end.
David D'Arcy on
The Kingdom
"Like it or not, US
audiences will welcome a
movie like this with
vengeance at its core.
The mission depicted in the
film is the slam dunk
(albeit smaller) that the
Iraq invasion was
supposed to be."
Burum to receive ASC
Lifetime Achievement
Award
Mike Hale on Hal
Ashby's The Landlord
"Matching the tenor of the
times, the humor of The
Landlord isn't always subtle,
particularly with regard to
Elgar's family — his loonily
conservative father (Walter
Brooke), his well-meaning
but fundamentally racist
mother (a hilarious Lee
Grant, who was nominated
for a best-supporting-actress
Oscar) and his liberal-when-
stoned sister (Susan Anspach).
Their scenes together often
involve a racial-political
vaudeville reminiscent of
Brian De Palma's high jinks
in Greetings (1968) and
Hi Mom! (1970)."
Battle Fatigue:
Has the Iraq film
surge already fizzled?
Jeffrey Wells:
"I'm trying to think
of a more shallow and
contemptible attitude
toward the Iraq War movies
than 'they don't ring my
bell -- I'd prefer something
more entertaining.'"
Cronenberg's Eastern
Promises wins at
Toronto
Reitman's Juno is first
runner-up, followed by
Body of War, Phil
Donahue and Ellen Spiro's
doc about U.S. soldier
paralyzed in Iraq

CHUD: De Palma is
one of several big-name
directors HBO is circling
to direct pilot episode
of Preacher
Radar: Did O'Reilly
even see the movie
he attacked?
"Six years and one day
after 9/11, millions are
taking comfort in the fact
that Bill O'Reilly has
finally identified and
cornered America's true
enemy: Brian De Palma."
Roeper: How about a
movie about Dick Cheney?
"Of course we shouldn't
shirk from the atrocities,
alleged and confirmed,
committed by our side.
But would it be so
horrible to make a film
showing American soldiers
performing genuine heroics?
Or how about a film that
shines the harsh spotlight
on the administration that
so badly botched the war
and especially the 'post-
war' efforts? Maybe we'll
eventually see such movies.
In the meantime, even though
some of this is Oscar-
quality work, in terms of
subject matter, Hollywood is
giving the Fox News crowd
some fastballs right
down the middle."
Video with Venice press
conference and clip
from Redacted
Variety on Romero's
Diary Of The Dead
"It's giving nothing away
to point to pic's sad,
brutal coda as one of
the most powerful antiwar
statements since America
invaded Iraq."
O'Reilly transcript from
Sept. 11 (first part)
O'Reilly transcript from
Sept. 11 (part two)
Bill O'Reilly goes after
De Palma a third time
Tuesday's segment featured
clips from Redacted and
from De Palma's press
conference in Venice
Iraq leads Oliver Stone
to revisit Vietnam
"Why now? Because of Iraq.
That's a major reason. I
had no intention of
making a fourth Vietnam
movie at all. But this
last year — you know my
feelings about the Iraq war
of course — I think the
time has unfortunately come
back around to remember
events like My Lai... it
seems that there's so many
similar things [between
Vietnam and Iraq]. Sometimes
the best way to reflect
on something is through
parallel history."

Brian De Palma poses
at Toronto Sept. 10


Movies about Iraq war
plentiful at Toronto
All the marines in The
Battle for Haditha, in
fact, are played by real-
life military men...
Broomfield's film
masterfully manages not
only to show the war from
the Iraqi perspective, but
to humanize the marines,
even as they execute 24
innocent and unarmed Iraqi
men, women and children in
retaliation for a
roadside bomb that killed
one of the U.S. men. The
film doesn't truly vilify
anyone, not the men who
plant the bomb nor the
jittery soldiers who commit
a terrible crime in a moment
of madness - but who were,
in fact, following standard
marines procedure to take
out everyone in a house
if it's believed to be
"hostile."
"They're little kids,
these guys who join,"
Broomfield says. "I hate
the way they join the army
and they turn into killing
machines, but you can't
blame the marines. If you
teach a dog to be an
attack dog, which is what
they are, don't be
surprised when they attack."
Broomfield is blunt: he
hopes his movie and others
like it will persuade the
U.S. government to pull
their troops out of Iraq.
Venice ends on sour
note with shock
film choices
Reporters and critics in
the press room, watching
the closing ceremony beamed
live on a big screen, booed
when Lee's Golden Lion was
announced, and again, more
loudly, when Hollywood star
Brad Pitt was named best
actor... More popular were
the Silver Lion for best
director to De Palma, whose
brutal film stunned audiences,
and the best actress prize
for Cate Blanchett.
De Palma calls Redacted
'an experiment'
De Palma's win sparked
several questions at the post
awards post ceremony press
conference as to why Paul
Haggis' The Valley of Elah,
also an Iraq themed film,
and which was very well
received on the Lido, was
shut out of the awards.
Jury president Zhang Yimou
simply told journalists,
"Even if all seven of us
had the help of the heavens
we couldn't have given a
judgment that pleased
everyone."
Poland on Argento's
Mother Of Tears
"A completely gratuitous
shower sequence with [Asia
Argento] comes close to
Dressed To Kill quality...
It is an absolute B-asterpiece.
So why isn't it pushing
my buttons? Because you
can feel the feelings of
the man sitting in the
director's chair. And while
there is a real cruel streak,
towards both sexes, in Eli
Roth, you get the distinct
feeling that while he is
raising the stakes endlessly,
Dario Argento is just having
a nasty good time. There is
something deeply perverse
about a man who strips his
daughter naked and has the
camera linger on her body
parts. But unlike Roth,
you get the feeling he
loves that body that came
of his genes. And with
Roth, you just get the
feeling he, like a frat boy,
wants to have sex with the
body and then leave it on
the side of the road to
fend for itself."
De Palma to bring more
of his cast to Toronto
"De Palma's always been
booked to do media, but
now the plan is to bring
in a lot of the cast
to hype the film."
Séguret Olivier on the
"intrusion of reality into
the 7th art" at Venice
"Documentary, true or false,
in all its forms and in all
its states, was one of the
big themes of the festival,
confounding all selections.
Whether it was openly of a
fake, like the pseudo biopic
by Todd Haynes devoted to
Dylan (I'm Not There), of
a more ambiguous product
like Redacted by Brian
De Palma on Iraq, or of
the survey carried out by
Oliveira into Christopher
Colombus (The Enigma), of
the portrait devoted to
Rembrandt by Peter Greenaway
(Nightwatching), of that
dedicated to Jimmy Carter
by Jonathan Demme (The
Man From Plains), or finally
of the family document
of Desplechin (L'aimée) or
of the double blows to the
Chinese textile industry
(Useless by Jia Zhange and
Umbrella by Du Haibin),
reality did not cease infiltrating
the Venetian program... The
only certainty on which one
can rest at the end of such
a wave of reality effects, it
is that the cinema is in crisis,
but in the best direction
of the term: crisis of the
fiction, the characters,
the storytelling."
Paola Jacobbi contrasts
Redacted and Elah
"I think the film by
De Palma is more original
and innovative, also because
of the use it makes of new
media, while the one by Haggis
is more of a traditional
movie. The only problem with
De Palma's film is that it
preaches to the converted,
it's very ideological."
Vic Gold believes movies
can shape public discourse
Dr Strangelove, Stanley Kubric's
satirical Cold War masterpiece,
was hatched in late 1962,
in the aftermath of the
Cuban missile crisis, and
released in 1964. "It was
at a time when the Cold
War was its most intense,"
wrote Terry Southern, a
scriptwriter on the movie.
As Gold and his boss [Barry
Goldwater] discovered,
it was a simple matter
of marketing to transfer
perceptions about the
caricature played by Peter
Sellers to the presidential
aspirant, Goldwater. "They
[the Democrats] used the
Cold War and built Goldwater
into a Dr Strangelove
character," Gold says. "That
had a tremendous impact,
of course." Goldwater lost
the 1964 election to Lyndon
Johnson in a landslide.
Christopher Heard on
De Palma's "not-so-
secret love affair"
with the Toronto
Film Festival
"This man told me that
he often ducked into a
film, if it grabbed him
in the first ten minutes
he would watch it all, if
not, he was on to the next
one. Often times he said
he had to duck out half
way through one film to
catch the first half of
another because they
were scheduled in such
a way that he simply
couldn't see either in
their entirety but wanted
a taste of both."
Gleiberman on Elah
"Hank manages to swipe
his son's camera phone
from his quarters and
bring it to a local street
hacker, who decodes the
files and sends them
along, one by one. As
Hank watches the jerky,
staticky replays of Mike's
missions in Iraq, the videos
are like something out of
Blow-Up — we scan every
last inch of those digital
"bricks" to learn the truth
of what went on, and how,
if at all, it might explain
his murder. Hank's amateur
sleuthing, driven by a
father's sorrow and rage,
has an arresting
low-key gravitas."
Iraq war films among
favourites for awards
at Venice
"For pure shock value,
Brian De Palma's Redacted
wins hands down..."
Variety at Telluride
Redacted "sparked heated
arguments in gondolas
and is already
bringing hate mail,
according to the
film's distrib
Magnolia Pictures."
Cahiers du cinéma
Venice diary
Eugenio Renzi: "I have
a premonition that there
is something in the air
in Venice. No need for
Mr. Weatherman to figure
out that the film that
has divided people up is
the docufiction by Brian
De Palma about the Iraq
war. The critics seem to
like it; the public is snub-
bing it, making faces. What
about us? We are more
and more convinced that
it is a masterpiece."
Video of De Palma's
standing ovation
De Palma gets
10-minute standing ovation
"The audience had a very
emotional response to the
images, and many were in
tears," said Ms. Weiss,
still shaken, from Venice.
"Brian's eyes welled up
during the ovation."
Clips from Redacted
and press conference

(Thanks to Jochen!)
Video added!


Sky News publishes exclusive
intv. with De Palma from
set of Redacted last April,
and a video, too
"I am sure before the movie
comes out people will say,
'De Palma lost his mind,
doing a $5m video project'.
That's how I want to tell this
story, under the Hollywood
radar... I feel like one of
the characters in my film
that goes along with the
rape in spite of his moral
objection to it. In real
life, I feel helpless to stop
these horrible things that
are happening, this horrible
war that I am financing as an
American citizen... People
will be arguing over this
film... that is what I hope
will happen, depending on
how successful it is. It is
un-American to criticise
the government... Personally,
I am not scared. I am the
man they love to hate. I
am sure they will say; 'It's
another De Palma misogynist
saga'. But this film is about
Americans at war and what
we do and we need to
stomach it."
Variety review of
In The Valley Of Elah
The film "continues a line of
recent movies addressing the
first Gulf War (Jarhead) and
the current one (Home of the
Brave, Grace Is Gone) that
fail to capture the realities
of war experience and familial
angst beyond basic truisms
and pictorial surfaces."
Hollywood Reporter on Elah
"...a deeply reflective, quietly
powerful work that is as
timely as it is moving."
De Palma's 'Redacted' is a
montage of stories about
the conflict and is said
to be highly critical of
the Bush administration.
In his motion picture,
De Palma denounces the
manipulation of facts
by reporters covering
the conflict.
---