The Unofficial 11 O'Clock Show page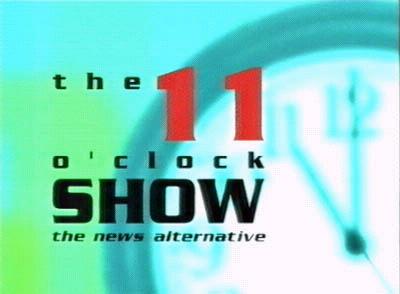 The unofficial website that has been visited and approved by former presenters Iain Lee and Daisy Donovan and members of the production crew. Supported by Blackstar, the video and music web shop (www.blackstar.co.uk)





Hello, Iím Simon Bailey. Welcome to my site devoted to the funniest show on television, The 11 OíClock Show (The News Alternative).


***NOTE - NEW EMAIL ADDRESS***
potterpromise2@hotmail.com


SITE UPDATE - 1st MARCH, 2006
My, how things change in five plus years! I am now a working man, with my own house, no longer the carefree study of the period of The 11 O'Clock Show!
Sacha Baron Cohen found stardom with Ali G with his own TV show and movie, following up with other characters such as Bruno and Borat.
Iain Lee got the presenting job on the now defunct The Big Breakfast - the very same one Daisy was rumoured to get at one stage.
Ricky Gervais has become a big star, by writing and starring in the very funny and very entertaining The Office and more recently Extras. His stand up career has taken off too, with only Peter Kay considered to be a better stand up comedian around at the moment.
Daisy also got her own shows, although they didn't enjoy the same success as Ricky's. Daisy Daisy essentially continued where The Angel of Delight left off and was entertaining, and she also presented a satricial quiz called Does Doug Know? that unfortunately was nowhere near as good as it should have been.
News just in...
Caroline, a British national now living in Boston, Massachusetts has informed me that Daisy has gone to America and filmed 13 episodes of Daisy Does America, an Ali G/Borat style interview/reality show which in some quarters has gone down a treat and in others has gone down quicker than a whore given £500.


SITE UPDATE - 9TH NOVEMBER, 2000.
Sarah Alexander interview put up on the interviews page.

SITE UPDATES - 7TH NOVEMBER
I promised something big, and here it is... I have now created an Interviews page, which will be home to interviews with various people from the show. First interview posted here is with the shortest funnyman around, Jon Holmes. I'm hoping others will follow soon...
Other site updates include more Daisy pictures on her page (likely to be the last now she's moved on), More quotes on Series 4 Quotes page and At The Tapings 5 has been added to the At The Tapings page.

OTHER NEWS - 7TH NOVEMBER
I will be going down to see the show again (yes, At The Tapings 6), for the last Wednesday show of Series 5 on December 6th.

TICKET INFORMATION (Added 1st October)
If you want tickets for the show, contact Standing Room Only, who also take booking for many other TV shows. Contact them for details and what shows they are taking bookings for.
By telephone: 020 8870 0111
By fax: 020 8870 0110
By e-mail: nick@standroom.com
Priority tickets will be sent out to special guests and those who travel a long way to see the show. However, there are only limited numbers of priority tickets per show.
I've found SRO very friendly and helpful in the past, so give them a call...

Series 5 is currently running and the show's new presenters are Sarah Alexander and Jon Holmes. After an indifferent start (which can be expected with new hosts), the show is back on track making us laugh and offending us again.
Incidentily, any screen grabs from Series 5 shows will be more than welcome. Please e-mail them to me at the address at the bottom of this page.




Series 4 was presented by the lanky twat Iain Lee and the dishy and delightful Daisy Donovan, also featuring Paul Garner and Ricky Gervais amongst others. Ricky now has his own show (Meet Ricky Gervais) and Daisy has moved onto the be the best part of a shit BBC sitcom called My Family (despite only having a minor role!) The 11 OíClock Show was the show which saw Sacha Baron Cohenís rise to fame as Ali G. He left after Series 3 for his own show.
During the showís run, it has always been broadcast on a Tuesday, Wednesday and Thursday at around 11pm. Donít worry if you miss it though, there is a weekly compilation show on a Friday, time varies week to week.
Scroll down and you shall find show and site news, and a few other bits of info that donít really have a home. At the bottom of the page can be found links to the various pages on the site, which include past and present presenters and reporters, segments in the show, quotes from the show, a site Forum and exclusive to my site, an At The Tapings page and an Interviews page. Please use these links to go to the page(s) you want to view.
Anyway, enough on the introduction. My guess is that all the blokes will go straight to one of Daisy Donovanís pages (considering Sarah doesn't have one yet!)




Site launched on March 11, 2000.

THIS SITE WAS LAUNCHED TWO WEEKS PRIOR TO THE LAUNCH OF THE OFFICIAL SITE AFTER A MONTH OF HARD WORK (Hey, I didn't have a bloody clue how to design a web page before I did this) WITHOUT MY KNOWLEDGE THAT AN OFFICIAL SITE WAS ON THE WAY.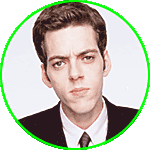 USELESS PIECE OF INFORMATION
I used to know someone called Sarah Alexander. Unfortunately, not the TV version...

Disclaimer
I did not know an official site was to be launched, so I have not nicked their idea! Besides which, there's far more info on here...
All information on this site has been obtained from a wide variety of sources. As far as I know this information is correct, but I am unable to check every piece's validity. If any information is incorrect, please inform me and I will either correct it or remove it from the site.
All pictures are either my own or have been screen captured and sent/lent to me for use on this site with the exception of the one found of the Series Two Quotes page, the ones of Iain and Daisy on this main page and those of similar nature dotted around the site. Also the Daisy montages, which are the excellent work of Dymond Geyser.
No-one from the show, Talkback Productions nor Channel 4 have anything to do with this site. However, if there is anyone there browsing here, I'd love an interview from someone connected with the show for the site and for Garbled Communications, especially Daisy or Sarah. Contact me by e-mail (address below *wink wink*!)




THE PERSONAL BIT...

Thanks to...
Jacob Rukin for screen captures which will be posted shortly!
Kenz for a lot of screen captures and the banner on this screen. Nice one boyo.
Alex Finch, for letting me write for Garbled Communications (see Links page) and giving me some information for the site.
Dymond Geyser for having so many montages of Daisy on his UK Babes site that he let me pinch. Link to his site on Links page.
All the other people who have supplied me with information and pictures that I have not mentioned.
The official site. Sorry for pinching about half dozen pictures, but I did ask through the contact form, and got no response!
Janet Howe for giving me the opportunity to work as a TV extra. If you want details on how you can, e-mail me (address at bottom of page).
All concerned that let me interview people from the show. A thousand thank yous!

Hello toÖ
Faye Brooker from Cornwall, Management Trainee where I work. Lovely girl, great laugh when pissed!
The lovely London lasses, five girls whom I met on holiday. Five of the nicest girls Iíve had the pleasure of meeting. You know who you are!
The Yiths. You know who you are too!

What I want...
Scans of Daisy when she danced dressed as Catwoman and also when she was at The 1999 UK Comedy Awards please.
Any pics of Sarah Alexander to start a page for her.
More people to post on the siteís Forum.






DON'T FORGET..!
The site's Forum. Access it from the links at the bottom of this page. Use it to let us know your opinions on the show, it's people or my site. I don't mind criticism if that's what you want to say, just make sure it's constructive.
What did you think of Daisy's American trip? Should Ali G have left? Is Iain Lee really gay? How nice is Daisy Donovan? Sarah Alexander... Your views on her? Post your thoughts here.

Any suggestions, corrections, praise or grumble, please e-mail me at the address at the very bottom of the page. The site is always being updated and fine-tuned, so please pop back on a fairly regular basis (however updates may not be so frequent when the show is not on).


The Pages on the Site
Daisy Donovan
Iain Lee
Ricky Gervais
Paul Garner
Alex Lowe
Other current reporters/interviewers
Links to other sites
Past Presenters and Reporters
Ali G
Street Interviews
The Angel of Delight
The News Avenger
Studio Interviews
Studio Items
At The Tapings
Series 2 Quotes
Series 3 Quotes
Series 4 Quotes
The Site Message Board
INTERVIEWS

Email: potterpromise@hotmail.com