Daisy Donovan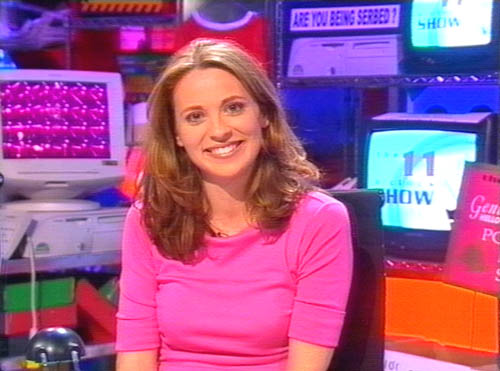 Daisy's Biography

London born and bred, 26ish year old single girl (at least she was in late February 2000!) Daisy is the daughter of the late Terence Donovan, the famous photographer. She used to live (I believe in Chelsea) with her mother, Diana, who chairs the Arts Foundation and the English National Ballet School. She has an older brother, Terry, who works as a marketing director in New York and she also has a half-brother named Dan, who is famous for Big Audio Dynamite and being Patsy Kensit's first husband.
She went to St Paul's Girls School, were she met her inspiration Baroness Heather Brigstocke, her Headmistress. After leaving school she went to Cambridge to read Classics, but found that subject was not for her - she liked to perform. Before working on the show she graduated from Edinburgh University in Performing Arts.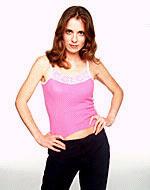 Daisy, along with Paul and Iain, has been on the show since it's inception. She started off behind the camera as a researcher in the first series of the show and made an occasional appearance as 'It Girl' Pandora Box-Grainger (or so my sources say – I can't remember!). She was promoted in series 2 to presenter (albeit somewhat below Iain) whilst also carrying on working as a researcher. It was also here that The Angel of Delight was let loose on our politicians and Daisy was let loose on the streets, microphone in hand. This is where I feel Daisy is at her best, interviewing. Since then, from the third series in late 1999, Daisy was promoted again to co-presenter, doing equal work with Iain, whilst continuing her outside interviews. In series 4, The Angel of Delight was replaced with The News Avenger. The News Avenger turned out to be in the shadow of The Angel of Delight in terms of quality, and seemed to be dropped after a few weeks. In the final week of Series 4, two street interviews in America that Daisy did were broadcast, and both were excellent.
During the middle of 1999 Channel 4 chiefs were rumoured to be looking into her as the new presenter for 'The Big Breakfast', but nothing came of it. During the summer of 1999 Daisy said she learned to moonwalk, organised Net Aid and also swam the Channel. Highly unlikely as she said it on The 11 O'Clock Show in October.
She appears to be a photographer, as this list from taken from the Vogue web site as recent as February 2000.
PHOTOGRAPHS © PHILIP BERRYMAN, PADDY COOK, SEAN CUNNINGHAM, DAISY DONOVAN, ANDREW LAMB AND PETER LINDBERGH
Well, with her late father being a famous photographer, I wouldn't bet against this being her. Plus, my sources tell me that this is Daisy and that she is a keen photographer who specialises in style photography (whatever the fuck that means, I don't have a clue!)
Since the departure of Ali G, Daisy was the most popular person on the show, possibly because that roughly two thirds of the show's viewers are male… Or maybe it's because she has more talent than the others… You judge for yourself.
Daisy has now left the show to pursue an acting career, and maybe also to further her presenting career.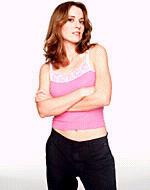 Daisy's Awards/Achievements

Presenter and interviewer on The 11 O'Clock Show (obviously).
Nominated for Best Female Newcomer at the 1999 UK Comedy Awards.
Won a poll on Dymond Geyser's UK Babes web page by a street.
Appeared in the film 'Still Crazy' and Alas Smith and Jones in 1997.
Graduated in Performing Arts from Edinburgh.
Judge for the 1999 Q Awards
I've been told she was an extra in the last James Bond movie, 'The World Is Not Enough'. Apparently, she appeared in a casino scene. I haven't seen the film yet (the only Bond film I haven't seen), so if anyone could clarify this for me, I would be grateful. Played a Dentist Nurse in crap BBC1 sitcom 'My Family' in 2000.
Anything I've missed, please inform me!



***UPDATE - 1st MARCH, 2006***


Daisy left My Family after the first series, which coincidentily (and sadly you might say) became funny after that.
Daisy then went on to do two shows in the UK. One was Daisy Daisy, a six program series that proved to be a hit, where she mixed elements of The Angel of Delight, The News Avenger and Ali G's character to create her own spoof interview/reality shows. The second was a satirical quiz show called Does Doug Know? Unfortunately this was nowhere near as good as it should have been, it flopped and was cancelled after one series.
In late 2005, a new series started... in America. Daisy Does America seems to basically be Daisy Daisy, but in America. It's gone down to a mixed reaction, with some saying they love it and some saying they detest it. With no news of it broadcasting (yet?) in the UK, I've yet to see it.

Daisy Herself

All round very nice lady. She's drop dead gorgeous, polite, charming, well mannered and very funny. She's very down to earth and she is not hesitant at mingling with the audience and her fans. I had the pleasure of meeting her briefly after the Christmas Special tapings in mid December 1999 and also after the final show in Series 4, and she seems like she is a very lovely lady in every sense.

Daisy's Future?

Daisy is currently appearing in a BBC sitcom called 'My Family' and is rumoured to soon have her own show titled 'Daisy Does Bachelors', but this is only a rumour at the moment.
If anyone who reads this finds out ANY information that I haven't covered here, please e-mail me as soon as you can (address at bottom of main screen).



She's a star…

My Opinions

Overall Ability – Very good. When Daisy first appeared in front of the camera, many people thought the worst since Fred MacAuley had just left, and many also said 'Who the hell is this?' Personally, I wasn't overly enthused at this new, young, yet attractive lady, but was willing to give her a chance. Her inexperience in the studio showed in the early days, but since then she has been improving steadily and is now a good presenter. Her delivery is very good, she presents herself well and her interviews seemingly get better and better. From my three visits though, she does seem prone to making mistakes. Which gives Iain an excuse to call her a 'stupid cow', 'a fuck wit' and the like!
Interviews – What can I say? Daisy's interviews are my favourite parts of the show, except for the early The News Avengers. Even from the beginning, you could see The Angel of Delight was a real gem. Every single one of these made you laugh and you were transfixed at Daisy for her looks and for what she was going to ask next. It's a shame The Angel has gone. Daisy's street interviews are also consistently excellent, with no topic holding a boundary. Her The News Avenger interviews are beginning to pick up now too, so top marks here.
Studio Work – Good. Daisy is prone to making mistakes in the studio, but it's not easy when you see the final script for the first time on autocue when you're actually filming the damn thing. Having said that, she made proportionally noticeably fewer mistakes in the last taping I went to than the Christmas Special.




Comic Value – High. Daisy consistently generates laughs with her scripted material, and she is also very good at generating laughs off the camera too. A prime example was when she said "Another fuck up by the remedial girl" after a very early mistake at the Christmas Special. She also started to sing "Mother fucker, mother fucker" for no apparent reason during a break in filming the last show of Series 4. How the audience laughed.
Sex Appeal – Very high. She looks great, plus on top of that, she is funny, and going by my brief meetings with her after shows, she seems a very nice lady too. What more could you want from a woman?
Height – She's fairly tall for a lady at around 5'9 (same as me) but Iain Lee makes her look very small.
Obesity – A little on the skinny side, but she's certainly not supermodel or Posh Spice skinny. Nothing to really cause any concern.
Guts – She's a brave lass. Always comes out with expletives like fuck, wank, cock etc and no subject seems to hold a boundary in her interviews. Wonder what she would be like on a family show?!
Fan Support – Sky high. Easily the most popular person on the show now Ali G has left. Only Ricky Gervais comes remotely close in the popularity stakes. Also helps that she is always willing to meet and greet her fans. And Apparently… – She's a bit of a posh lass who likes to have her own way most of the time. Posh birds normally do don't they?

My Final Thought – Daisy has established herself and is rumoured to be in line for bigger things. And the potential is there for her to move onto big things. As for me? If only she were my Angel of Delight… We all have dreams don't we…


Daisy Pictures
Series 4 Studio News
Children's Campaign
Series 2 Entrance
What's New Pussycat? (PURR...)
A younger Daisy in the film 'Still Crazy'
Series 2 entrance
Series 3 Studio News
Series 4 montage 1
Series 4 montage 2
Series 4 montage 3
Series 4 (very nice...)
Series 4 montage 4
Look into my crystal balls... (Madame DeeDee)
Ooh, BIG eyes (Series 4)
What you looking at? (Series 4)
Series 4 Studio (montage)
See, Daisy does like Ricky! (montage)
Another Series 4 Studio Montage
And Another...
And Yet Another...
Madame Dee Dee with Emma Patfield (montage)
Daisy McDonovan (Series 4 montage)
LINKS TO MORE DAISY PICS
Spazmodic Daisy (bottom right)

Other People Pages & Back Home
Alex Lowe
Ali G
Iain Lee
Other current reporters
Past people
Paul Garner
Ricky Gervais
The Angel of Delight
The News Avenger
Site Home Page

But wait..! More Daisy pics here!
Daisy in Wonderland
Series 4 Montage
Montage from Daisy's last show
Get the tissues out (last show)
At least I won't be with the lanky twat again! (last show)
Her choice - She chose New York
More Stateside
Daisy in uniform (from My Family - a crap BBC sitcom)