Bill Hillman's
Volume 483
and
ERB C.H.A.S.E.R. ENCYCLOPEDIA
ERB C.H.A.S.E.R.
A Collector's Hypertexted and Annotated Storehouse of Encyclopedic Resources
by an Exhausted Scholar
William G. Hillman
Presents

Edgar Rice Burroughs'
Tarzan of the Apes
Covers ~ Publishing History ~ Summary
Cast ~ Chapter Titles ~ Lord Greystoke's Cover Art Gallery
Japanese Edition Art
---
PUBLISHING HISTORY (USA)
PULP
All-Story Magazine: October 1912
Clinton Pettee: cover ~ Fred W. Small: b/w title headpiece
A. C. McClurg: 1914 ~ Prepublication paperback review edition
FIRST EDITION
A. C. McClurg: 1914 ~ published in "three states" ~ 400 pages
Fred J. Arting: DJ wraparound with b/w silhouette version for title page
REPRINTS
A. L. Burt: 1915-1928 ~ many reprints with many variations in binding and DJs
Grosset & Dunlap: 1927
Fred J. Arting: adaptation of 1st edition DJ possibly by Paul Stahr
Best Stories of All Time Magazine: 1926: Aug/Sept, Oct., Nov., Dec. 1927: Jan, Feb., Mar., Apr.
No illlustrations
Big Little Book: Whitman Publishing: 1933 ~ 320 pages
Juanita Bennett: cover and 307 interiors
Whitman Publishing: 1935 ~ much abridged give-away version with 48 stapled pages
Grossett & Dunlap: 1940 ~ 392 pages
Fred J. Arting: earlier colour adaptation of 1st ed. DJ and no frontispiece
Armed Services Edition: 1940 ~ small pocket sized paperback with 351 pages
Unknown cover artist and no interiors
Grosset & Dunlap: 1943 ~ Madison Square Wartime edition ~ 1943 ~ 314 pages
Fred J. Arting colour adaptation cover ~ St. John Golden Lion title page decoration
Grosset & Dunlap: 1960
Gerald McCann: DJ cover ~ no other illustrations
Ballantine Books paperback: July 1963 ~ 219 pages
Richard Powers cover
Whitman: 1964 ~ unabridged 285 pages
Al Anderson: illustrated pictorial boards cover and interiors ~ Jesse Marsh interiors
Ballantine Books paperback: (TV series tie-in edition) August 1966
Ron Ely photograph cover
Grosset & Dunlap: 1967 ~ 314 pages
Gerald McCann illustration painted on board cover ~ decorated title page but no interiors
Ballantine Books paperback: April 1969 ~ 245 pages
Robert Abbett cover
Grosset & Dunlap: 1973
George Gross: illustrated board cover ~ decorated title page
Ballantine Books paperback: April 1975
Neal Adams cover
Ballantine Books paperback: January 1976 "Ballantine Special Book Club Edition)
Neal Adams cover
Buccaneer Books: 1977 ~ no DJ or interiors
Random House: 1982 adaptation ~ 94 pages
Tim Gaydos board cover and interior illustrations
Random House: 1982 ~ paperback edition of above
Random House: December 1983 ~ 104 pages
Charles Ren pictorial boards cover ~ no interiors
Random House: 1983 ~ paperback version of above
Ballantine Books 20th reprint: Dec.1983 Greystoke movie tie-in ~ 245 pages
Charles Ren cover
Ballantine Books paperback: May 1988
Neal Adams cover reprinted
Avenal: 1988: Anthology of four titles ~ 848 pages
Contains pulp version of TA plus Son of Tarzan, Tarzan at the Earth's Core and Tarzan Triumphant
J. Allen St. John DJ (Tarzan at the Earth's Core painting) ~ Estaban Maroto: four TA interiors
New American Library Signet paperback: March 1990 ~ 288 pages
Thomas Baines cover painting ~ Intro: Gore Vidal "Tarzan Revisited" article 1963
Penguin Books: 1990 ~ 286 pages
McClurg silhouette cover used on cover and frontispiece ~ Intro and Notes: John Seelye
Random House: 1991
Kenneth E. Laager cover
Book of the Month Club Edition: July 1995 ~ 784 pages
TA and Return of Tarzan combined in one edition ~ Photos of early G&D editions on DJ
Easton Press: 1995 Masterpieces of Science Fiction edition ~ 252 pages
Leather DJ ~ Kent Bash frontispiece ~ Intro: George T. McWhorter
First Edition Library: 1998 reproduction of McClurg first edition in slipcase
Fred J. Arting: DJ wraparound with b/w silhouette version for title page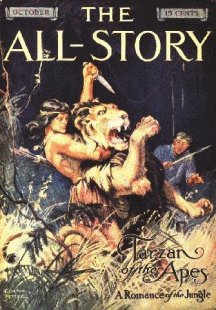 ---
Summary — (Ballantine Books Blurb)
Deep in the savage African jungle, the baby Tarzan was raised by a fierce she-ape of the tribe of Kerchak. There he had to learn the secrets of the wild to survive—how to talk with animals, swing through the trees, and fight against the great predators. He grew to the strength and courage of his fellow apes. And in time, his human intelligence promised him the kingship of the tribe. He became truly Lord of the Jungle. Then men entered his jungle, bringing with them the wanton savagery of civilized greed and lust—and bringing also the first white woman Tarzan had ever seen. Now suddenly, Tarzan had to choose between two worlds.
Edgar Rice Burroughs'
TARZAN OF THE APES
Chapters

I. Out to Sea
II. The Savage Home
III. Life and Death
IV. The Apes
V. The White Ape
VI. Jungle Battles
VII. The Light of Knowledge
VIII. The Tree-top Hunter
IX. Man and Man
X. The Fear-Phantom
XI. "King of the Apes"
XII. Man's Reason
XIII. His Own Kind
XIV. At the Mercy of the Jungle
XV. The Forest God
XVI. "Most Remarkable"
XVII. Burials
XVIII. The Jungle Toll
XIX. The Call of the Primitive
XX. Heredity
XXI. The Village of Torture
XXII. The Search Party
XXIII. Brother Men
XXIV. Lost Treasure
XXV. The Outpost of the World
XXVI. The Height of Civilization
XVII. The Giant Again
XXVIII. Conclusion

CAST (in order of appearance)

John Clayton: Lord Greystoke, emissary to Africa
Alice Clayton: Lady Alice (Rutherford), his wife
Billings: Fuwalda Captain, murdered by mutineers
Black Michael: Fuwalda chief mutineer who maroons the Claytons
Tarzan: ("white skin"): Claytons' orphan, adopted son of ape Kala
Mbonga: king of the cannibals
Kulonga: Mbonga's son
Archimedes Q. Porter: Professor from Baltimore MD
Jane Porter: Professor Porter's daughter
Samuel T. Philander: Porter's secretary and assistant
William Cecil Clayton: Tarzan's cousin, suitor of Jane Porter
Esmeralda: Porters' maid
Hazel Strong: Jane's friend in Baltimore
Snipes: rat-faced chief mutineer from the Arrow
King: Arrow chief mutineer murdered by Snipes
Tarrant: mutineer from the Arrow
Paul d'Arnot: Lieutenant in the French navy
Charpentier: Lieutenant in the French navy
Dufranne: Captain in the French navy
Father Constantine: French missionary in Africa
Monsieur Desquerc: absent fingerprint expert
Robert Canler: Jane's unwanted suitor, her father's creditor
Tobey: Esmeralda's beau
Rev. Mr. Trousley: Wisconsin minister
Kerchak: King of the ape tribe of baby Tarzan
Tublat: ape chief after Kerchak
Kala: youngest mate of Tublat, Tarzan's mom
Terkoz: son of Tublat
Neeta: young ape previously drowned
OTHER TARZAN OF THE APES FEATURES IN ERBzin-e
ERBzin-e 420: Tarzan of the Apes in All-Story
ERBzin-e 418: Tarak and the Jewels of Louisville

LORD GREYSTOKE'S GALLERY

---
Interior Art Gallery
There was no interior art in the original McClurg first edition.
Featured here four Esteban Maroto interiors from the 1988 Avenal omnibus edition
Featured in ERBzin-e 483a is art from a Japanese book put out by Shogakukam publishers.
This profusely illustrated book from the Tom Lindgren Collection
has a slip jacket cover which inserts into a protective box cover housing.
See ERBzin-e 483a
See more Tarzan of the Apes cover art in our
Online ERB Bibliopgraphy
https://www.angelfire.com/trek/erbbib/erb1911.html
https://www.angelfire.com/trek/erbbib/erb1911a.html
https://www.angelfire.com/trek/erbbib/erb1911c.html
---
BACK TO
ERB C.H.A.S.E.R.
NAVIGATION CHART
WEBJED: BILL HILLMAN

Visit our thousands of other sites at:
BILL & SUE-ON HILLMAN ECLECTIC STUDIO
Some ERB Images© and Tarzan® are Copyright ERB, Inc.- All Rights Reserved.
All Original Work © 1996-2004 by Bill Hillman and/or Contributing Authors/Owners
No part of this web site may be reproduced without permission from the respective owners.