Edgar Rice Burroughs:
An Illustrated Bibliography
ERB C.H.A.S.E.R. ONLINE ENCYCLOPEDIA
Early Years to 1911
Compiled by Bill Hillman
For More Illustrations from 1911 go to:
The Bold dates indicate the year in which ERB created the stories.
Book dedications are indicated in quotation marks.
The information following the titles indicate: the working title (WT),
the first published title, usually in magazines (MT).
Where WT or MT are not given, the title is the same.
Following this is a list of magazine and book publishers who have put out
editions of the work.
Publish dates for the first edition magazines and books are in brackets.

---
The Early Years: Poetry - HORSES AND DOGS (1887) - 89 S.S.S.! (1887) - CHICAGO (1887) - WHAT ARE THE WILD WAVES SAYING? AN EVENING LULLABY FOR THE CHILDREN (1903) - BLACK MAN'S BURDEN - POVERTY (1908) - THE MARTYRS (1909) - MUSCA DOMESTICA 1909) - O, YES; ITíS GETTING THICK (1911) - NAY, IT HATH NOT GONE (1914) - THE CLIMATE AND THE VIEW (1914) - THE CONTRIBS OF YESTERYEAR (1915) - Numerous Poems written for ERB's Breakfast Club (1925) - THE $ STEAMSHIP COW (1936) - GENGHIS KHAN (10 pages) - ITíS ANTS! - HOOKS FOR MEN! - LOOK AT THIS PICTURE, THEN ON THAT - (Many others)
See e-text in ERB Motes & Quotes: http://www.geocities.com/Hollywood/Boulevard/6643/erbmote3.html

---
1900 "Snake River Cotton-Tail Tales" and "Unnamed" -
Personally illustrated One-shots for family with rhymed stories and family in-jokes- See e-text:
http://www.geocities.com/Hollywood/Boulevard/6643/erbmote3.html

---
1901 "Grandma Burroughs' Cook Book" -
Hand-lettered and illustrated recipe book of family recipes - Unpublished
---

1903 circa Minidoka 937th Earl of One Mile Series M -
Soon to be published by Dark Horse
---
1904-1907 The Violet Veil: A Treely True Story - Unpublished
---
1911
---
A Princess of Mars -- "To My Son Jack" WT=Dejah Thoris, Martian Princess Under the Moons of Mars -- MT=Under the Moons of Mars - Carter of the Red Planet
All-Story Magazine 6(1912) - Modern Mechanics and Invention 4(1929) - A.C. McClurg (1917) - Grosset & Dunlap - E.R. Burroughs, Inc. - Ballantine - Dover (with Fighting Man of Mars - Doubleday (Science Fiction Book Club)
---
The Outlaw of Torn -- "To My Friend Joseph E. Bray"-- same
New Story Magazine 5(1914) - A.C. McClurg (1927) - Grosset & Dunlap - Pinnacle - Ace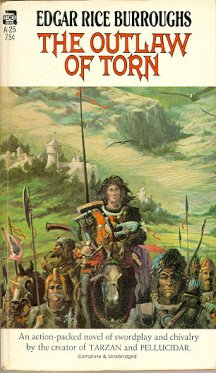 ---
Tarzan of the Apes "To Emma Hulbert Burroughs"
All-Story Magazine 1(1912) Best Stories Magazine 8(1927) - A.C. McClurg (1914) - AL Burt Company - Grosset & Dunlap - Armed Forces Paperback - Ballantine - Whitman - Random House - Methuen - Dover Thrift - Pan - Watson-Guptill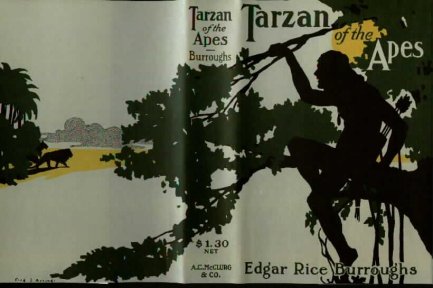 WEBJED: BILL HILLMAN


Visit our thousands of other sites at:
BILL & SUE-ON HILLMAN ECLECTIC STUDIO
Some ERB Images and Tarzan© are Copyright ERB, Inc.- All Rights Reserved.
All Original Work ©1996-2002 by Bill Hillman and/or Contributing Authors/Owners
No part of this web site may be reproduced without permission from the respective owners.