La resa di titi (1945)



"The Merry Chase"
"La rendicion de titi"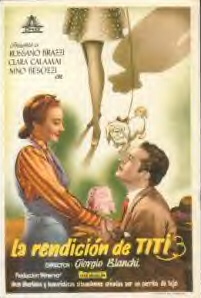 Cast
Nino Besozzi
Paola Borboni
Rossano Brazzi
Clara Calamai
Alda Dondini (see Il treno crociato)
Lauro Gazzolo, 1910-1970 (see Redenzione)

Director
Giorgio Bianchi

Music
Alessandro Cicognini

Writers
Aldo DeBenedetti (from his play)
Guglielmo Zorzi (from his play)

Director of Photography
Massimo Torzanom 1892-1947 (see Kean)

Synopsis/Review
Unavailable at this time.

Notes
Cicognini also wrote the music to Summertime and Loser Takes All.
Aldo DeBenedetti also wrote Gli ultimi cinque minuti from his play.

Viewer's Comments


---
To search for REEL.com's collection of available Rossano Brazzi videos, click



---
Home Page
Last Minute News
Biography
Filmography
Video Library
Theater Roles
Film & Theater Awards
Article Library
Source Listing
Selected Newsletter Articles
Associated Recordings
Related Reading Material
"The Never Ending Serial"
Rossano on TV this month
---
---
Created by the Rossano Brazzi International Network
BENDITA-LUCIA, INC.