Floral Print Dresses
1860's Paisley Paletote
A lady's circa 1860's paisley paletote. Deep true printed colors of paisley both forms and roses with violet colored leaves on a black background.
Six pressed horn buttons at the front closure. Two curved slit front pockets, one false, trimmed in black velvet there and at the cuffs. A nice full V back construction with piped drop seams and coak sleeves.
Lined in a striped calico cotton, as shown turned back, and a bobbin lace collar.
Red Silk Gown
A lovely romantic dress in gorgeous fabric! The high quality silk satin damask weave forms a floral pattern. The weft yarns are stripes of red, green, light blue and off white. They are mostly covered by the burgundy satin floats and are only brought to the surface where the damask forms the flowers.
This simple style, typical of the 1850's, has a boned bodice that is pointed in the front. Narrow corded piping outlines the neckline, the armholes and the bodice hem. There is a drawstring around the neckline for adjustment.
The entire dress hand sewn and is lined with ecru polished cotton. It closes up the back with hooks.
It measures: 35" bust, 26" waist, and 58" from the shoulder to the hem.
1850's brocaded silk dress
A glorious circa 1850's lady's black silk brocade dinner or evening gown with a bold floral motif of gold, ivory, red, pink and yellow flowers, some roses, with green sprigs, that make for a striking contrast against a floral and honeycomb patterned background.
It has a V-shaped construction to the front and back of the bodice with a deep point to the front. It closes with a back hook and cloth eye closure.
It has long slender fitted sleeves with capped accents and inset netted lace to the outer side of the cuffs with hook and eye closures. It contains piping at the drop shoulder seams, cuffs, caps, gathered waistband and neckline.
Great color. A 32 bust and 25 waist. Quite lovely and most impressive!
c. 1850's Powder Blue Day Dress
A delightful circa 1850's lady's fine muslin print one piece dress. What makes this so wonderful is a lovely traditional powder blue foliage motif print, possibly English, with a darker blue shadow line and dot shaded accents. The bodice is lined in white cotton, has a gathered front and lovely pagoda sleeves accented with two tiers of ruffles at the shoulders and hems. A 1 1/4" waistband with a fully gathered skirt. A front hook and eye closure. Piped at the back shoulder seams and sleeve ruffles. A center seam back construction.
Ikat Silk Tafetta Dress
The ikat method of forming a textile pattern is a very old technique that was found in cultures throughout Asia and the Middle East.
It spread first to Italy by way of Turkey and Greece, then to Lyons, France, and then north to Germany. This piece is a warp ikat and is probably French. A great deal of hand work was involved in the production - first the warp yarns were individually wrapped and coated with resist to form patterns before being dyed. It was then woven with a weft stripe crossing through the ikat pattern. The dress could be French or made in this country from imported French fabric.
The boned bodice is lined with heavy ecru twill weave cotton, and the skirt is lined with brown polished cotton. The bodice has narrow corded piping around the armholes and bottom edge. It is decorated with bands of sewn on jet bead trim and fancy jet buttons. The sloping drop shoulder is accented by puff at the top of the sleeve. The fullness of the skirt is distributed into wide box pleats. The skirt is longer in back.
The condition is very good. There is one inch area near the side seam that has 3 splits in the fabric and an eight inch section of hemline binding is missing. There are no significant problems.
It measures: 32" bust, 22" waist, 14 1/2" from shoulder to waist, 20" sleeve length from the drop shoulder, and 43" front skirt length (longer in back).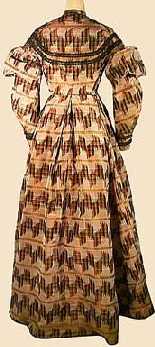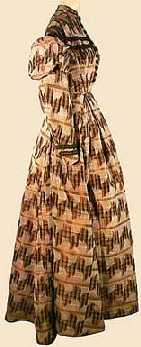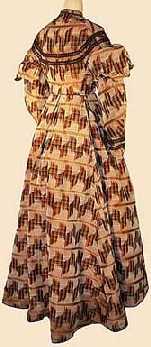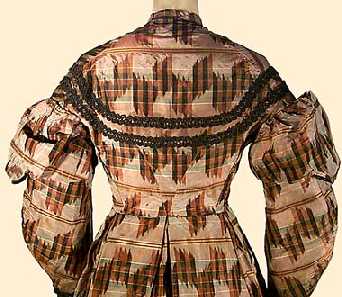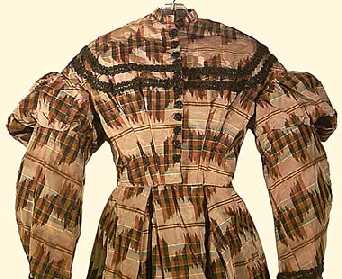 (Sorry, I had nowhere else to place this one!)
[Striped Dresses] [Plaid Dresses] [Floral Dresses] [Special Occasion Dresses] [Underthings] [Footwear]
[HOME]