Asian: Polynesian-Samoan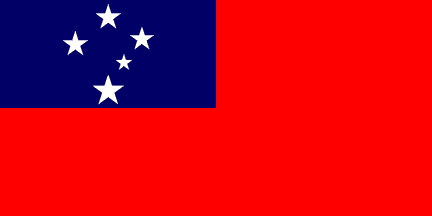 ---
This tiny island in the Pacific Ocean maybe small, but they got many things "big" to boast about. I decided to write about this nation after watching this inspiration movie called "Gridiron Gang" (see football). The movie actually had a couple or more Samoans, which not many (particularly us Midwesterners) know about. One famous Samoan, which I never knew until I re"searched" on the internet is Dwayne "the Rock" Johnson! Cool, huh?....
Wikipedia
"Along with his father and grandfather, several members of Johnson's family are current and former professional wrestlers, including his uncles , the Wild Samoans (Afa and Sika Anoai), and cousins such as former WWF Champion Yokozuna, former WWF Tag Team Champion Rikishi and current wrestler Umaga (formerly known as Jamal). When he declared his intention to join the family business, his father resisted, but agreed to train his son himself, warning him that he would not go easy on him."
---
Reccomended Resources
NATION

Government


"Settled as early as 1000 B.C., Samoa was "discovered" by European explorers in the 18th century. International rivalries in the latter half of the 19th century were settled by an 1899 treaty in which Germany and the US divided the Samoan archipelago. The US formally occupied its portion - a smaller group of eastern islands with the excellent harbor of Pago Pago - the following year."

GLOBAL

Government

Miscellaneous


"American Samoa, a group of five volcanic islands and two coral atolls located some 2,600 mi south of Hawaii in the South Pacific, is an unincorporated, unorganized territory of the U.S. It includes the eastern Samoan islands of Tutuila, Aunu'u, and Rose; three islands (Ta'u, Olosega, and Ofu) of the Manu'a group; and Swains Island. Around 1000 B.C. Proto-polynesians established themselves in the islands, and their descendants are one of the few remaining Polynesian societies. The Dutch navigator Jacob Roggeveen sighted the Manu'a Islands in 1722. American Samoa has been a territory of the United States since April 17, 1900, when the High Chiefs of Tutuila signed the first of two Deeds of Cession for the islands to the U.S. (Congress ratified the Deeds in 1929.) Swains Island, which is privately owned, came under U.S. administration in 1925.
Until World War II the United States operated a coaling station and naval base in Pago Pago. During the war, the islands were an important U.S. Marines staging area. "

"...is an unincorporated territory of the United States located in the South Pacific Ocean, southeast of the sovereign state of Samoa. Music

-Acapella
The Katinas - One more time

" DJPraise www.djpraise.tk Video de los Katinas muy bueno y pa mas videos asi visiten mi pagina q sale en el video ok ;)"
*my personal favorite song from this group


My-Space
*one of my first favorite Christian groups
Related Sites:
Sound Click Artist
""We grew up listening to these artists," says James. "We lived in American Samoa, 2,000 miles south of Hawaii, so the only way we could keep up with what was happening in Christian music at that time was through the cassettes and records our cousins mailed us from the states. That's how we discovered these songs; they're the reason for our love of music."
-Concerts:
The Katinas "Rock the Rock" Event 07'

" The Katinas in American Samoa, with their event called "Rock the Rock"."

Travel


"The best time to enjoy American Samoa - and especially the island's capital - is during the dry season (May-October). The risk of tropical cyclones (hurricanes) is reduced at this time and, not surprisingly, it is also when most of the major festivals are held."
Thank you for visiting UMMAlpha! Please feel free to e-mail me (Sal) at ummalpha@yahoo.com on any comments, suggestions (e.g. any new websites),complaints, or anytype of feedback to improve this website.
---
Return to UMMAlpha: Asian Homepage
Thank you for visiting my page at Angelfire. Please come back and visit again!