The Tick
There's something funny about this webpage. It's

The Tick!
The Tick returned to FOX in 2001 with all new episodes, click here for further details, and the same guy is also doing the voice of the current cartoon series version of Buzz Lightyear.


Based on Ben Edlund's cult hit comic book, this animated series features the adventures of the seven-foot-tall, 400-pound blue arachnid crime fighter and his sidekick Arthur, an ex-accountant in a shimmering white moth suit. The fearless and charming Tick, along with his sidekick Arthur, fight crime by taking on the world's most "unusual" super villians.

Official website description:
"The life of a super hero is a lonely one, filled with hardship and danger. The few who answer the call must leave comfort, safety, and often sanity behind. But, someone's gotta stand the heat and stay in the kitchen. Someone's gotta don the oven mitts of all that's right, and strangle the red-hot throat of all that's wrong. This is that someone's story……"

Leaping from rooftop to rooftop in a single, hard-hitting thud, a mysterious, blue defender of justice patrols the city known as The City. He is THE TICK, and his limited understanding of all things human does not interfere with his over-zealous desire to protect humanity.

From Executive Producers Barry Sonnenfeld, Barry Josephson, David Sacks, Larry Charles and Ben Edlund, comes a comedy about action. The Columbia TriStar Television mid-season, half-hour comedy for FOX, based on Ben Edlund's cult comic book, The Tick, stars Patrick Warburton as The Tick, as well as David Burke, Nestor Carbonell and Liz Vassey as his crime fighting friends.

Deep in The City, a frustrated, mild-mannered accountant known only as 'Arthur' (Burke) secretly desires to be a super hero. Well, it's not much of a secret since he wears his crime-fighting moth jumpsuit to work. And, when Arthur quits his job in corporate America to pursue his desire, it is only a matter of time before he encounters the bizarre crime-fighting style of The Tick (Warburton). The two team up to conquer the evils in The City -The Tick with gusto and The Moth with a little trepidation.

Joining them in their fight against injustice is Batmanuel (Carbonell), a suave, Latin, crime-fighting lover who's never without cause to promote himself. His kryptonite comes in the form of lady liberty - Captain Liberty (Vassey) to be exact - the government's top operative in the war against super-villainy. She is a super hero whose torch of righteousness burns brightly with a hard whack to its bottom - a move Batmanuel would greatly appreciate.

Barry Sonnenfeld, Barry Josephson, Larry Charles and Ben Edlund serve as executive producers. Flody Suarez and Vahan Moosekian are producers for THE TICK, produced by Sonnenfeld/Josephson Worldwide Entertainment, in association with Columbia TriStar Television.
Titles & air times:


Due to the events of 9/11/01, the first episode of The Tick was moved to 2001 November:

The Tick premiered on FOX on November 8, 2001. Created by Ben Edlund (creator of the comic book and animated series of the same name) and directed by Barry Sonnenfeld, The Tick live-action series brings the never-ending battle of good and evil to new heights of comedic chaos.

The Tick .................. Patrick Warburton
Arthur .................... David Burke (in the animated series he was voiced by Micky Dolenz of The Monkees)

Season 1 Synopsis
1) Pilot
A renegade Russian robot named Red Scare goes on a rampage, targeting former President Jimmy Carter. Guest star: Christopher Lloyd as Mr. Fishladder

2) The Terror
An evil 112-year-old villain named The Terror shows up after The Tick calls him out and he collapses with a heart attack while fighting The Tick. Guest star: The Terror is played by Armin Shimerman (Quark in "Deep Space 9"). This episode never aired but all 9 episodes are on the DVD set from Amazon.com

3) Arthur, Interrupted
When Arthur tells his family he is a superhero they have him committed, but when they tell The Tick what they've done he Captain Liberty, Batmanuel and Dot rescue him. Guest star: Dave Foley as Francis

4) The License
The law requires all superheroes have a license and tell the government who their secret identity is, but The Tick has problems when he doesn't have a either a secret identity or a license. Guest star: Larry Poindexter

5) Arthur Needs Space
The lady upon whom Arthur has had a crush since high school is interested in him now that he's a superhero, but he can't get rid of The Tick long enough to date her.

6) Couples
When Arthur and The Tick meet several of the other local superhero teams he learns that being a sidekick is little more than just looking after the superhero and posing for pictures. Guest stars: Ron Perlman as Fiery Blaze, Jack Armstrong as Captain Comet

7) The Funeral
When The Tick comes face-to-face with death he doesn't understand it and wants some answers about it.

8) The Tick vs Justice
A villain is being tried for his crimes of the last thirty years and Arthur and The Tick are testifying against him.

9) The Big Leagues
Tempers flare when The Tick and Arthur join The Legion Of Superheroes, but Batmanuel and Captain Liberty are turned down.

The episodes were not broadcast in the above order of production:

"Pilot" 8 November 2001  
"The Funeral" 15 November 2001  
"Couples" 5 December 2001  
"The License" 6 December 2001  
"Arthur Needs Space" 13 December 2001  
"The Big Leagues" 21 December 2001  
"The Tick vs. Justice" 17 January 2002  
"Arthur, Interrupted" 24 January 2002

On November 8, TV Guide raved: Buffy devotees may be hard-pressed to recall an episode as off-the-wall as this one, as Sunnydale denizens are featured in their own production numbers... OOPS, wrong TV Guide rave. Here it is:
Superheroics are played for laughs in this clever comedy. Patrick Warburton (who played Puddy in "Seinfeld") has the title role in this sharply satirical adaptation of the cult comic book.
Dim-witted but dedicated, The Tick is a superhero who brings childlike enthusiasm to his work. In the opener, the Tick arrives in "The City," where he meets the more experienced Captain Liberty (Liz Vassey, see photo on page 6), and the debonair, egotistical Bat Manuel (Nestor Carbonell, spoofing Adam West). Hoping to join their ranks is an ex-accountant named Arthur (David Burke), with whom the Tick bonds as they try to save Jimmy Carter (Brad Maynard) from a Soviet robot left over from the Cold War.

None of the original cartoon episodes are scheduled anymore on Comedy Central. The above live-action list of episodes produced so far & airdates starting Nov. 8, 2001 come from Pazsaz.com - which also has this page devoted to all 3 seasons of the original FOX cartoon series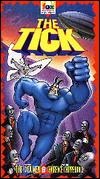 "The Tick" availability on video and on DVD; and there's even a book from Amazon.com
Note: if not available,
email them your
rant,
email's free!
Back to TV Listings on Scifans
The Tick animated eps seen on Comedy Central in 1999, have now moved to the Family Channel (owned by ABC/Disney) and Toon Disney

Guest voices in the animated series (36 episodes) included:

Roddy McDowall ....  The Breadmaster
Dan Castellaneta ....  Mole King 
Hamilton Camp ....  Johann Gutenberg 
Paul Williams ....  Mother of Invention 
Maurice La Marche .... The Deadly Bulb 
Cathy Moriarty ....  "Ants in Pants!" episode
Brad Garrett ....  "What" Interrogator 
Brad Garrett ....  Jim Rage 
John Mariano ....  Sewer Czar   
Chuck McCann ....  Filth #2  
Mark Hamill ....  Julius Pendecker, the "Devil in Diapers" 
James Belushi ....  Mr. Fleener  
Bob Goldthwait ....  Uncle Creamy 
Laraine Newman ....  The Flying Squirrel  





Click here to hear the Tick again


Or here for Hal to open the pod bay doors in 2001


Click here to hear the best Star Trek parody song ever

Official Tick website (if it's still there) produced by Sony Television for Fox


Official Sony DVD site for The Tick


Note: The Tick is mentioned in Men in Black II




Now, wipe the drool off your chin, get on to your web-surfing, and for pete's sake, chum, change your underwear!!