Monstervision Host Segments for
Point of No Return
(1993)

"POINT OF NO RETURN" Intro

Well, clamp on a cheap bolo tie made by filthy rich Aborigines with big thumbs. The Joe Bob Briggs Summer Vacation Guide continues: this week--dude ranches. But first I should tell you that Bridget Fonda is an underdressed psychopathic hitwoman working for the CIA, when all she really wants to do is share a quaint beach house with her Venice Beach boyfriend, in "Point of No Return," which is the American remake of that French hit "La Femme Nikita," and then our second feature, back by popular demand--"The Hand," starring Michael Caine as the man who loses his hand, and he's NOT TOO HAPPY about that, in a horrific flick directed by Oliver Stone himself, back when he was working in the B movie world.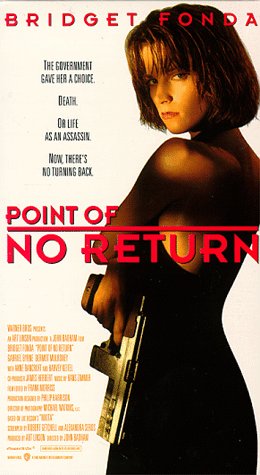 Okay, the first dude ranch on our list of vacation spots is The Lewd, Crude, Nasty Dude Ranch, located in the wilds of Wickenburg, Arizona. It's that "special" retreat for those special little friends of yours in flamingo shirts looking for a place to "swish away the summer" according to their rights and privileges as Americans to do anything they want to do with their bodies, if you know what I mean and I hope you do. The lewd, crude, nasty dude himself is a guy named Leotis who comes out of his bunkhouse once a day to administer bullwhip punishment and perform the "bucking bronco fandango"--no kiddies allowed.
Our second dude ranch is Velvet Vista Verde Valley. Five miles east of Bakersfield, California, on State Route 178, this one is perfect for that "budget" vacation. Fifty dollars for six people for two weeks (room and board not included). Complimentary irrigation materials upon request. How can they do it? Easy. They have no horses. All recreation is goat riding. Goat-riding lessons are available at a modest charge, but don't try Goat Peak on the first day. Head for Cabrito Training Hill.
Numero three-o is the Blue Lagoon Guest Ranch. At this secluded mom-and-pop hideaway near Bandera, Texas, each room is papered with glossies of Pamela Anderson Lee and, for the kinky, Tommy Lee. For a surcharge of $200 per week, Pamela will personally come to your room and recite her favorite lines from "Baywatch." For a surcharge of $300 per week, Tommy will not come to your room.
Number four is the Roy-and-Dale Love Ranch. Try this one for your golden wedding anniversary, especially if you're trying to put the old vigor back into the marriage. At the Love Ranch, 28 miles west of Pie Town, New Mexico, on U.S. 60, the sky is orange all day, just like in Roy's movies. This is because the ranch is part of the White Sands Missile Range nuke-testing facility, home of the rarely seen iridescent antelope and the strobe gopher.

Dude ranch number five: Rancho Enchilada. There are actually two Rancho Enchiladas operated by the Mexican government. Make sure you get a booking at the Monterrey branch, not the one in Ciudad Mordida, which is located in the jungles of Yucatan. Many people make this mistake every year and we're expecting to hear from all of them any time now. What can you say about the Rancho Enchilada that hasn't been said already? It's the granddaddy of them all, the Hasta La Vasta, home of the all-you-can-eat Bean Plate. Remember to stop in Juarez three days on the way back. You'll avoid the "bends" later.

And speaking of foreign imports, you guys remember that French film "La Femme Nikita" that came out about ten years ago? Well, they remade it a couple years later in American, cause most people don't want to have to sit there and READ their movie, you know what I'm talking about? So even though that movie was pretty dang good, we're gonna watch the remedial version, where Bridget Fonda straps on those high heels and blows up hotels and has shoot-outs in fancy restaurants between romps on the beach with her surfer boyfriend. Let's do those drive-in totals and kick it off. We have:



21 dead bodies.
No breasts.
Three shoot-outs.
Pencil through the hand.
Chair to the back.
Bullet to the leg.
Needle to the neck.
Gum spitting.
Exploding hotel.
One out-of-control motor-vehicle, with run-over.
Gratuitous rollerblading.
Gratuitous Nina Simone.
Kung fu.
Four stars. Check it out, and I'll be here throughout.

[fading] Too bad we don't have the original--I could show off my French. "Voulez-vous couchez avec moi ce soir?" We all know what that means. We have the same saying in the South. It means "Butter my butt and call me a biscuit."


---
"POINT OF NO RETURN" Commercial Break #1

Whoa! Wasn't really enough ACTION in that opening segment, was there? You can't say John Badham doesn't deliver on the guns and fisticuffs, can you? Okay, so far it's EXACTLY like the original, except I THINK in the French version she shoots the cop's face off in the drug store, which is why they give her the chair. Anne Parillaud [PahriYOd] was in that one--she later became known to Americans as the sexy vampire in the John Landis flick "Innocent Blood." Maybe Bridget Fonda shot the cop's face off, too, and it got cut out. They don't tell me what they cut out anymore, cause then, of course, I gotta start yappin about it. Hey, does anybody know, if this character "Bob" is supposed to be some big patriot, givin Bridget Fonda the old spiel about doing something for her country, why they cast Gabriel Byrne? Didn't they notice that he's FOREIGN? Why do they have an IRISH GUY playin the part? All right, whatever. Let's keep it going--we've gotta get through this next part before we get to the good stuff--Bridget in a cocktail dress with a Smith & Wesson.

[fading] He's helping HIS country by helping OUR country, right? He trains assassins for Uncle Sam, we make sure no one bombs the pub where his Granny hangs out. Even if Granny IS drinking up his whole inheritance. Okay, scratch that. He trains assassins for Uncle Sam, we DO bomb the pub where his Granny hangs out. Maybe that's the deal.


---
"POINT OF NO RETURN" Commercial Break #2

Now we know what happened to Mrs. Robinson--she's been captured by the government and forced to teach punks how to eat chocolate mousse. Anne Bancroft, showing Bridget Fonda how to act proper. Anne Bancroft is in virtually every movie we show. She's always the Lady of Peculiar Wisdom. Sometimes she's a gypsy, like in the MonsterVision feature

Love Potion No. 9, and sometimes she's a wise old alcoholic, as in Malice next week, but she's always the person you have to go to to get the STRAIGHT stuff. It's an interesting career niche for her. Anyway, I personally think that Bridget Fonda is a terrific actress--don't shoot me, okay? She's got those aristocratic acting genes. Henry Fonda is her granddaddy, Peter Fonda's her daddy, and then there's Aunt Jane, who's a great favorite of ours around here, which has nothing to do with the fact that she's married to the bossman. But we all know about Bridget's heritage. And usually she doesn't have to stretch too far, cause she plays a lotta straight-laced city gals, like in "Single White Female." In fact, she was in that movie last year with Billy Bob Thornton, "A Simple Plan," and she didn't even TRY to do a rural accent. No explanation of why she was the only one who sounded like she grew up in Bel Air. Oh, and speaking of people who are well-connected, that's Miguel Ferrer threatening to put a bullet in her brain if she doesn't shape up. Miguel is the son of Jose Ferrer and Rosemary Clooney, the cousin of George Clooney, and the brother-in-law of Debby Boone. Weird but true. Okay, let's get back to the flick.

[fading] This is the second time the name Debbie Boone has come up on MonsterVision. I wonder what she's up to these days. She's probly off singin in a church choir somewhere. Or she's in rehab, trying to kick a crack addiction. You Light Up My Life. Fits both scenarios, doesn't it? It's a JOKE. We'll get letters "Joe Bob, I was so sorry to hear about Debbie Boone's crack habit." They listen to the show through a little HAZE, if you know what I mean and I think you do.


---
"POINT OF NO RETURN" Commercial Break #3

Whoa! ANOTHER great action sequence from John Badham. What can you add to that? And speaking of big guns, this might be a good time to read a little fan mail in what we call "Joe Bob's Advice to the Hopeless," [enters] and here to help us out is our own femme fatale, Rusty, the TNT Mail Girl. You got any summer vacation plans, Rusty?

MAIL GIRL: I haven't decided yet. I'm either going scuba diving in the Cayman Islands, or on a photo Safari in Africa.
How can you afford those kinds of trips? Never mind, I don't wanna know.
MAIL GIRL: Whatever you're implying, you can just . . . unimply. What do you have planned?
I haven't decided either. I'm torn between the Omaha Steaks Bowl-a-thon up in Nebraska, or the Pork Butt Cook-Off in Branson, Missouri. They asked me to be a judge in that one, so it's all expenses paid.
MAIL GIRL: They asked YOU to judge a cook-off?
Girl, I bet I know more about pork butt than you do.
MAIL GIRL: Yeah, I bet you do, too.
What are you implying?
MAIL GIRL: Nothing. Here's a letter from Theresa Kennedy in Scranton, Pennsylvania.

"Dear Joe Bob,
"There's a cute little bar and restaurant for sale up here where I live in Scranton. It's called the Penguin Lounge with Flickering cue-ball lights. We could turn it into a go-go club, that way you'll own property up here. They used to have Eva Gabor wigs too. I can't do the paperwork on it, but I could clean it, and serve, and fill-in if a dancer don't show up. I'm the girl who wrote you that I sleep on a football for a pillow, and when I work late, by missing your show, I get a nicotine fit like a cigarette. If you write back I'm willing to meet you in NYC Port Authority Bus Terminal. Last time I said the Poconos.
"Theresa Kennedy, Scranton, PA."

Somebody tipped you off, didn't they, Theresa? Otherwise how could you possibly know that I've had a lifelong dream of owning a topless bar in Scranton! And excuse me, but--did you just ask me to meet you in a bus station? Haven't had an offer like that in years.

MAIL GIRL: What did she mean about the Eva Gabor wigs?
Honey, you've obviously never been to a topless bar in Scranton. Thanks for writin in, Theresa. [to Rusty] So why don't you cancel your fancy trip and come with me to the Cook-Off. They said I could bring a guest.
MAIL GIRL: To Branson, Missouri.
The Entertainment Capital of the World.
MAIL GIRL: Says who?
You've obviously never been to Branson.
MAIL GIRL: No, I've never been to Scranton and I've never been to Branson.
I guarantee you a better time in the Ozarks than in the Kahuna Islands.
MAIL GIRL: Cayman Islands.
All expenses paid. And you don't have to meet me at the Port Authority bus station.
MAIL GIRL: I'll think about it.
I'll sneak you some pork butt.
MAIL GIRL: Okay, I'm done thinking.

What's wrong with pork butt? How bout we meet at the Port Authority Bus Terminal, go to Scranton, pick up this lady who sounds like Miss Party Girl 1999, take one of those FREE buses from Scranton to Atlantic City, gamble all night till we win enough money to fly to Branson. Only Branson has no airport, so we'll have to fly to Springfield and take the Fun Bus to Branson... Where'd she go?


---
"POINT OF NO RETURN" Commercial Break #4

Well, this may be a first, even for TNT. We've had commercial breaks in the middle of kung fu fights, in the middle of shootouts, and in the middle of car chases, but this is the first time, I think, we've ever stopped for a commercial smack dab in the middle of a LOVE MONTAGE. You know what a love montage is, right? Where they play sappy music and you watch two people frolicking on the beach and mussing up each other's hair and riding on roller coasters and stuff. We're in the MIDDLE of the LOVE MONTAGE between Bridget Fonda and Dermot Mulroney. Anyhow, was that ravioli scene supposed to be sexy? Where she feeds it to him from her mouth? Cause I don't know about you guys, but I don't think passing chewed-up food back and forth is really a turn-on. And by the way, that tattoo scene in the montage we're watching reminds me that Bridget Fonda had a tattoo on her neck at the beginning of the movie. I guess the U.S. Assassination Department, beside teaching drug addicts how to eat quail, also does tattoo removal. If only they could use their powers for GOOD. Okay, let's continue frolicking on the beach. Go.

[fading] I hate frolicking-on-the-beach montages. Why do they think thrillers need frolicking-on-the-beach montages? It's because of the frolicking-on-the-beach montage in "The Illiad," right? Ever since Homer did it, everyone ELSE has to do it.


---
"POINT OF NO RETURN" Commercial Break #5

Can we have just ONE MORE reference to Nina Simone? I don't think we've mentioned her enough, have we? Okay, great scene where the Marriott blows up. Makes you wonder about the Marriott people, doesn't it? "Excuse me, we'd like to shoot a scene for our movie in your hotel. And, uh, well, it's a scene about how a person disguised as a room service waitress puts a bomb in this guy's food, and everybody on two whole floors of the hotel die in a terrible explosion."
"Okay, SURE, will you see our corporate logo on the screen? GREAT! Do we have to pay for that?" Anyway, this movie, as I said, was directed by veteran action director John Badham. He's working from the original by Luc Besson, the French writer/director, or AUTEUR, as they say over in Frogland. Luc Besson does American flicks now--he did "The Professional," and he did The Fifth Element with his wife, Milla Jovovich, in a bathing suit made out of electrical tape. John Badham is more of a director-for-hire. He's done virtually every kind of movie, from Saturday Night Fever to "Blue Thunder" to WarGames. "Stakeout." He even directed that movie Whose Life Is It Anyway?, the one where Richard Dreyfuss has a terminal illness and he tries to kill himself for two hours and then he finally succeeds. They couldn't figure out why the public didn't line up around the block for that one. All right, let's go back to the movie.

[fading] Another one of John Badham's big hits: the cutesy "E.T." rip-off, Short Circuit with the girl from WarGames. One of his flops: the action flick "The Hard Way." You guys don't remember "The Hard Way," do you? Michael J. Fox playing cops and robbers. Whose idea was THAT? Probably the director of marketing for Marriott International came up with that one.


---
"POINT OF NO RETURN" Commercial Break #6

WONDERFUL place to break for a commercial, isn't it? Right when she's taking aim at her next victim with a rifle, AND her boyfriend is proposing to her through the bathroom door. Will she be able to squeeze the trigger through her bittersweet tears? WE DON'T KNOW, do we, because the geniuses in the TNT editing department decided to put a commercial break there. That's why we're going RIGHT back to the movie, because, if we don't, people in Pratt, Kansas, will assassinate ME. Go.

[fading] The technical term for that is "cliffhanger." Will she take off that Calvin Klein underwear? Will she shoot Dermot Mulroney? I have a question about Dermot Mulroney . . . No I don't. [zipper lip]


---
"POINT OF NO RETURN" Commercial Break #7

Wait, I'm with Dermot Mulroney--who IS that girl? The black girl who just dropped in out of nowhere. We've never seen her before, right? Suddenly Maggie, or Nina, or Claudia, or whatever her name is, has buddies on the force? Well, I won't dwell on it, cause it's time to bring in "the cleaner" and wrap this movie up. "Point Of No Return," previously known as "La Femme Nikita," in fact STILL known as "La Femme Nikita" in the series of the same name, starring Peta Wilson in the Bridget Fonda role. But one thing they do NOT do in the series is scenes as gruesome as what you're about to see now, when "the cleaner" shows up. To give you some idea of just HOW gruesome "the cleaner" can be, I only need to say two words: Harvey. Keitel. Okay, roll film.

[fading] And Dermot Mulroney is none the wiser, is he? I just like saying that guy's name. "Dermot Mulroney." He hit it big in that Julia Roberts movie "My Best Friend's Wedding." Also "Living in Oblivion." Must be a good actor, because he has the name "Dermot." Not a good grade school name. Dimwit Dermot. Dermot the Hermit. Dermatology. Can you see a guy named Dermot in a battle to the death with . . . Harvey Keitel? I think not.


---
"POINT OF NO RETURN" Outro

The great Harvey Keitel getting dragged to bits under a rented sports car. Playing a similar role to the one he played in "Pulp Fiction" a year later. And by the way, are you guys with me that Gabriel Byrne isn't a very good liar? If I'm telling a big whopper to my boss, I'm not going, "The girl is, uh, she's, um, let's see, uh, the girl is dead. Yeah, that's it. She's dead." And one more thing--did Fahd Bakhtiar die or not? You know the guy who was selling nuclear info to the Middle East? It looks like he jumps right before she shoots, but then we never see him again. What's with that? TNT editing or what?

"Point Of No Return" is available on video and on DVD
Tonight's host segments continue with The Hand starring Michael Caine in the Peter Lorre role
Or check out
Joe Bob's reviews of Pulp Fiction and La Femme Nikita




Host segment transcript of 6-5-99 broadcast
©1999 Turner Network Television. A Time Warner Company. All Rights Reserved