www.odysseyfamily.com
The Muppet Show
TV and Movie page
This page is devoted to The Muppet Show, created by Jim Henson and Frank Oz (who not only writes & directs, but is also several of the voices including Yoda in the Star Wars movies), and subject of books, as well as the new movie Muppets from Space.

A new Muppets variety special on the Disney Channel premieres July 19, 2008, hosted by Dylan & Cole Sprouse (The Suite Life of Zack & Cody), with Miley Cyrus and Ashley Tisdale. It will be called Studio DC: Almost Live! Kermit and Tisdale will even sing their version of High School Musical's "Bop To The Top." And Miss Piggy joins the Jonas Brothers boy band. Cyrus sings "GNO" with Dr. Teeth & The Electric Mayhem

The Muppets, the lovable puppets created by Jim Henson and company, starred in their own half-hour comedy-variety show 1976-1981. Each week a guest celebrity was also on hand to assist master of ceremonies Kermit the Frog. Usually, it was a single guest, but in 1980 the guest for one show was Luke Skywalker (Mark Hamill), with R2D2, C3P0 (Anthony Daniels), and Chewbacca the Wookie (Peter Mayhew) to promote the 2nd Star Wars movie. At one time ABC could have picked up the program, but the network let its option lapse because it did not think that adults would watch the show. Henson then accepted an offer to produce the series in England for CBS-owned tv stations & syndication. It went on to become the most popular first-run syndicated series in TV history, reaching hundreds of millions of viewers in more than one hundred countries.
NBC finally showed interest in bringing the muppets to prime-time with an hour long show, which ran 14 April 1989 to 30 July 1989. Puppeteer extraordinaire Jim Henson created this hour prime-time series, which consisted of two distinct half-hour segments: the first resembled The Muppet Show, presenting skits and songs featuring the Muppets and guest stars, while the second, called The Storyteller, presented a story, with live actors, narrated by John Hurt.


Henson's final network tv series was DINOSAURS (26 April 1991 - 3 September 1993; 1 June 1994 - 20 July 1994) on ABC. It was a collaboration of Walt Disney Television, Michael Jacobs Productions, and Jim Henson Productions. The half-hour sitcom was set during the age of dinosaurs—in the year 60,000,003 B.C., to be exact. The premise was that the dinosaurs lived mundane lives much like their modern human counterparts, and were thoughtlessly bringing about their own extinction. The series was a live-action program, shot on film. The elaborately constructed characters were operated from within by human performers, and their facial expressions were created by a process called audio animatronics.
Voices were supplied by Stuart Pankin as Earl Sinclair, a megalosaurus; Jessica Walter as his wife, Fran; Jason Willinger as their fourteen-year-old, Robbie; Sally Struthers as their twelve-year-old, Charlene; Kevin Clash as the baby, Baby; Florence Stanley (previously of Night Court) as Fran's mother, Grandma Ethyl; Sam McMurray as Earl's best friend, Roy Hess; and Sherman Hemsley as B. D. Richfield, Earl's short-tempered boss at the Wesayso Development Company. The last names of the characters—Sinclair, Hess, and Richfield—were deliberately chosen: all are extinct gasoline brands.

Muppet movies on TV:
Muppets From Space on the Disney Channel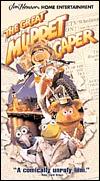 The Great Muppet Caper(1981)
The Muppets Take Manhattan(1984)
The Muppet Movie(1979)
Muppet Family Christmas(1995)
Muppet Treasure Island(1996)
Meet the Muppets, V. 1
Muppets available on video on DVD, and everything else from Amazon.com

~~~~~~~~~~~~~~~~~~~~~~~~~~~~~~~~~~~~~~~~~~~~~~~~~~~~~~~~~~~~~~~~~~~~~~~~~~~~~~~~~~~~


News update:
The latest Muppet movie is continuing to move forward, but won't star the Muppets. It will star the Fraggles of the Henson's 1980s TV-series Fraggle Rock. In an MTV interview 12/7/06, Ahmet Zappa, singer/writer son of Frank Zappa and already the writer of his own children's book, "The Monstrous Memoirs of a Mighty McFearless," is tapping all 96 episodes of Fraggle Rock for his movie script. He says it will be similar but, like the Muppet movies, have a lot of human guest stars. There will be new characters as well as old favorites like the main Fraggles, Traveling Matt, and The Trash Heap. The movie will be produced by Henson's daughter, Lisa, and directed by his son, Brian Henson. Lisa and Brian Henson are also co-CEO's of The Jim Henson Company. Zappa's script will pick up with level-headed Gobo, artistic Mokey, athletic Red, nervous Wembley and chronically depressed Boober in the same underground tunnels where we left them 20 years ago, and follow the crew as they journey for the first time into "Outer Space" — or as we like to call it, the real world. As for the Fraggle's villainous neighbors, "I can't say too much about the Gorgs right now," he smiled cryptically. "That stuff is top secret."

"Traveling Matt is in the movie," Zappa confirmed, referring to Gobo's adventurous uncle whose naive reports from Outer Space are indicative of the fish-out-of-water humor Zappa will embrace. "The funny part about Traveling Matt and Outer Space is he'd see a fire hydrant and assume it was a person. He thought cars were animals, that they were living organisms, and he thought elevators were people changers, because the doors would close and then open, and there'd be new people in there all the time." As for a release date, "We are moving as fast as humanly possible — and Fraggily as possible," he added, saying that some major "Fraggle" details should develop after the holidays, as the filmmakers continue to eyeball a late-'08 or early-'09 release date. "The Fraggles need to be here sooner, rather than later." Fraggle Rock premiered on HBO in 1983 and over five seasons garnered multiple awards and a global fan following. The show was created by Jim Henson as an international co-production and was adapted for each territory to meet the needs of its audience.

As for the rumored sequel to The Dark Crystal: "We are trying to pull the business pieces together on a Dark Crystal sequel. That one's pretty far along. It's got a good, strong script, a great vision for how to do it and we're just trying to [put it together]." If "Dark Crystal 2: The Power of the Dark Crystal" happens, the obvious follow-up to Labyrinth would not be far behind. But Henson's not thinking of an outright sequel for that world. "Actually, we're talking about doing something different with Labyrinth but I can't really talk about it. So we're not really working on a sequel for Labyrinth right now, but Dark Crystal we are."

The Muppet Show was on the Hallmark Channel (previously known as Odyssey Family channel, no desc. available for eps). The final broadcasts (in 2001) included intros by Brian:
"Hailed as the most outstanding international broadcasting success story of all time, The Muppet Show is one of the most honoured television shows in the world. During its original run, the series was seen by more than 232 million delighted viewers in over 100 countries world-wide.

"More importantly, the Muppet Show officially introduced the world to the first-ever green felt MC -- Kermit the Frog -- and his motley crew, a very weird multi-coloured menagerie of characters including the infamous Miss Piggy, the Great Gonzo, Rizzo the Rat, Fozzie Bear, Animal, Statler and Waldorf, Sweetums, Rowlf The Dog, Robin The Frog, and Dr. Bunsen Honeydew.

"A variety series that was a runaway success, The Muppet Show is filled to the brim with comedy sketches, musical numbers, and satirical vaudeville routines and more-than-you-can-name international guest stars.



"Brian Henson, son of the late Jim Henson, and President and CEO of The Jim Henson Company, will make a rare on-camera appearance as host of specially-produced interstitials which will introduce "The Muppet Show", the classic entertainment series for all ages. The interstitials will provide behind-the-scenes information and anecdotes of the Emmy Award-winning series which features guest appearances by some of the biggest stars of film and television."

Click here for my list of Muppet Show guest stars seen so far
Hallmark/Odyssey also now has Bewitched and I Dream Of Jeannie as well as Northern Exposure
Leonard Maltin Presents is sometimes on Saturday mornings, and usually includes classic old comedy shorts like Laurel & Hardy, the Keystone Kops, etc.

**********************************************************
Colorful dinosaur temporary tattoos available!
Check out this free-for-postage
offer of a dinosaur temporary tattoo for all visitors of this webpage
**********************************************************
"Muppet Show" is available on video and on DVD from Amazon.com

Archived version of Muppet page from 2001. Site map from 2001 inc. TV series and movies