Honey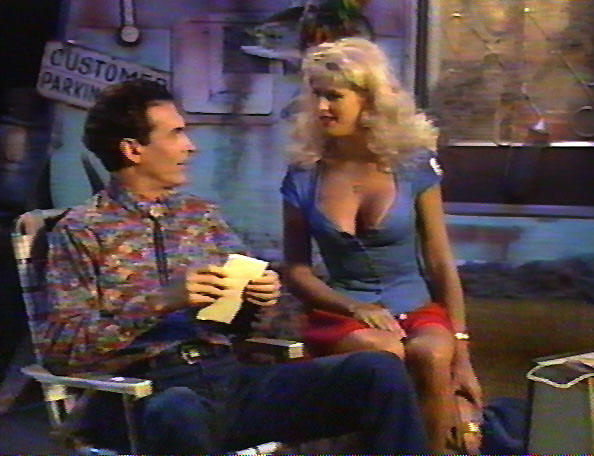 Who is Honey?

Honey Wilcox, the TNT Mail Girl, is a 24-year-old art student who was born and raised in the little town of Moody, Texas.
In 1988 she met Joe Bob Briggs at a high school football game where Honey was cheerleading and Joe Bob was hosting a custom-car rally at halftime.
Ever since then she's worked in all of Joe Bob's shows, both on stage and television, but has turned down more lucrative offers to "go Hollywood."

"I did some music videos and some stage plays," she says, "and, believe me, I've thought about moving to L.A.
But I don't really see myself as a 'real' actress. These little things I do with Joe Bob are just for fun."

Growing up, Honey was the only girl in a family of eight children, so "there's nothing I don't know about men," she says.
Her father was a Green Beret who served in Vietnam, and her seven brothers introduced her to the joys of both football ("I'd get right down in the dirt with 'em") and motorcycle maintenance ("I can take apart a Harley and put it back together").
She's especially close to her brother Patrick, two years older than Honey, who became her roommate when she moved to Atlanta in 1994 to attend art school.

"Patrick was just starting an interior design company, and since he could choose anywhere, he chose Atlanta so he could be with me.
I don't know many brothers who would do that for a little sister, especially one as mean as I was."


Besides cheerleading, Honey won several beauty pageants in her teen years, "but I never went that far with it because I couldn't really dance or sing."
She graduated second in her high school class ("I didn't study that much but I had a knack for taking tests"), and she "almost" got married when she was 19.

"I was crazy about him.
He was a computer consultant in Houston, and we were already planning the house in the suburbs, the three kids, all the things I thought I wanted in life.
But a month before the wedding, I found out he was dating two other girls while he was engaged to me.
Can you believe that?"

It took her "about a year" to recover from the broken heart, and she spent the next four years getting a degree in elementary education from Southwest Texas State.
Since then she's dated "sporadically," but has never found the man of her dreams.
"Since I've been on television, people want to know who I'm dating, what I look for in men, all that stuff.
I don't look for anything in particular.
I want a man who's intelligent, and sexy, and all the usual things you look for.
But it's kind of, like, I'll know it when I see it."

And what does she really think of Joe Bob?
"That's an interesting question.
Joe Bob doesn't believe in dating people he works with, so we've never really--we're good friends.
I think we could be more, but I guess we'll never find out, will we?"

When asked about her amazing figure, she laughs.

"To be honest, I've never measured myself.
They say it's 38-24-36, but if I eat too many Big Macs, I'm sure it's much different.
I was always a 'big' girl.
I got breasts as soon as I turned 12.

One day I was flat as a pancake and the next day--boom!
But it's a blessing and a curse.
I don't like men who stare at my chest while they're talking to me.
It's rude."

And the revealing outfits she wears on "Monster Vision"?

"That's what Joe Bob wants me to wear, and so that's what I wear.
He said to me, 'Honey, you're a red-blooded All-American by-God woman.
We want you to be the symbol of everything that makes a lonely man happy.'
Joe Bob actually talks that way.
Can you believe it?
I don't care, though.
I'd do anything for him."

Anything?

"Not topless.

I draw the line at topless.

Well, maybe, I don't know.

If it was tasteful.

Or, like Joe Bob says, if it was necessary to the plot."

---
Front Page || Feature || This Week || Mailbag || Playmate || Who is Joe Bob? ||
Mail Girl || 100% Weird Links || TV Eye || Rec Room || Previous listings || Meet Honey ❤️

---
© 1996 Turner Network Television. A Time Warner Company. All Rights Reserved. Legal/Privacy Notice about this site.