The Great Outdoors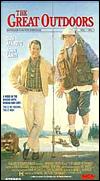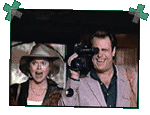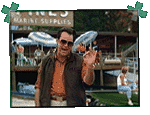 "A Chicago man and his family go camping with his obnoxious brother-in-law and his family."

The last text we examined in Recreational Geography 207 took you to far-flung foreign shores, but this time we've decided to save the fuel and the expense. There's plenty of excitement in our own backyard or, better still, in a wooded lake-side cabin two hours away. That's where you'll find greenery, water and critters. In a word, Nature. There's an awful lot of it, so you should have no trouble finding a spare patch when gripped by the urge to hug a tree or unleash the Inner Neanderthal. But that just doesn't satisfy John Candy. He feels the need for more than a patch, a need for The Great Outdoors. And he's not going alone but taking his wife, the kids and an assortment of sporting gear with him. Henry David Thoreau never imagined such goings on.

But there's a fly in the ointment. (Such winged insects tend to turn up in the great outdoors; please take note.) Seems that Candy's sister-in-law (Annette Bening in her pre-Warren days) and her husband (Dan Aykroyd in his post-SNL, pre-House of Blues days) had the same idea. Only, when Aykroyd sniffs the fresh, clean air of untamed nature he smells fresh, clean profits. Which may not be much of a problem compared to the uncooperative wildlife, water-skiing incidents, mechanical mixups, bald bears and nosy neighbors.

The Great Outdoors flowed from the pen of Illinois lad John Hughes in between bouts of directing Planes, Trains and Automobiles and Uncle Buck (hoped we'd forgot that last one didn't he?). These were busy times for former National Lampoon staffer Hughes; his name appeared as writer on 16 films during the 1980s, including National Lampoon's European Vacation and Ferris Bueller's Day Off. (Supposedly Hughes once turned in a script for a sequel to be called Jaws Three, People Zero. The studio passed.) It's not known whether Hughes was among the 150 cast and crew members who headed out to Bass Lake, California, in the Sierras for a six-week shoot on The Great Outdoors. (Parts of In the Line of Fire and Mouse Hunt were also filmed in that location.) We suspect Mr. Hughes was cloistered away, pounding on his typewriter and practicing his command techniques for his directorial efforts.

The Great Outdoors also marked Annette Bening's feature film debut. Yep, there was history being made as this Kansas-born, San Diego-raised gal made the jump from dancer and Shakespearean actress to finely tuned comic machine. (She'd later film the Big Bard's Richard III playing Queen Elizabeth!) Bening even got an Oscar nomination as Best Supporting Actress for The Grifters but has often been in the celeb mags for her marriage to Warren Beatty (seven years and counting). We'll have to admit that any way you crack it, she's really not somebody you'd have expected to see in a film with a Saturday Night Live graduate, but is anybody complaining? Anybody? Didn't think so.

After watching the film you'll probably turn around and say, "Honey, didn't that bear look awfully familiar?" Well, we're going to save you nights of anguished introspection as you dig for that crucial but elusive connection. The bear is nine-foot six-inch, 1500 pound Bart, who was born in a zoo that wasn't able to keep him. In short order Bart ended up with sympathetic animal trainers who found he worked well in movies, responding to apples, carrots and Hawaiian Punch. (No, we're not making any of this up; this is education, not fantasy.) Bart has racked up an impressive string of credits, including The Clan of the Cave Bear, Jean Jacques-Annaud's The Bear, the Disney film White Fang and Legends of the Fall. Sorry if such credits make some human actors a tiny bit jealous.

And there are plenty of those nonfurry thespians to watch. Stephanie Faracy (Connie) has graced Tales of the City and The Thorn Birds. Keep an eye out for Lewis Arquette (playing Herm), papa to Rosanna, Patricia, David and a couple of others. Cliff Bemis (the boat yard owner), at this time, was also playing Paul on TV's Newhart and appears as a familiar face in IHOP commercials. You can spot others and try to include them as extra credit on the final; we'll just laugh but you can still try.

Yes, The Great Outdoors will be on the final, but why would you want to miss it anyway? John Candy, Chevy Chase and talking raccoons should be more than enough to make you circle this date in red on your calendar.

Now look alive, class. Here ís Professor Briggs with those drive-in totals:


See if your favorite person,
TV series or motion picture is
available: video/DVD/books




"We have:
No dead bodies.
No breasts.
Tongue burning.
Bear scalping.
Unintentional water-skiing.
Splinters to the butt.
Leg biting.
Bat hunting.
Giant-steak eating.
Giant-steak puking.
Gratuitous teen romance.
Broom fu.
Tennis racket fu.
Fishing net fu. Two stars."
The Great Outdoors (1988)
Saturday, September 4, 2000, at a little after midnight
*Technically this is the morning of Sunday, September 5

Directed by: Howard Deutch
Cast: Dan Aykroyd, John Candy, Stephanie Faracy, Annette Bening, Robert Prosky, Chris Young, Ian Giatti, Hilary and Rebecca Gordon.

The Great Outdoors (1988) * (PG)
By the way, if the movie sounds like an American movie version of a Benny Hill skit, check out the Great Outdoors movie themesong again (MIDI version), does it sound a little familiar?

Now class, it's time to continue on to Host segments for Nat. Lampoon's European Vacation, the second session of Joe Bob's Summerschool this week.
Next week, cult followers and a fake religious leader plan to destroy Los Angeles in the September 11 broadcast of MonsterVision's Dragnet, also starring Dan Aykroyd.

Two blondes are trying to hang a picture when one placed the head of a nail against a wall and was about to pound on the point. However, she could see that this wasn't right, so she turned to her friend and said, "Would you look at this? They made this nail backwards."
"You are such an idiot," replied her friend. "Anyone can see that that nail goes in the opposite wall!"

Sorry, no Monstervision host segments available for Great Outdoors as the second showing after "Children Of The Corn" was cancelled just before broadcast & Joe Bob's segments ended up on a cutting-room floor somewhere at Turner headquarters after AOL took over. Does anyone have host segments from Summerschool version?

Elvis has left the building, and he took Joe Bob with him.


Monstervision Movie description above © 2000 Turner Network Television. A Time Warner Company. All Rights Reserved