ANY OLD SHOE WON'T DO!!!!!!
 Walking in running shoes has all the wisdom of haiking in ballet slippers. It's aestheicallt in correct, to be sure, but it's also not very smart.A lot of people think walking is just running slow. If you're walking to stay in shape and you're wearing old running or areobics shoes, your knees, shins hips and back will tell you it's time to invest in another pair of shoes.
HERE ARE SOME WALKING SHOE GEAR IDEAS YOU CAN USE: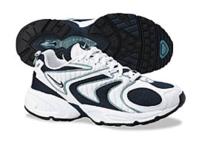 NICK AIR---ALIGN ($65.00)women only;The shoe may look rather traditional, but it's designed with modern walkers in mind:it's extremly lightwight and flexible(great news for speedy walkers and shin-splint suffers.)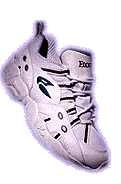 ETONIC--EON WALKER ($85.00)This shoe was made for anyone who pronates(or rolls in on their ankles). If you're not sure if you pronate, set your sneakers on flat surface and look at them from behind. If the shoe lean inward excessively you pronate.Another plus, the Eon Walker is available in wides, which is rare in athletic shoes.

REEBOK'S--DMX RUN/WALK ($75.00)As silly asit looks, DMX tecnology, which resembles octopus suckers, feels great.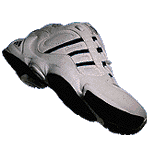 ADIDAS EQUIPMENT--BAREWALK ($85.00)Barewalk feels funny when you first put it on, which is ironic because this shoe is designed to make you feel like your're barefoot. The Bare's ealk's rounded edge and lower midsole plant your foor firmly on the ground.
  SAUCONY GRID MOTION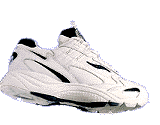 Distinguishing feature: An interlocking web of rubbery filaments in the insole under your heel (the GRID) that offers just enough cushioning Test results: On a leisurely stroll, I felt snugly comfortable as my heels nestled into place on their GRIDs. For a superquick pace, though, they weren't so wonderful: The extra squish limited my ability to step out, almost as if my forward propulsion were being absorbed back into the shoe.
RYKA SPORTWALKER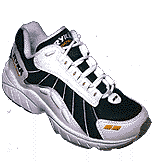 Distinguishing features: The Nitracel sock liner gives a customized fit and a soft ride. Extra mesh in the upper (more reminiscent of a running shoe) offers refreshing breathability. Test results: This baby just screams athleticism and speed, and it means business. I easily hit my sweat-producing stride in the SportWalker, with the low-profile heel providing all the surefootedness and cushioning — soft, not fluffy — I needed. Ideal user: A value-conscious, moderately fast walker who likes not only to feel cool on the roads, but to look cool, too Price: $60 (all leather, $65)
NEW BALANCE 652
  Distinguishing feature: A firm medial post: a band of rubber inside the shoe that prevents ankle roll-ins Test results: New Balance is known for safe, stable shoes, and the 652 offers the right, er, balance of moderate cushioning and superior pronation protection. Grooves under the ball of the foot provided great flexibility, and the sole design nearly threw me forward into each step. Ideal user: The brisk fitness walker who demands stability and a wide selection of widths Price: $70
FILA EXPERIENCE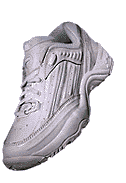 Distinguishing features: The outsole cuts up under the arch to support you. The 2 Action system's rubber "pillars" hold you steady. Test results: With stability came a bit of stiffness, making the Experience less than rewarding when I wanted to leave people in the dust. A fashion note: Its conservative looks mean you can move seamlessly from a sweat session to a shopping one. Ideal user: A moderate walker who wants a handsome, but non-athletic-looking, shoe — and a great value Price: $65
AVIA 3097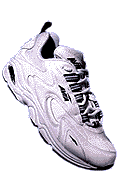 Distinguishing feature: The Cantilever system on the outsole: a concave heel that promotes stability and a foot-enveloping cradle Test results: With my heel snugly ensconced, I felt that low-to-the-ground steadiness I need for a smooth heel-strike-through-toe-off. Grooves at the ball of the foot made pushing off easy and efficient. 3M reflective material on the uppers let me do it all in the dark. Ideal user: The serious fitness walker who doesn't want marshmallows underfoot or armorlike rigidity

BACK TO HOME PAGE


GREAT WALKING IDEAS


TONE UP WALKING


MORE WALKING IDEAS

Free Top Ten Search Engine Submission!