---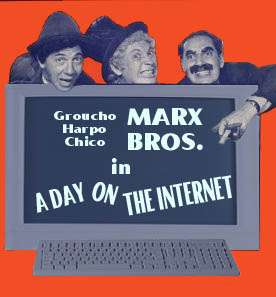 (Created on Dec. 13, 2004 by Steve Bailey,
with a coerced assist from John Brennan)
"The Marx Brothers have never been in a picture as wonderful as they are." -- movie critic Cecilia Ager, 1946
---
Table of Contents:

I'll Say They Are! (Introduction to this website)

Paramount's Paramount Team (The Marx Brothers at Paramount)
The Cocoanuts (1929)
Animal Crackers (1930)
Monkey Business (1931)
Horse Feathers (1932)
Duck Soup (1933)


"Positively, Mr. Thalberg?" "Absolutely, Brothers Marx!" (The Marx Brothers at MGM)
A Night at the Opera (1935)
A Day at the Races (1937)


Humor Less (The Marx Brothers' final MGM movies)
At the Circus (1939)
Go West (1940)
The Big Store (1941)


Out-On-the-Street Cinderellas (The Marx Brothers on their own)
A Night in Casablanca (1946)
Love Happy (1949)


Miscellany:

Humorisk (lost silent movie, circa 1921)
Double Dynamite (Groucho solo movie, 1951)
The Unknown Marx Brothers (TV documentary, 1993)

---
Calorie Calculator
---
This site is respectfully dedicated to Margaret Dumont (we're fighting for her honor, which is more than Groucho ever did).

As befits its subject matter, this website is presented in glorious black-and-white.

This website is based in Jacksonville, Florida. (Click here to read Groucho's [typically unflattering] description of the time when he and his brothers played in Jacksonville on the vaudeville circuit.)-- Webmaster Steve Bailey
---

About the creator of this site
Other entertainment sites by these webmasters:

Steve Bailey -
MovieMovie BlogBlog Steve's blog about some of his favorite movies.
Salty Steve's Popeye Page Reviews of the Fleischer Bros.' 1933-1942 Popeye cartoons.
Another Charlie Chaplin Website Reviews of Chaplin's classic movies.
The Love Nest - A Buster Keaton Appreciation Cult Featuring reviews of Buster Keaton's 1920-1928 silent comedies, and sundry other Keaton-related stuff.
Laurel & Hardy's Leave 'em Laughing Page Reviews of Laurel & Hardy movies and biographies, and interviews with L&H biographers.
The Unofficial Way Out West Page A tribute to Laurel & Hardy's classic comedy Western.
So You Want a Joe McDoakes Website Reviews of the hilarious 1942-1956 Joe McDoakes short subjects.
Gilligan's Id The attempted Freudian explanation of "Gilligan's Island."
Sit On My Monty Python Website
Steve Bailey's Lost in America Page Synopses and minutia related to Albert Brooks' great 1985 comedy.
"Atomic Shakespeare" and other Moonlighting Minutia A tribute to the famed Shakespeare-parody episode of the 1980's TV series.
It's All Too Much A song-by-song analysis of The Beatles' recorded work.

John Brennan -
Laurel & Hardy Central
Stuff You Gotta Watch
The Secret Vortex Home of the Classic and Fantastic!

---