---
Duck Soup (1933)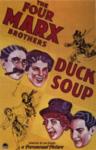 SB: Duck Soup was initially a box-office flop--perhaps because it was released during the Great Depression, when the public didn't want to believe that its leaders were hopeless. The movie was "re-discovered" by college students during the anti-Establishment 1960's, and it has been rightly hailed as a comedy masterpiece ever since.
Its wisp of a story begins with Mrs. Teasdale (perennial sidekick Margaret Dumont), a wealthy widow who has singlehandedly financed the nearly bankrupt country of Fredonia. When pressed for another loan of $20 million, Mrs. Teasdale agrees to lend the money on the condition that her favorite politician, Rufus T. Firefly (Groucho Marx), be allowed to rule Fredonia. (A wealthy contributor using her money to buy a candidate? Who'd have thought it?)
This Firefly guy certainly inspires confidence. In his first ten minutes as Fredonian president, he oversleeps through his inauguration; makes his entrance down a firepole; puts the make on his financier; and delivers a musical inaugural address with the refrain, "If you think this country's bad off now, just wait 'til I get through with it." (Click on the link below to hear the entire song in .wav format.)
The only thing Firefly gets right is his take on Trentino (Louis Calhern), his political rival in the country of Sylvania. Trentino wants only to win over Mrs. Teasdale so that he can take over Fredonia, a political strategy that Firefly has already usurped. Trentino hires two spies, Chicolini and Pinkie (Chico and Harpo Marx), in the hopes of uncovering some dirt that will discredit Firefly. This plan fails on two counts: 1) Firefly is more eager to discredit himself than any political opponent could ever be; and 2) Chicolini and Pinkie aren't exactly married to their work. (Their idea of political rivalry is to monopolize the local peanut-stand concession and drive their competitor [silent-film slow-burner Edgar Kennedy] either out of business or around the bend.)
This political sub-intrigue is a lame excuse for some of cinema's most superb sight gags, wordplay, musical interludes, and unique lessons in animal husbandry (in a blatant nose-thumbing at the censors, Harpo sleeps with a horse). Legendary comedy director Leo McCarey stuffs all of this into a lightning-paced 70 minutes, so even if you don't like the movie (highly unlikely), you don't have to bear it for very long.
For decades, countless people -- including many involved in the making of this film -- have argued that Duck Soup is not a political satire. Try telling that to the makers of the films Primary Colors (of whose Clinton burlesque the Marxes surely would have approved) or Wag the Dog (whose view of war as a means to a political end seems to have been mainlined from Duck Soup). Every year, this mind-bending comedy looks more and more like a documentary.

JB: Their greatest movie, but not their funniest. Great because it is completely built on jokes and gags, nonstop, flying at you from all directions, and because the object of satire (governments and war) is their most far-reaching. But I think Monkey Business, Animal Crackers, Horse Feathers, and A Night at the Opera have much wittier dialogue overall. Not that the jokes in Duck Soup aren't funny, but some of them seem written on autopilot.
I accept that I am probably a lone ranger crying in the wilderness on this one (like my assessment of Laurel and Hardy's Fra Diavolo), but as much as I love Duck Soup (and I do), I just find those other films funnier.

(Click here to hear Rufus T. Firefly'a inaugural/musical address "These Are the Laws of My Administration.")

Click here to: