---
Go West (1940)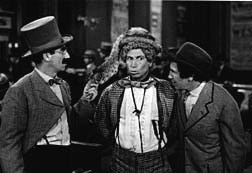 SB: Go West is a great pair of comedy bookends with a lot of useless filler in the middle. The movie begins promisingly, with one of the best fleecings that Chico and Harpo ever gave to Groucho. Unfortunately, after that, there's a plot.
Terry (John Carroll), the good guy, wants to sell his land to a railroad company to end a family feud. But the bad guys (including Walter Woolf King, formerly Lassparri from A Night at the Opera) confiscate the deed to the land, thanks to Groucho's ineptitude.
Groucho's ineptitude?? Isn't this the same guy who used to hold off gangsters with double talk? Here he comes off like the wise-guy grade-schooler who shuts his yap as soon as the bully puts him in his place. After a while, Groucho's one-liners seem only to amuse himself, and you really wish he'd shut up for a while. (Strangely, exactly this kind of material worked perfectly for Bob Hope 12 years later in his Western take-off, Son of Paleface. For Groucho, it works only as character assassination.)
Chico's no help, either, whining, "We no wanna no trouble." This from a guy who earned $70 for his train ticket by using and re-using a ten-dollar bill. Did these guys leave their cheekiness and con artistry at the train station?
Of the brothers, Harpo comes off best here. While Groucho and Chico are getting liquored up by the bad guys' floozies, Harpo is smashing safes, getting deeds back to rightful owners, and turning whisk brooms into loaded revolvers. Maybe Harpo should ditch these losers and go look for some diamonds to finance a Broadway show.
Turns out that the Marx Brothers aren't comic anarchists at all. They're the idiots whom the good guy puts up with because he's so darned sweet. It's almost as if MGM was punishing them for having been too funny in the past.
And since there aren't any black people around (other than some monosyllabic porters in the first scene), the movie stereotypes Indians for a while, getting as much juice as it can out of "How!"-type characterizations. It's doubly painful to watch the Marxes make fun of them, considering how moronic they themselves have come off in this movie.
Then the movie does a strange thing at the end--it turns hilarious. The elaborate climax involves the Marxes taking over the bad guys' train in order to beat them to New York (Terry having reclaimed the deed from them). It's a miracle of comic timing and editing, and it's so wowing, you can hardly believe it's done by the same people who put together the previous 70 minutes.
Here's how to watch Go West: Savor the opening and closing scenes, and then, when the Marxes start to get embarrassing, look away from them, like the people at a party who back off from the drunken guest to show that they aren't in any way related to him.

JB: The only thing I can add to your thoughts is that I really like the "Riding the Range" scene. Otherwise, what can I add? Show up for the opening, go out in the lobby 'til it all blows over, and come back for the train scene.

Click here to: