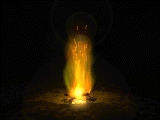 Southern American Indians diligently kept the sacred eternal flame in fulfilling the commandments and in respect for the Great Spirit.
The ancient cross in circle , with staff attached was an important sacred Ceremonial symbol of our ancient ancestors.Sun , Moon , Stars , Life.

The Hawk was a Ceremonial symbol, with it's sharp breast it continually fights to protects us from evil spirits of the air.Connected to forces such as rain, wind, thunder, and lightning. These were `thunderers'with special power.No feather was taken by hawk kill. (Ceremony of the Hawk represents earth cleansing.)
"Road of life" a path which one travels in his or her span on earth. . [The half diamond point design symbolizes] the many times we should come off our road to give aid to someone sick or of need, if only through expression of sympathy and concern.