Bee Tree County Park
Telegraph Rd. to Becker Road. Finestone Aveneue.
This park has many gardens and wildflowers, including red tulips, white and yellow jonquils, and narcissi. Wildflowers fill the garden near the mansion. 5 Trails: Bee Tree and Paw Paw Trails, Crows Roost, Trillium, and Beaver Trail. Enjoy the Mississippi River overlook, Bee Tree Lake, and Chubb Pavllion.
---
Cliff Cave

Telegraph Rd. to Cliff Cave Road.
Cliff Cave, "Indian Cave" made of limestone. Archeological and historical. The park area, with trails, has views along the mississippi river.
Spring Valley Trail, River Bluff Trail and the Mississppi River Trail, one to five mile hikes.


---
Castelwood State Park
1401 Kiefer Creek Road, 63021. 636-227-4433.
There are many miles of scenic trails in the park for hiking, biking and horseback riding. These trails are River Scene Trail, a 3 mile loop, Stinging Nettle Trail a 3 mile loop, with access to Cedar Bluff Trail, a 2 mile trail, Grotpeter Trail is a 3-mile loop meanders through the park, following Kiefer Creek and Lone Wolf Trail is 1.5 mile trail with views of the bluffs. There are a total 17 miles of trails in the 1,800 acre park. Red and gray foxes, cedars and wildflowers, deer roaming, blue herons and ospreys floating above the river, a variety of wildlife may be seen hiking along the trails. There are relics of the areas past, the Lincoln Beach Lodge, scattered along the edges. The park straddles the Meramec River and offers views of towering bluffs, its bottomland is filled with Sycamore and Cottonwood Trees and among the forest in spring you will see bluebells and marsh buttercups along the trail. The of Stinging Nettle trail primarily follows the waters edge. Archeological finds of primitive tribal living and work sites are also in the park and area.
---
Route 66 State Park
Note: With the closing of the Old Route 66 Bridge, there are now two different ways to access facilities at Route 66 State Park. St. Louis County. Directions I-44. Visitor center: Exit 266/Lewis Road; Exit 264/Hwy. 109; near Tyson County Park.
Route 66 State Park: Exit 265/Williams Rd.
Contact: (636) 938-7198. 97 North Outer Road, Suite 1, Eureka, MO 63025-1628.

This 480 acre park is located along the bluffs and woods of the Meramec River Valley. There are wide open trails to the rivers view and edge of Meramec River. There are more than seven miles of trails for hikers and family walkers, bicyclists, and bird watchers. Over 40 species of birds have been identified in the park. In Spring and certain areas there are many deer roaming the park. A portion of the original Route 66, including a historic bridge across the Meramec River, runs through Route 66 State Park. A roadhouse along Route 66, built in 1935, is the park's visitor center. Route 66 - The Mother Road, quoted by John Steinbeck, author. The area was the former Times Beach Community.
---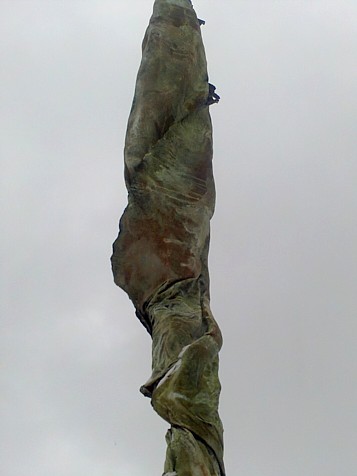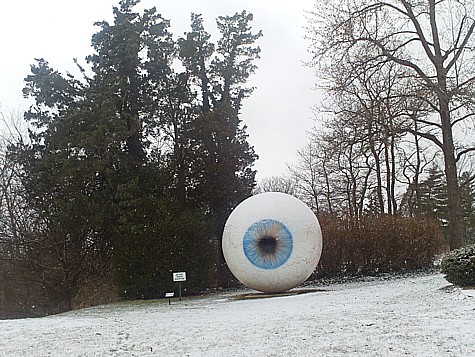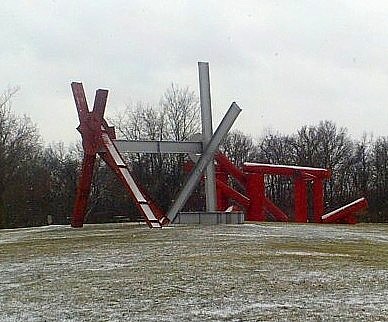 Laumeier Sculpture Park
HWY 44. Lindbergh South. Rott Road.

Explore in the 100 acres trails where art and nature meet. Hiking in the wildlife forests and wildflowers and discover the sculptures within the park. The park has slopes, grassy sections, dense woods and varying topography. The sculptures are intended to be environmental, a part of nature. "Black Through Green" and "The Pass", an ecological sculpture of 1.5 acres of varying habitat, demonstrates the integration of art and nature. "The Way" is the parks red signature piece. Sections of the park have the most wildlife, for its size in an urban setting, an exceptional example is the pileated woodpecker thriving on the sycamore trees. In the bottom land area there is a stream and many trees; cottonwood, pines, oaks, hickories and the sycamores. Accompanying these exhibits there is a museum-shop that displays and sells unusual art and unique jewelry and ceramics created by a variety of artists. Sculptor Ernest Trova, donated over 40 pieces in 1975, to create a park with an international acclaimed collection. The park began to encourage famous artists to design works specifically for Laumeier. See CityGarden.
---
Powder Valley Conservation Area
HWY 44 & 270. Watson Road to Geyer Rd. 11715 Cragwold Road. Kirkwood. 314-301-1500.

The park is an "Urban Oasis" of 112 acres. There are paved trails to explore wildlife and the oak-hickory forest. There is a Nature Center and 3 trails, Broken Ridge, Tanglevine, and Hickory Ridge. Broken Ridge Trail is 2/3 mile and some sections are moderatley steep. The trail criss-crosses a creek through the oak, maple and hickory forests. Tanglevine Trail is 1/3 mile and it is a level trail, with handicap access, filled with wildflowers. Hickory Ridge Trail is 1 1/5 mile the short loop is 1/2 mile and it is moderatley steep. The trail is accented by a seasonal creek, a pond, wildlife and wildflowers. Located nearby, 1/2 mile from the Nature Center, is Emmengeger Park. The park is 108 acres of forested hills overlooking the Meremac River.
---
Rockwoods Reservation Natural Area & Greensfelder Park
HWY 44 at HWY 109. Glencoe Rd. 324-458-2236.

This 1900 acre park has a splendid trail system, picnic areas, educational museum, springs, caves and a quarry, Cobb Cavern, bubbling springs and Hamilton Creek. There are 6 trails, the Lime Kiln Trail is the longest of 3 miles.

Rockwoods Reservation joins Greensfelder Park a part of a continued Rockwoods Range Conservation Area. Together, these three create the green belt of 5,000 acres.


---
Babler State Park
800 Guy Park Drive Wildwood, MO 63005

In the Babler Southwoods Hollow Natural Area and Cochran Woods, the beautiful features are the trees, growth forests of towering oaks and sugar maples that have remained undisturbed, all of which provide rich habitat for wildlife including many species of birds Bonhomme Creek and Wild Horse Creek support bass, bluegill, and other fish species. The River Hills Visitor Center diorama explores the relationships of the flora and fauna that make up the growth forest ecosystem.
---
Shaw Nature Reserve
HWY 44. HWY 100 West. Gray Summit. 636-451-3512.

2,400 acres of restored and constructed natural habitats: wildflower garden, tall-grass prairie, wetland meadows, forest woodland, glades and savannas. There are 80 acres of prairie grasses, of 200 species. In 1930s a network of trails were created of 12 miles. Features of this park are the River Trail, Brush Creek Trail, Mirror Lake and overlook, woodland ponds, Pinetum Lake, Whitmire wildflower garden, experimental prairies and many sycamore trees at the Meremac River bottomland and overlooks of the Meramec River.
---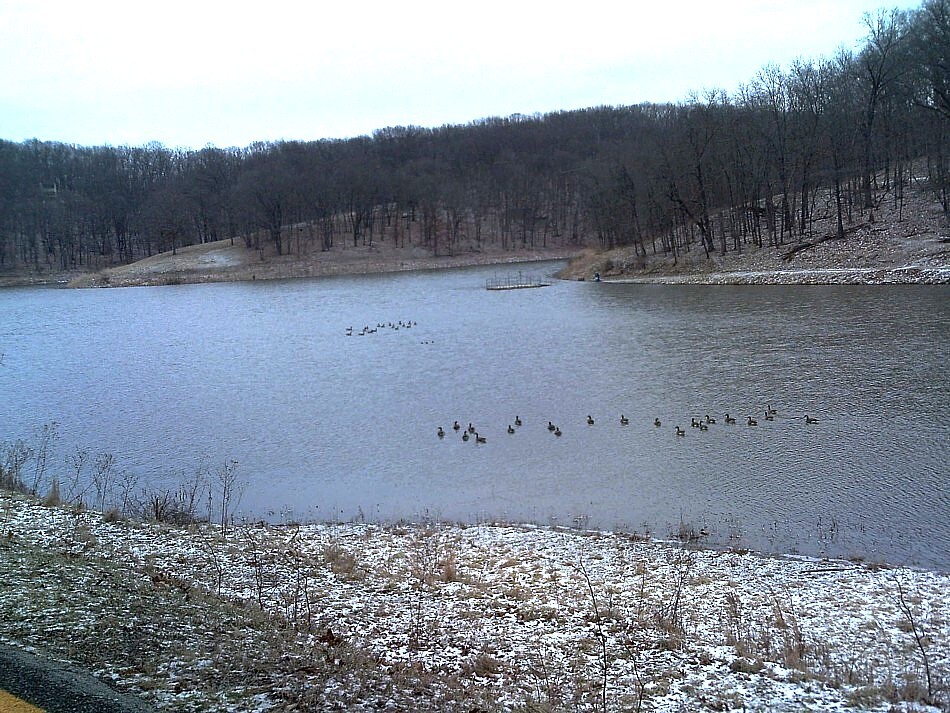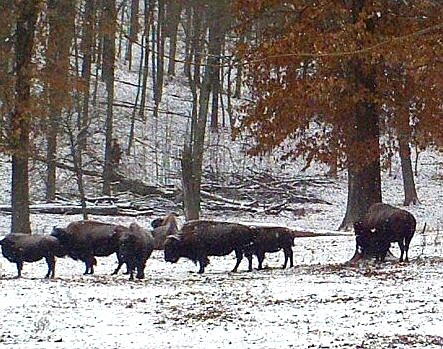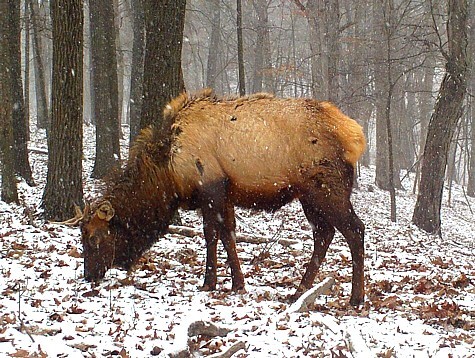 Lone Elk Park

I-44 North Outer Road
west of Highway 141

Wildlife area of 546 acres with bison, wild turkey, waterfowl, elk and deer. World Bird Sanctuary. Chubb Trail access. Picnic sites and shelters. Two trails Chubb Trail, Elk Hollow and the White Bison Trail. The Chubb Trail is a seven-mile dirt and gravel trail between West Tyson County Park and Lone Elk Park (14 miles round-trip). The terrain is rocky and usually slippery. Following those tough climbs you are often rewarded with scenic views. Nearby. World Bird Sanctuary.