The last Seconds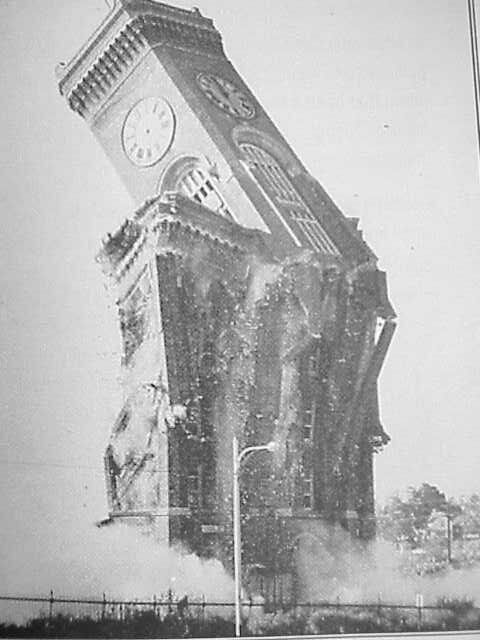 THE DEMISE OF THE ELGIN NATIONAL WATCH COMPANY
By 1951 the Elgin National Watch Company had produced more than 50 million fine, jeweled time pieces and had the tile of the world's largest watch manufacturing complex. However, as low priced and cheaply made imports flooded our shores, Elgin felt the effect. By 1953 imports of watches 17 jeweled or less numbered 10,615,000 as compared to 2,237,000 in American production. The first to close its doors was the fine Waltham Watch Company outside of Boston. This left only Elgin, Bulova and Hamilton as the remaining major US watch manufacturers. Style had replaced precision and its effects were felt deeply in Elgin, Illinois.
The observatory (see related link) was closed in 1955. Recession hit the US economy and in 1958 Elgin reported a net loss of $ 2.4 million dollars, the largest in its history. To cut costs the company closed the main plant in the early 1960's and moved it's manufacturing operation to South Carolina. Labor costs were cheaper there and a staff of 200 persons manufactured the movements. The headquaters and supporting divisions were still located in Elgin, Illinois. But the loses continued and by 1965 they totaled $6.8 million.
On June 1, 1965 after the company celebrated it's 100 anniversary, it was annouced that the main facitity in Elgin, Illinois had been sold for an undisclosed amount. Eventually the South Carolina facility was closed and the death of American made Elgins was just a few 'ticks' away.
Demolition of the famed manufacturing building began in the spring of 1966 and by the fall only the 144 foot high watch tower remained. The clock was made by Seth Thomas and was the first self-winding clock in operation.The 14 foot diameter dials were on each side of the tower and each minute hand was over 7 feet long. However, even this majestic, noble tower couldn't withstand the force of dynamite and on Sunday, October 2, 1966 at 9:30 am the tower was obliteated. A sad ending to a once proud American company.
BUYER BEWARE!
You may today see watches for sale at Wal-Mart or other discounters that bear the name "ELGIN". These are frauds and are no way related to the great Elgin watches that were made in Elgin, Illinois. Some company bought the rights to the name "Elgin" and places it on cheap watches that are mass produced in Asia. The only place to buy original "Elgins" are as antique pieces either at jewelry or watch stores or on EBAY. Watches made here by the Elgin National Watch Company, provided they are serviced and kept clean, can accurately keep time no matter what their age may be today.