Deep Roots & Tangled Branches
Welcome To Idaho Deep Roots & Tangled Branches


Breshears and Collaterals-Descendants & Forefathers (Breshears forefathers spelled variously Boucher (Boo-shay);Beosseau; Bezer; Breazier; Brashier; Breashears; Breshers; Brashears; Broshers; Bashaw) and collaterals Humphries/Woolley; Eytchison/Lenaghen; descendants and Ancestors
Current Reports: Breashears Important Events - 2001
:
Georgene's Breshears Activities for the year 2001 is trying to determine the forefather of Henry Alexander Breshears by participating in a BYU program with Molecular DNA TESTING. Please read about it at
PROVING LINEAGES WITH DNA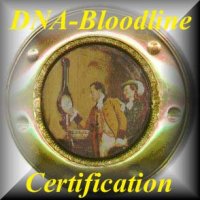 Please check here to determine where the DNA Team will be visiting near you. The more people who participate in the study, the more likely a connection will be made to the father of Henry Alexander Breshears. Georgene has submitted her Pedigree chart and is praying for a connection to be made.
Do you have an answer to a Bre(a)shears Mystery?
GO TO BRESHEARS MYSTERIES
The BRESHEARS * EYTCHISON * LENAGHEN * POTTER, FAMILY REUNION 2001 of Treasure Valley Idaho, will be ON SATURDAY, 15 JULY 2001 , at the CALDWELL IDAHO, BANDSHELL IN THE MUNICIPAL PARK. Bring Pot Luck, couple of dishes, table service, good appetite and for comfort lawn chairs. There will be an INTERESTING SHORT PROGRAM, GAMES FOR CHILDREN, DOOR PRIZES, AND SPECIAL AWARDS. Be there by 1:00 ubtil 5:00. Please email any change of addresses or better yet ...bring them to the reunion.
Sign My Guestbook

View My Guestbook
CONTENTS:FAMILY GENEALOGY

BRESHEARS ERRORS*ERRORS*ERRORS
CONTENTS:BRESHEARS/BRASHEARS PAGES
Map & Crest for The Lenaghen Family of Tipperary and Down

Family History of Lenaghen Family of Tipperary, Down & Kildare Co., Ireland

Short Biographies

Col. Clarks Regiment of Tipperary

Celtic Family Aitchison and other Irish Helps

HILTON HEAD SC - Our "Barbadoe Adventurer"

THE IDAHO HUMPHRIES,EYTCHISON & LENAGHEN PAGES
My Favorite Links
Email:

humphri@northrim.net
Member of the Internet Genealogical Directory
Copyright (c) 1992-2001. All rights reserved. Theses documents are covered in their entirety by the United States of America copyright laws. No copying of any material contained herein is allowed for any business purpose. Private use by individuals is allowed for anyone willing to freely share information with the author. Please notify the author, and obtain permission before copying. These documents have been compiled by Georgene Humphries and other researchers who have shared their genealogies for the purpose of sharing family history information with others who are researching their family histories. Any information that can be supplied by others to CORRECT, ADD TO, or SHOW PROOF OF LINEAGE, will be appreciated by the compiler. These Web Pages of genealogical documents are from personal research of our "Family Lineages" and may or may not be proven genealogy. It is to be used by viewers to give direction to their own searches. Proof should be obtained from appropriate sources where available. Please enjoy my "WELDING LINKS LEGACIES" on these "WEBPAGES". Much documentation may be found in my books "WELDING LINKS LINEAGES", which may be ordered from Georgene. The New (1997) version and edition of "Breshears Welding Links" is also available (over 1100 pages), also an abbreviated version, for those researchers interested in why I have linked the Breshears Ancestry to Sir John Bourchier, Earl of Bath 1470. Right now these books are limited editions.
---
Last updated on 26 March 2001 by Georgene Humphries