SAIGON CHURCHES & CATHEDRALS

» Welcome to Ho Chi Minh City (Otherwise Known as Sài Gòn)
» Things to See in Ho Chi Minh City (A-Z): Ben Thanh Market
» Cholon
» Churches
» Celebrating Christmas in Ho Chi Minh City
---
» Cao Dai Temple
» Chu Chi Tunnels
» Pagodas
» Park Life
» Reunification Hall
» Sài Gòn Zoo
» Sài Gòn River
» Water Puppets
---
» Things to Buy: Furniture
» Things to Eat in Ho Chi Minh City: Restaurant Guide
» Places to Party in Ho Chi Minh City: Bars and Clubs
» Places to Stay in Ho Chi Minh City: Saigon Hotels
» Getting There: Ho Chi Minh City's Tan Son Nhat International Airport
» Further Afield: Phu Quoc Island
» Buying Real Estate in Vietnam?
» Learning Basic Travel Vietnamese
» Media in Vietnam
---
» Cambodian Churches
---
---
SteepleStacked /// SAIGON CHURCHES THERE ARE A TON OF CHURCHES IN HO CHI MINH CITY. There are tonnes of temples too, and many of them are gaudy. That's not why we are here. We are here for the churches.

Even if you are not Christian or religious, the churches of Ho Chi Minh City offer a fascinating glimpse into the cultural life of the people... and its turbulent recent history. According to Saigonist, one in 10 Vietnamese are Christian (predominantly Catholic). They are a legacy of French colonialism, but the way they practice their faith is quite different from how things are done in Europe, or the West. In this pictorial guide, I want to introduce to some of the churches that I have stumbled upon, in my rambles around Ho Chi Minh City. I know what you must be thinking: SAIGON DOESN'T SEEM THE KIND OF PLACE YOU SHOULD WALK AROUND. The traffic is chaotic and pedestrians figure rather low on the food chain of vehicles. Red lights don't necessarily mean "stop", and footpaths can suddenly be invaded by those on wheels. I have seen a couple of accidents already in my brief time here. This is a city where you need to have eyes in the back of your head. That said, it is by walking the streets that you begin to appreciate the true nature of this place. Saigon is a city in which things that normally kept well inside, such as furniture showrooms, spill out on to the pavements, literally blocking your path. There are fascinating discoveries around every corner, ranging from the sacred, to the profane. It is a hard slog, but it is worth it.
---
BASILICA OF NOTRE-DAME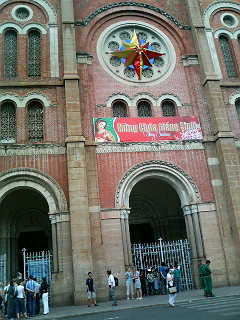 BY FAR the most famous and important Christian house of worship in Ho Chi Minh City is the Basilica of Notre-Dame, which is ringed by a very French roundabout with crazy traffic in the heart of the central business district. Just about every tourist visiting the city makes a pilgrimage to this structure, or at least glimpses it from the window of their tour bus. If you had only two days in Ho Chi Minh City, this would be the church you have to see. The basilica is the heart and soul of Ho Chi Minh City's Catholic faith, but is also important to Buddhists and other non-Christians, as well as being an icon of the nation. If you happen to be here on Christmas Eve or other special occasions, you will see locals of all creeds partaking in the festivities, throwing confetti all over each other or even lobbing full heavy cans of shaving cream high into the air (be careful, it can be rough!) I took part in the Christmas Eve celebrations here in 2007, and they were pretty wild, to be sure. I was pulling confetti out of my hair for days after.
---
DEVOTION TO THE SAINTS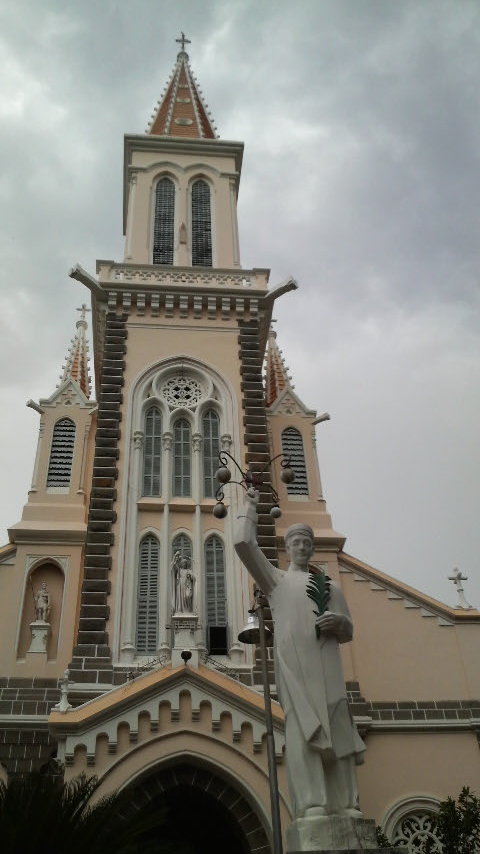 NOT FAR from Notre Dame, near the September 23 Park and the Pham Ngu Lao backpacker district can be found Nhà thờ Huyện Sỹ or the Church of St. Philip the Apostle. It towers up over the traffic on Tôn Thất Tùng.

Nhà thờ Huyện Sỹ is one of the prominent landmarks in District 1, and has served the local Catholic community for more than a century.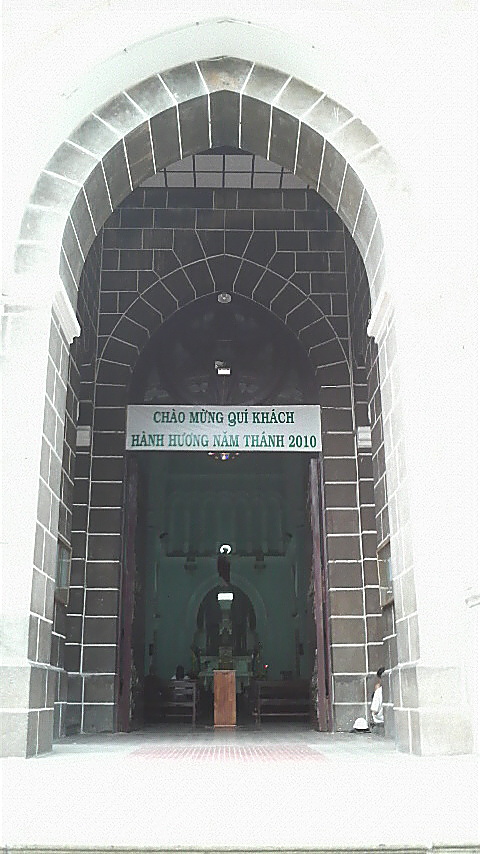 It was in the Rainy Season of 2010 when I made this visit, and some kind of service was in session.

Around the corner, I came across a very Vietnamese sight: motorbikes, and Jesus on his cross...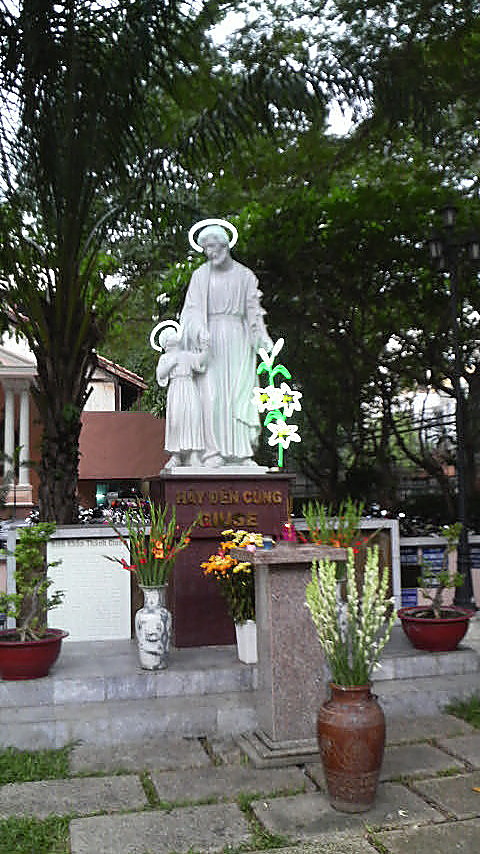 And these dudes with neon haloes.
---
GROOVY GROTTOES

WHERE I come from (Australia) there are plenty of churches but I have never seen the strange artificial mound pictured above.


Actually these structures are called grottos, and they seem to be a standard feature alongside Vietnamese churches. With their Mother Mary icons and flowers, they look like they would be more at home close to a volcano in the Italian countryside, rather than in the middle of a south-east Asian metropolis. It is just another example of how the Vietnamese have built upon their colonial legacy, to create something exotic and unique! According to Wikipedia, this grotto was constructed in 1960 as a monument dedicated to Our Lady of Lourdes. Every year on February 11, a Mass is held here to pray for the sick.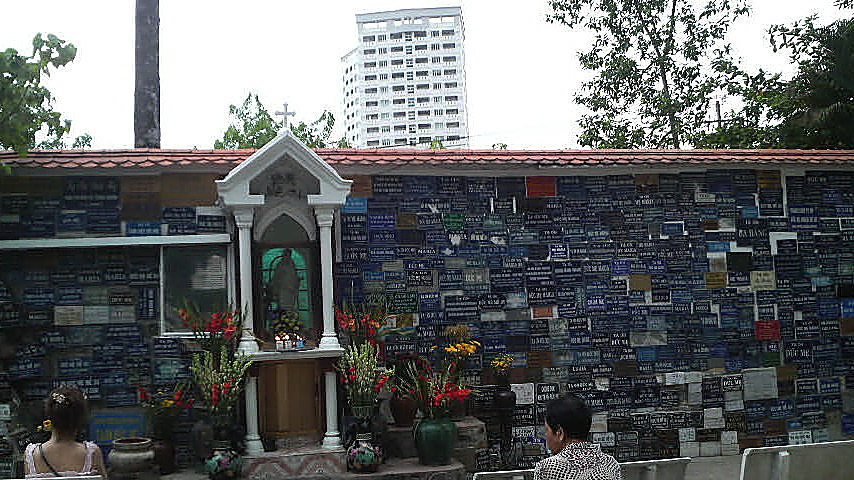 Mother Mary statue, crucifix, gorgeous flowers and a wall packed full of gratitude.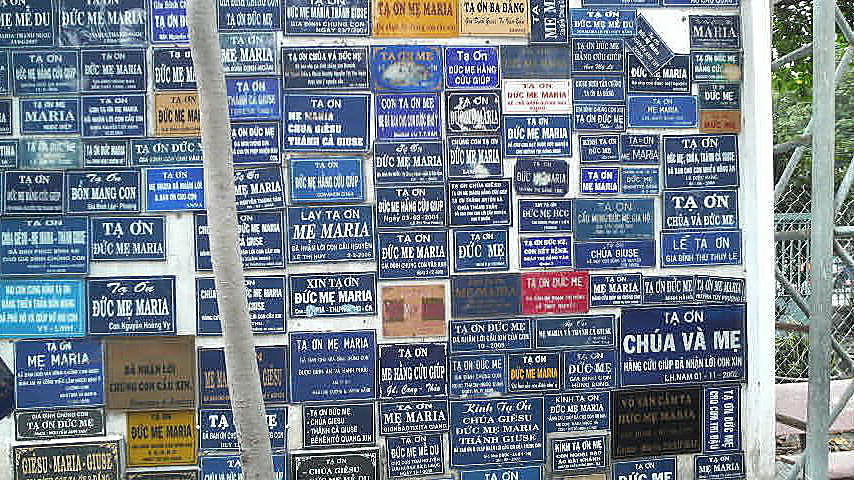 These plaques are almost all adorned with the title Mẹ Maria, or "Mother Mary". Some of them say: Chúa và Mẹ or "God and Mother". Tạ Ơn Đức Mẹ means "Thanksgiving Mary". Or something like that. Obviously a lot of people come here to give thanks to Mary. For what, exactly, I am not sure.

For the granting of the wishes that they made, by candelight, in the aforeposted grotto shot? It is a possibility.

Here is another grotto on the road to Chợ Lớn. The church it adjoins is apparently dedicated to Jean of Arc.

There is a nice park nearby, which provides lovely views of the pristine church.

Communism has its own saints, of course, and it has erected monuments to them all over Vietnam. This one seems to celebrate the role of the army, or is it a celebration of revolution?
---
CHRISTIANITY IN THE SLUMS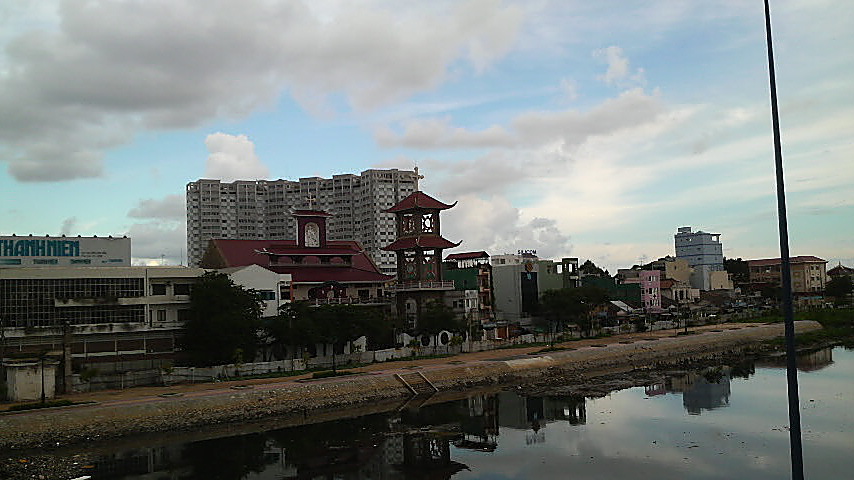 DISTRICT 4 HAS a reputation of being the slummy side of Ho Chi Minh City. Since I like slums, I made it a point to walk through a part of the district on my last trip to Vietnam (June/July 2010).


To get there from District 1 you cross a bridge over a squalid looking vegetable market, and then a canal lined with garbage. On the other side of the canal a large church, Vĩnh Hội, rises from the warehouses. It might be a poor neighborhood, but the people who live here are rich in spirit.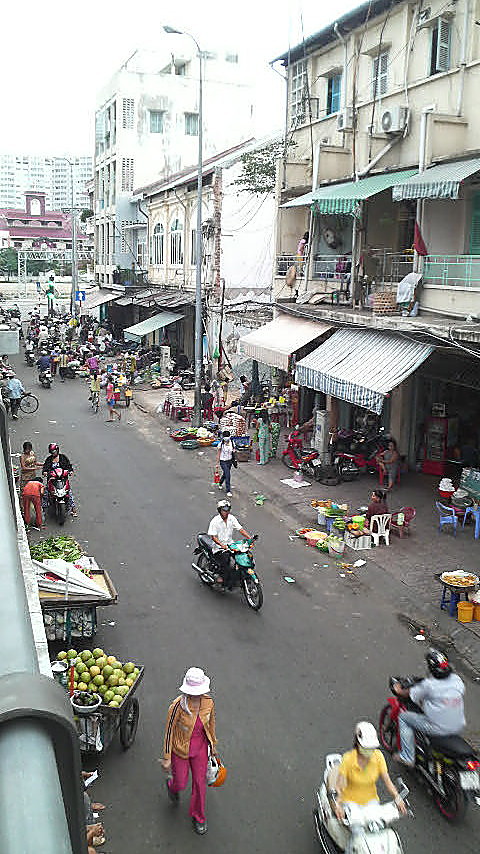 The church is the heart of this community, that is for sure.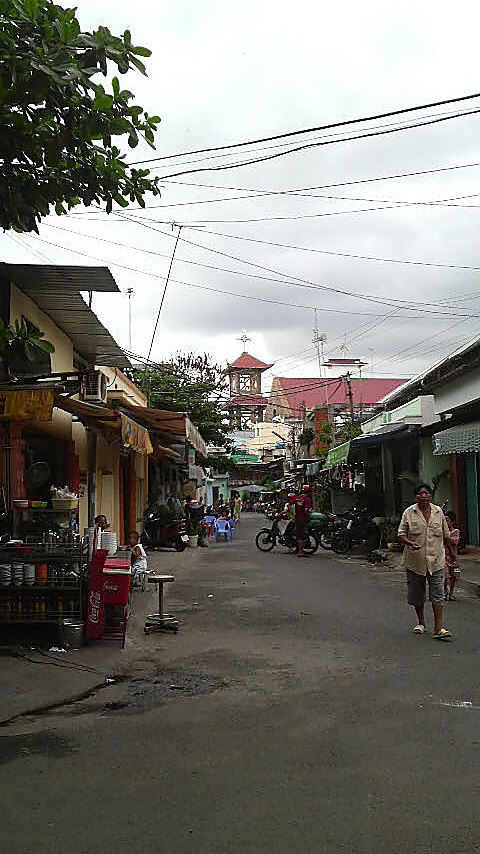 Vĩnh Hội, which is located at 158 Bẽn Vân Đồn Street, apparently dates from 1966.

That means it was built right in the middle of the turmoil of the Vietnam War.
There are a number of other grand churches in District 4, among them Xóm Chiếu which I hope to stumble upon someday, and Tôn Đản.


View Larger Map
---
TWIN SPIRES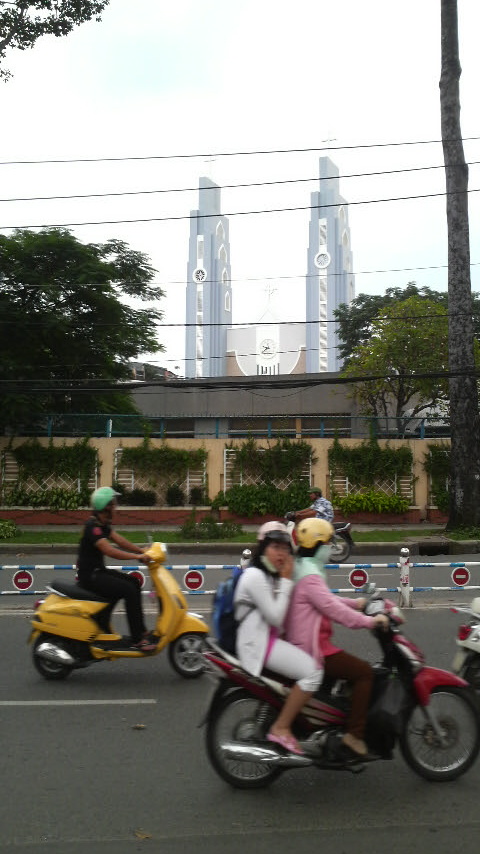 I HAVE been trying to find Saigon Racetrack for some time now. I haven't been able to find it, but on my last walk in its direction, on the 3 Tháng 2 Road, I saw this new church rising from the streetscape.
Christianity is evidently booming... I have read that after the creation of a Communist republic in North Vietnam, thousands of Christians fled to the south, to escape persecution.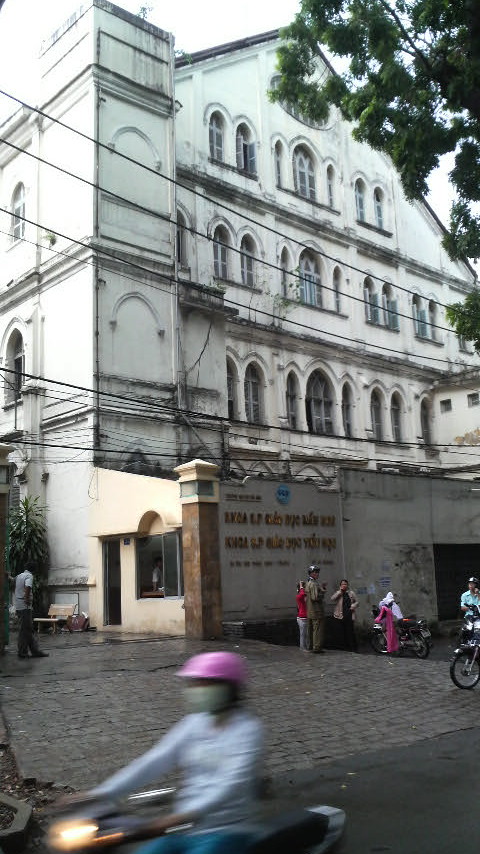 After the Fall of Saigon, some 120,000 laypeople and 300 priests fled the area to avoid the communists then, while 370 Church facilities were closed or confiscated by the government. Persecution is not over, and I have heard that Christians are starting to pile into boats again, to sail to new lives in places like Australia.


The Human Rights Watch says: "Nguyen Van Dai remains in prison, serving a four-year sentence under article 88. He was arrested for teaching law and human rights to students at his law firm. He founded the Committee for Human Rights in Vietnam with Le Thi Cong Nhan in 2006, and took on the legal defense for embattled Protestant churches, including the Mennonite pastor and former political prisoner Nguyen Hong Quang."
Of course, discrimination against minorities in Vietnam is not new: it is also suffered by Montagnards, and ethnic Khmers. On May 7, 1954, the French Colonialists lost heavily in Dien Bien Phu campaign, after that they were obliged to sign Geneva Agreement and withdrew from Vietnam. The American tried to jump in to carry out their attempt to invade the South , Vietnam was temporarily divided into 2 regions, the North was under the regime of the Democratic Republic of Vietnam, while the South was the Republic of Vietnam.
On the way to Saigon Railway Station I passed this small church. it mustn't have been open that day. Maybe the current decorators are exaggerating a bit to demonstrate the counter-socialist ideals of the south before its liberation, or maybe its accurate, but this place is like a cross between the Playboy Mansion and a Bond villain's secret lair. The cinema, game room, snooker tables and piano co-exist with the Map Rooms and underground bunkers decked out with those old Telecom Eireann phones (though I don't think they were the actual suppliers) and enormous radios. "

Located on the hill of coconut palm trees occupied around 3.5 hectares, "On Sept. 07, 1954 Norodom Palace was handed over between the French Government representative-General PAUL ELY and Saigon ruling representative-Prime Minister Ngo Dinh Diem. Ngo Dinh Diem decided to change the name of the Palace to the Palace of Independence. Since then the Palace of Independence became the residence of Ngo Dinh Diemfs family and a place witnessing many political events. Ngo Dinh Diem maintained a family ruling dictatorial regime, he pushed the people into strategic hamlets, carried out the 10/59 law bringing guillotines to all over the South, he did not only cause indignation among the people but also caused disagreement within the Government cabinet of Saigon.
"The issues with roads, power, water, construction and the airport are being addressed by the island and will .."

PLACES TO STAY
HOTELS
RESORTS
Gecko Jacks: On Bai Sao Beach.
Most Vietnamese websites are crap, but the homepage of this resort (click here in case you missed the link above) is cool. With its slick design and innovative code, the site serves a good introduction to Phu Quoc Island in particular. One of the designers (Captain Jacks) who flew from Noose on Australia's beautiful Sunshine Coast, to the even more beautiful Bai Sao Beach, wrote of his assignment: "As I promised, a little about my trip to Vietnam, I went there to help in the set up of Geko Jacks, this will be a small resort on the island on Phu Quoc which is off the coast of Cambodia, although the island belongs to Vietnam. The beach in the picture is called Bai-sao and is with out doubt one of the most amazing beaches i have ever seen. We spent the time clearing the jungle and putting up a wall around the block to keep it from being moved in on by the fisherman, the rest of the time was enjoyed by drinking the local rum which at $1.50 a bottle was not to bad at all... Well from what i can remember it was not. Over time i will post mor clear water and very cheap local rum for yourself."

Thien Hai Son Resort: US$44.
Thien Hai Son is located in Ba Keo area, Duong Dong town, just take 10 minutes from Phu Quoc Airport and 35 km far from An Thoi Port.
Phu Quoc Island is only C degree. Phu Quoc is very rich in natural resources and there are many white sandy beaches are unspoiled. Moreover, rivers, streams, .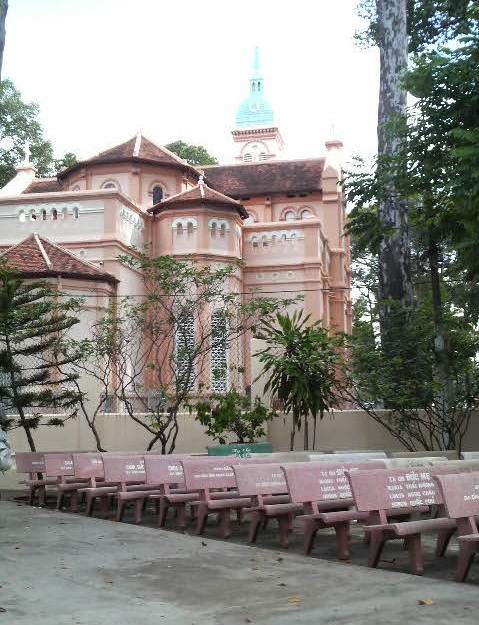 Duc Church is located at 41 Vo Van Ngan street, Linh chieu street, Thu duc district, Ho chi minh city, near Thu duc market. It's over 100 years old, it still remains magnificently beautiful. It was built in 1880 on the design of a Catholic priest named Boutier, who also designed the Nhà thờ Huyện Sỹ. He was appointed vicar of Phong Phu Parish- Thu Duc. (View 846) Yen Phuong Minihotel US$8 "In another story, Tran Minh Phuong, 23, an accountant at a toy-making company in Ho Chi Minh City (HCMC) says she earns VND1.8 million ($113) a month and has to pay a third of .

"They all dream of owning their own apartments but with property price sky-rocketing that is simply impossible.

"Not only locals but about 81,000 expats in Vietnam have also suffered from soaring rents and greedy landlords, even though their income is much higher..."

(For full story click here.)
---